On my list of "travel experiences before I die," a safari figures prominently.  It's always seemed like one of those once-in-a-lifetime vacations.  Lately I've been committed to getting through a lot of experiences on my "bucket list" and the safari keeps moving up the list.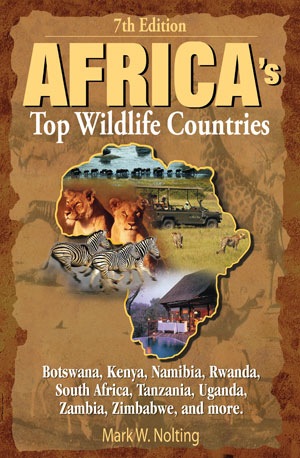 That's part of the reason why I was so excited to read the 7th Edition of Africa's Top Wildlife Countries, by Mark W. Nolting.  Of course, I LOVE to read travel books of all types, and I enjoy sharing them with all of you.  But this was more than just another travel book.  This was personal research!
First off, let's answer the question that the title asks:  What are Africa's top wildlife countries.  That would be:  Botswana, Kenya, Namibia, Rwanda, South Africa, Tanzania, Uganda, Zambia, and Zimbabwe.  Of lesser note:  Burundi, Congo, Ethiopia, Lesotho, Malawi, Mozambique, Swaziland, Mauritius, and the Seychelles Islands.
Some of those were obvious choices to me.  I'd heard about safaris in Kenya, South Africa, and Tanzania, but in reading this book, I was going beyond the obvious, and discovering a lot more options that I had first imagined.
The guide opened with good, in depth, and practical information about Africa and planning a wildlife trip.  It explains a little bit about what to expect, does a little myth busting (you don't have to stay in grass huts and sleep in the mud), talks about the environment and eco-tourism, and sets out some practical information about security, choosing accommodations, and selecting the best type of safari.  There's even a helpful packing list.  This opening section provides a solid framework for what's to follow, and it will help you narrow and shape what you want your wildlife experience to be.
With the basics under your belt, you're ready to explore the continent.
The remainder of the book is organized by geographical sections of Africa,with the major wildlife sections first, then the lesser ones.  This geographic organization makes sense for someone familiar with the continent, but I found myself flipping around, back and forth, too frequently.  Alphabetical listings would have been much easier for me to use as I gradually became more re-acquainted with my African geography.
Entries for each country included the best time to visit, what wildlife you can expect to see, weather information, a list of the top wildlife reserves and other attractions, maps, hundreds of beautiful photos, accommodations of all types and classes, and tons of practical information and tips.  You'll find details about photo safaris, mountain climbing, gorilla and chimp watching, bird watching, canoe safaris, diving, hot air balloon safaris, night game, horseback riding, family trips, elephant safaris, and more.
All the resources that you could need are included here, including simple things like money, shopping, health concerns, and travel, to more specialized information like Latin and scientific names of animals, and an extensive reading list.
The guide ends with a section called "Bush Tails" a testimonial section full of feedback and recommendations on places visited.  Rather than just blah quotes and PR hype from strangers, these felt like real stories from real travelers, people who had been charmed by Africa, its people, and its wildlife.
When I started reading this guide, I didn't know what I wanted much beyond wanting to go on a safari in Africa and see animals.  Very simplistic.  After reading this guide, I've narrowed it down a lot.  I still don't know exactly what's right for me, but I'm a lot farther along my research journey.   I had no idea the depth and breadth of what was offered, and how it can shape my travel experience.
The strength of this book is its extensive practical information, the lure of the book is the beautiful photos.  Whether a safari is in your near future, or you are merely an arm chair traveler, Africa's Top Wildlife Countries will open the door to a world that few have experienced.
You can buy Africa's Top Wildlife Countries through The Africa Adventure Company ($17.95), from Amazon (aff. link) or at any book store with a quality travel section.
Photo credit: The Africa Adventure Company