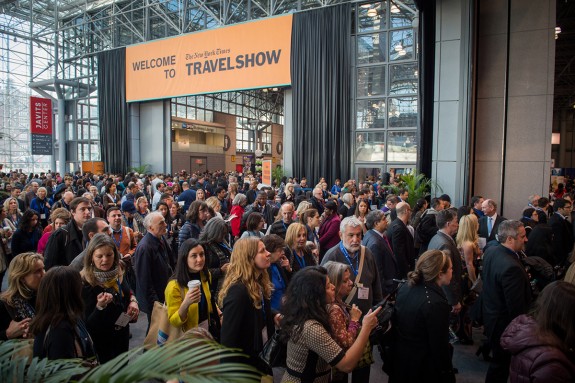 The New York Times Travel Show will be January 8-10, 2016 at the Jacob K. Javits Center in New York City. The first day is a trade day, open to travel professionals and media, followed by doors open to the public on Saturday and Sunday (January 9-10). Events include special on-site deals and specials, travel seminars, tips from professionals at Meet the Experts, performances, book signings, Taste of the World culinary pavilion, a "Kids Kitchen", and more.
The Travel Show is the largest and longest-running trade and consumer travel show in North America, featuring the Travel Industry Conference, Consumer Seminars, and an interactive Exhibition including more than 500 exhibitors from Africa, Asia, Australia/South Pacific, Canada, the Caribbean, Europe, Latin America, Mexico and the United States. In addition to discounts and special offers, the show provides educational seminars and live entertainment for families, individuals, couples and seniors. Join the conversation and follow @NYTTravelShow for the latest Travel Show news.
To celebrate the 100th anniversary of connecting New Yorkers to the world, the New York Passport Agency will invite attendees to snap a selfie with a giant passport (booth 667) and be among the first to see what the next generation of passports will look like.
I went to the New York Times Travel Show last year and have a great time. It's a huge show, so a plan of action will help you get the most out of the event and to best navigate the crowds. You can refer to the show's floor plan and get an idea of where everything is; the layout is based on geography, with special sections for sponsors and cruising. To create a plan of attack, I recommend creating a schedule based on which events (seminars, meet the experts, speakers, etc.) you want to attend. Once you have your events in place, identify the specific exhibitors or geographic areas that are you top priority. From there you can plan how to get back and forth to where you want to be. If you don't have a specific area of interest, and want to take in a lot of inspirational ideas along with practical advice, you can always just wander each aisle.
Tickets:  Day pass is $20, 2-day pass is $25. Children 18 and under admitted free. Buy tickets online here.
Photo credit:  The Travel Show via TravMedia