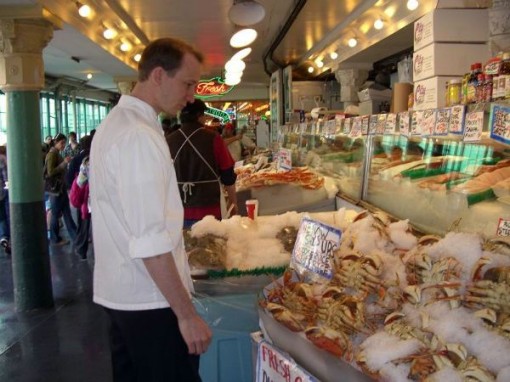 If it's Tuesday it must be Belgium, but in Seattle Tuesday is sweet at ART Restaurant at the Four Seasons Seattle.  Chefs Kerry Sear and Jelle Vandenbroucke have devised a menu of creative daily specials that are tempting me to visit every day of the week.  Take a look of this delicious lineup for 7 days of the ART:
Sunday:  Great American Burgers & Barbecue.  All those yummy summer favorites like burgers, ribs, and corn on the cob, but with a few special Seattle Twists.  How about the Elliott Bay Burger, a short rib burger with oysters?  Or stick with the traditional slow cooked baby back ribs.  Either way, you won't have to clean up after this summer barbecue.
Monday:  Sips & Tips.  Get wine pairing advice while enjoying Northwest wine flights.  It's a great way to sample some new selections and learn more about what you like best.
Tuesday:  Sweet Tuesday.  Ahhhhh, the sweet smells of cakes, pastries, pies and more.  Try one of the homemade ice cream or sorbet flavors, or channel your childhood favorites with a fun twist on the push-pop.
Wednesday:  Organic Wednesdays.  Head out on a shopping excursion to the Pike Place market and learn how Chef Jelle Vandenbrouke buys what's for diner.  Then later that evening, enjoy the market-to-table menu created from the shopping trip.
Thursday:  Northwest Best Catch.  The Northwest's best seafood grilled, poached in sea water, sauteed, fried, and all of it delicious.  The menu will vary from week to week, but let your mouth start watering for Dungeness crab bisque, black cod fish and chips, or poached halibut.  This is the Northwest at its best.
Friday:  Shake, Muddle & Mix.  A perfect Friday happy hour with creative cocktails.  Come thirsty.
Saturday:  ART Steak House.  An TV arrange of four different cuts of steak, seasonal condiments and steak fries.  This is not your childhood TV tray!
Or, choose ART's new happy hour.  Available 5-7 pm every day, new menu items include savory smoked salt donut holes with BBQ sauce, Whidbey Island shellfish ceviche, Skagit Valley garlic chicken ($6).  Special prices are also available on snacks (mini burger $4), shared plates (trio of potatoes $10), and cocktails ($7).
Location:  99 Union Street, Seattle (downtown)
Dates:  7 Days of Art runs through August 31, 2011.
Photo credits:  Courtesy of ART