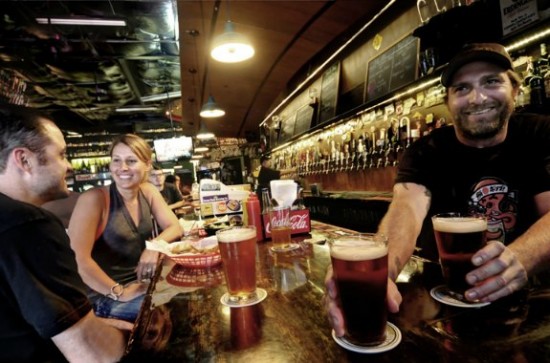 Back in June, when I was in Denver for a little pre-BEX activity, I had a chance to get to know the good people of Denver and partake in some of the beer that they are so darned proud of.
More beer is brewed in Denver per capita than in any other city even though their brew history only dates back to 1988 when Wynkoop Brewing Co. opened.  Wynkoop is owned by Colorado's (current) Governor, John Hickelooper, who is the first former brewer to be elected governor since Sam Adams in 1794.  Beer is big business for Colorado, not just a tasty one, with the industry contributing around $486 million a year to the state's economy.  And while I'm on the subject of taste, don't forget that Denver was selected as the top micro-brew beer city in the nation in 2011 by readers of Travel + Leisure magazine.
You'll need to spend a lot of tasting time in Colorado to visit the more than 140 breweries across the state.  Or, just plan on visiting Denver for the 4th annual Denver Beer Fest, a 9-day celebration of all things beer.  Over 150 beer-centric events are scheduled, including:
Denver Beer Crawl: This pub crawl will showcase a dozen Colorado beers at many of Denver's finest bars, tap houses and breweries.  I've done a pub crawl in Denver and can highly recommend this experience.  I made it to five brew pubs before I ran out of steam, leaving behind a long list to visit on a return trip.
Rare Beer Tastings: Once-in-a-lifetime tastings of unique beers that will not ever have the opportunity to be consumed by the masses due to small quantity batches.
Meet the Brewer Nights: An opportunity to meet the people that craft your favorite brews.
Firkin nights: What in the heck is a Firkin?  It's an original cask conditioned beer.  On a Firkin Night, the one-of-a-kind barrel of beer is tapped and everyone drinks it until it is gone.  Quite enjoyable, but it can never to be exactly replicated again.
Tap Takeovers: A local brewery takes over all the taps at a bar or restaurant.
Beer-paired Dinners: Just like wine pairings only with beer, it's a chance to see how food and beer can bring out the best in each other.  The dinners are a multi-course fixed-priced.
Beer Competitions:  Beers are paired off against each other, often with the bar patrons voting for their favorites, until there is only one left standing.  It's a chance to see in your favorite beer has wide spread enjoyment.
Beer Education: special programs or lectures that discuss different aspects of beer tasting or brewing
Pub Crawls: On foot or by bike, you'll have a chance to visit multiple bars as you crawl the city.
Brewery Tours: Special theme-tours.
Beer Games: The usual bar games with a special twist – trivia nights, quizzes, contests, and special events.
The Denver Beer Fest overlaps into the Great American Beer Festival (GABF), the "Super Bowl of Beer," held at the Colorado Convention Center October 11-13.   This event is considered the most prestigious and coveted beer competition in America.  It holds a is the world's largest beer celebration with a Guinness World Record last year (2011) for the most beers ever made available for tasting at a single event – some 2,400 different brews from 500 breweries.
For those out of state beer fans, don't worry, you won't miss all the fun.  Head to your local market and pick up a Denver Pale Ale or a Tundrabeary Pale Ale.  Or maybe a Dry Dock Double IPA or a Cherry Bomb Belgian Stout.  And if you can't find any of the tasty craft brews that come from Colorado, remember that Colorado's Anheuser-Busch makes Stella Artois, Becks, and Bass Pale Ale (along with Budweiser, Michelob, and others).  So grab your favorite, or try something new, and follow the Denver Beer Fest on Twitter, hashtag #DenBeer.
Location:  Various spots around Denver
Dates:  October 5-13th, 2012
Tickets:  Vary depending on event.
NOTE:  21 and over only.  And remember to drink responsibly and always have a designated driver.
Photo credit:  via TravMedia