A guest post today, from another country I've yet to visit — Japan.  It sounds like fall might be a wonderful time of year for a trip.
—-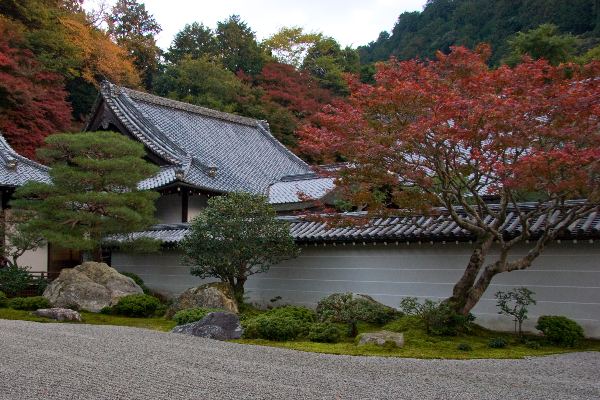 Japan is a stunning country the whole year round, but is particularly eye-catching in the autumn. 'Kōyō' (pronounced kou-you) as it is known in Japan, literally translates to 'red leaves'; and there are certainly plenty of these as the season takes hold. The red and golden foliage begins in Hokkaido on the north-west coast, and then slowly descents southwards.
The movement of the autumn leaves in Japan makes it a great place to visit for an autumn escape. And considering that 70 per cent of Japan's landmass is actually made up of mountains, there are plenty of places to escape for a quiet wander amongst nature's finest. Look out for the bright red Japanese maples and the golden ginkgos if you want to find the best subjects to put before your camera lens.
You can also visit traditional Japanese gardens during your stay. There are three main types to look out for: Tsukiyama, Karesansui, and Chaniwa; but all of these look equally spectacular as the autumn envelopes them in its chilling embrace. Why not pool together your Japanese yen and follow these gardens from north to south?
Tsukiyama
The idea behind the Tsukiyama garden is to recreate the natural scenery of Japan, but in miniature. These gardens consist of ponds, streams, hills, stones, trees, flowers, bridges and paths to create a perfect relaxation space.
Karesansui
The Karesansui is slightly more abstract than Tsukiyama, but still focuses on a natural landscape. For example, a few patches of moss, as well as stones, gravel and sand might represent mountains, islands, boats, seas, and rivers. This type of garden is highly associated with and influenced by Zen Buddhism.
Chaniwa
The Chaniwa has a slightly different use than Tsukiyama and Karesansui; it is designed for the tea ceremony. The gardens are made up of stepping stones and lanterns that lead up to the tea house. The general theme is one of simplicity and cleanliness, as revealed by the stone basin which guests use to purify themselves before the ceremony.
Photo credit: Kimon Berlin via flickr
—-
Miles Bumphrey is a keen traveller and has extensive knowledge of all things travel related including destinations, currency including Japanese yen. He is a freelance writer and publishes his work on a number of blogs and websites.