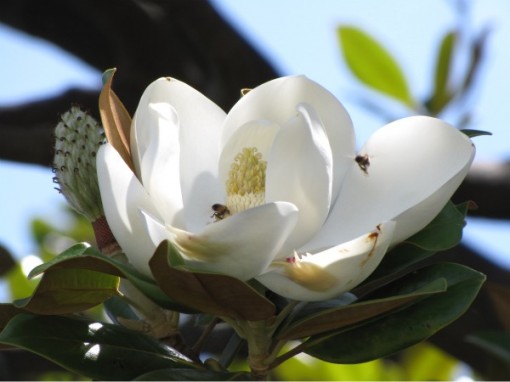 It may be spring here at home, and a delight to watch the flowers turn from buds to bloom, but down under in Sydney Australia blooms of a different kind are on display.  The Royal Botanic Gardens are celebrating the arrival of fall with gardens full of begonias, hawthorn, eucalyptus and other fall blooms.  If you're visit to Sydney has you hopping from one location to another, take a break from the fast pace with a relaxing afternoon at this largest public garden in the city.
Located between the business district and the harbor, the gardens are about 75 acres of heaven right in the middle of the city.  The plants and trees in the garden (over 45,000 in all) date back to the 1800's with a Hoop Pine tree and a giant Watergum tree, both planted around 1820-28.  Garden highlights include 18 themed gardens (begonia garden, oriental garden, rainforest walk, rose garden, fernery, and more) and the National Herbarium of New South Wales, home to over a million preserved plant specimens dating back to 1770 Botany Bay.
The Tropical Centre is a real treat, giving visitors a chance to experience exotic plants from tropical eco-systems, most of which are rare species.  Arc shaped greenhouses and a glass pyramid are both beautiful and practical, providing an environment for the plants to thrive.  The centre may not always be open, but if it is, it's worth the time to take stroll through.  If the Tropical Centre is your primary reason for visiting the gardens, call ahead to check if its open.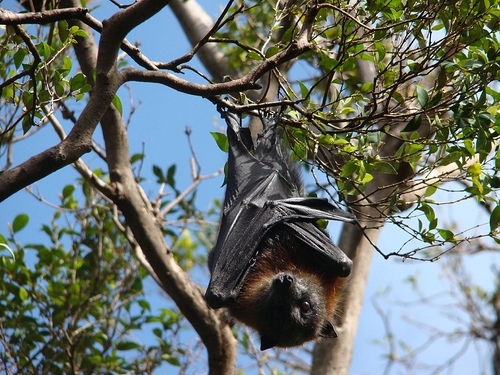 The green space in the middle of the city provides a permanent home and/or temporary shelter for hundred of birds, animals, reptiles and butterflies.  Look closely and you may see flying foxes (bats – see photo above) during the day and possum in the evening.  Walk carefully and you may see a Channel-billed Cuckoo, white swans, or a Paradise Shellduck.  And for heaven's sake, if you see a snake don't pick it up or approach it – not only is it protected by law, but it may be poisonous!
You can explore the gardens on your own or opt for a free volunteer-guided walks.  The walks are about 1-1 1/2 hours and will give you additional information about the plants you see.  Plus, the guides will point out things that you are sure to have missed on your own.  Check the information booth for details and times.
After a relaxing day in such exquisite surroundings, head back to the city to enjoy some of the exquisite dining and nightlife that Sydney has to offer.
Location:  Mrs Macquaries Road, Sydney.  The Royal Botanic Gardens are easily reached by public transportation, and are an easy walk from the ferry at Circular Quay or the train and Martin Place Station.
Hours:  The gardens open at 7 am daily.  Closing time varies depending on time of year, ranging from 5 pm in winter months to 8 pm in summer.  The Tropical Centre is open 10 am-4 pm daily (except Christmas and Good Friday), but is occasionally closed.
Admission:  FREE for most of the gardens.  The Tropical Centre admission is $11 family, $5.50 adults, $3.30 children, $4.40 students and seniors.  (NOTE:  prices are in AUD.  The current exchange rate is $1 US equals $.93 AUD).
Photo credit:  Laurent via flickr (flower); Brian Gleason via flickr (flying fox)
NOTE:  This post was sponsored by My Destination Info; the opinions and thoughts expressed are those of the author.