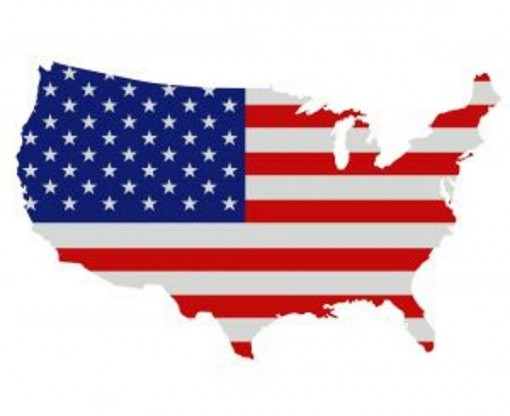 This morning a lively discussion was started in a Facebook group where I'm a member.  It centered around how many states we had visited (only one person – so far – acknowledges having been to all of them) and which ones we had missed.  There were some states that nearly everyone had missed, and from there it was just sort of a random assortment.  It prompted me to sit down and figure out which states I had been to and which I was missing, and along the way a few memories of those first visits crept in.
Here's my list of the US States and Territories that I've been to:
States
Alabama – I don't remember visiting Alabama.  But there are people who say I was there with them and they have photos to prove it.  Does it count if I don't remember it?
Alaska – This was the first of the states outside of Washington that I visited.  I flew to Fairbanks in 1967, along with my grandmother and brother, to visit family and to celebrate A-67, the 100 anniversary of its purchase from Russia.  What I remember:  That daylight lasted well into the night hours, giving "come in before it gets dark" a different meaning than when at home.
Arizona – If you like the heat, you'll like Arizona, and when I wanted to escape the rainy Seattle weather these are the layovers I'd look for.
Arkansas
California – My first (of many) visits to California was a youth group bus trip.  We left the Seattle area, picking up others along the way, as we head to Fresno for a conference.  We spent some time exploring the sights in San Francisco and I left my heart in this city by the bay.
Colorado – I first went to Colorado as a speaker for an AFA (Association of Flight Attendants) training.  I've been back many times since, including a visit to Mile High Stadium (as it was then called) for a Denver Bronco football game.
Connecticut
Delaware – This state first came onto my radar in law school when we learned about why there are so many Delaware corporations (it's got to do with favorable corporate legal treatment).  Don't believe me?  Look around at how many corporations are incorporated there.  My visit to the state occurred a couple decades later when I visited as part of a road trip from Washington DC to Philadelphia.
Florida – My first visit to Florida was a young and very broke college student.  This was way back when Eastern Airlines was still in business and they offered a low priced, multi-stop, one-month long travel pass.  I used it to fly to Miami where I spent some time before heading out to some of the islands (Jamaica, Puerto Rico, and the Bahamas).  Later trips gave me the opportunity to discover other parts of the state.
Georgia –  I first touched ground in the state making connections to elsewhere, but since that doesn't officially count as a visit, I'll have to fast forward a dozen or so years later when I went to Atlanta as a speaker for an AFA training.
Hawaii – I was in college, young and thin, when I first visited the island of Maui.  It was a group trip with four couples, and the first of many trips we took together.  We left the day after Christmas and spent a week in paradise.  I still feel the same way about the Hawaiian islands, even though I now am there about once a week.
Illinois – I went to Chicago for the National Academy of Arbitrators annual meeting one year.  I was so excited to go up in the John Hancock building, ride on the El, and listen to some great blues.  And a visit to Wrigley Field for a Cubs game, with seats right behind home plate.
Idaho – Back when I was a teen (oh so long ago) the legal drinking age in Idaho was 19, so it was an oft visited state.  Especially since it Washington State University in Pullman and the University of Idaho in Moscow are only about 13 miles away from one another.  We'll just leave it at that.
Indiana – Every once in awhile you need to do a road trip, and that's how I happened to visit Indiana.  Traveling with a gal pal as part of a midwestern road trip was great fun.
Iowa
Kansas
Kentucky – I visited Kentucky without even knowing it!  The Cincinnati airport (CVG) isn't in Ohio – it's in Kentucky.  So if you've overnighted near the airport there's a very good chance you stayed in Kentucky, not Ohio.
Louisiana –  Another trip to National Academy of Arbitrators annual meeting, this time in New Orleans.  This was my first introduction to drive thru (or walk thru) daiquiri stands.  While I never developed a taste for a Hurricane, I took to the rest of the city's cuisine like white on rice (as they would put it).  I'll take that gumbo, jambalaya, and beignet any time.  I visited Shreveport earlier this year for Mardi Gras.
Maine
Maryland – If you're visiting the nation's capital, this is an easy state to hit as it's just a hop, skip, and a jump down the freeway.  Well, they're not free in that part of the country, but tollway just doesn't have the same ring to it.  I went to Baltimore's Inner Harbor to the National Aquarium, have been to a few restaurants in the area, and went to a Ravens football game.
Massachusetts – Boston was one of those cities that I should have been to long before I did.  I've seen much of that city, as well as some of the surrounding ones like Salem, Worcester (which is pronounced nothing like it looks like), and some of the other seaside towns while on layovers.
Minnesota – I've only been to Minneapolis, and even then only for a quick overnight while en route to somewhere else.
Michigan – A visit to Detroit was part of a midwestern road trip.  A fun trip overall, but I don't have any specific memories – good or bad.
Mississippi
Missouri – (NOTE:  I swear I've been here.  Swear it!  But I can't find anyone or anything to substantiate it.  So, for now at least, it doesn't count.)
Montana –  Spent a couple of days here as part of a road trip.
Nebraska
Nevada – My first visit was to Reno as part of one of those gaming one day charter trips that used to be so popular.  Subsequent visits have generally been to Las Vegas.
New Hampshire – Visited as part of a day trip from Boston.
New Jersey – I've flown into Newark airport (EWR) many times and have stayed near Penn Station Newark.  It's a pretty easy location for quick trips into Manhattan at a fraction of the price of NYC hotels.
New Mexico
New York – I remember my first visit.  It was about 10 years ago or so.  I remember coming up to the street from Penn Station, right there at Madison Square Garden, and having a déjà vu experience.  Although I had never been to the city before, I somehow knew where I was, how to get where I was going, and felt instantly at home.  I am still in love with the city, but don't visit as often as I wish.
North Carolina
North Dakota
Ohio – Ohio was the main base of operations for my midwestern road trip.  We visited all sorts of small towns on a rural trip through the state.
Oklahoma
Oregon – Our neighbor to the south, Portland was an easy getaway from Seattle.  It's changed a lot since I first visited back in the 70's.
Pennsylvania – A weekend getaway to Philadelphia was my first visit outside of making a connection at the airport.  I loved the art museum, Rodin Museum, and Franklin Institute.  Good food, too.  Now I'd like to get back for New Year's and the Mummers parade.
Rhode Island – Day trips from Boston, but I still haven't visited some of the spots that really interest me.
South Carolina
South Dakota
Tennessee
Texas – As a product of the 60's, visiting the "grassy knoll" in Dallas' Dealey Plaza was a very big deal.  A very BIG deal.  I'm not sure what I was expecting, but it's just a small plot of grass, but the world changed forever because of what happened here.  Since my visit the spot was made a historic landmark and the Texas Book Depository opened as a museum.  I've visited here many times, as well as other spots in the state including Houston, San Antonio, and Austin.
Utah –  I've spent a couple of quick overnights in Salt Lake City, but haven't had the opportunity to do much exploring.
Vermont
Virginia – Another easy state to check off if you're visiting Washington DC, as both airports (Dulles and Reagan National) are in Virginia along with many of the sights visitors will want to see.
Washington – Home Sweet Home!
West Virginia
Wisconsin –  A flight diversion and and overnight gave me a small glimpse of Madison.
Wyoming
Territories:
America Samoa
District of Columbia – The first of many, many visits was in 1987 for an AFA training.  I have a long list of things that I want to do or see and I still haven't come close to checking everything off.  My favorite spots:  Jefferson Memorial, Lincoln Memorial, Air & Space Museum, and the Supreme Court.
Guam
Northern Marianas Islands
Puerto Rico – This is one of the places I visited using one of those Eastern Airlines one-month unlimited flight passes.
Virgin Islands – A port of call for many cruise ships, I've spent time on all three island:  St. Thomas, St. Croix, and St. John.
I've been to 32 of the 50 states (most of those I've missed are either in the south or the midwest) and 3 of the 6 territories (I've missed those that are more remote).  I think it's time to start planning some specific trips to knock a few more of these locations of the list.
How many states and territories have you been to?  What do you remember about your first visit?  I invite you to make a list and leave the link in the comments.
Photo credit:  SXC (map);