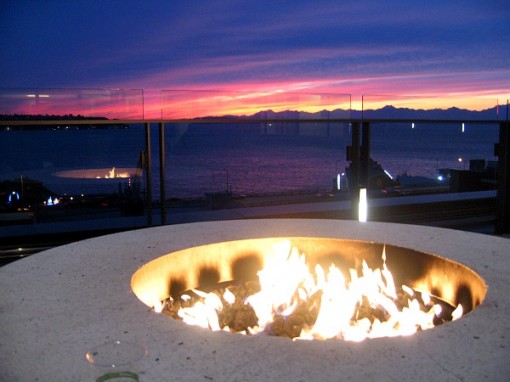 I'm really getting into the holidays spirit.  The tree is up and decorated, I've baked and eaten a few holiday cookies, and I found myself humming "Have Yourself a Merry Little Christmas" the other day.  I had a day in the city last week and a couple more scheduled for this week, and seeing the city come alive with decorations and a festive spirit just fills my heart.
There are plenty of free, or nearly free, way to enjoy the holidays in Seattle.  If you're looking for a bit more of a holiday splurge (and well worth every penny), the Four Seasons Seattle has some decadent holiday options.
Season of Wishes
A holiday brunch kicks off the season in a fundraiser for the Make-A-Wish Foundation is sure to leave you with a joy-filled heart.  The event includes a plated breakfast, a commemorative photo with Santa, and the opportunity to create some holiday-themed crafts to take home.  You'll also get a look at some art created by local area wish children as they interpret their wish experience.  If you find something that moves you, you'll have the opportunity to purchase their artwork.
Date:  Sunday, December 4, 2011; 9-11 am
Tickets:  Reservation required and available by phone or email.  $50 adults; $25 children.
A Chocolate Holiday Buffet
This gets my vote for one of the more decadent events of the season with a great combination of chocolate (!) and Larry.  Don't know who Larry is?  He's the dog from the "Larry Gets Lost" book series by author and illustrator John Skewes.  The kids can enjoy a book-reading session of "Larry Gets Lost in Seattle" while chocolate lovers face temptation with the chocolate buffet bar filled with creations like triple chocolate mousse cake, chocolate croquembouche double chocolate cheesecake, chocolate tiramisu and cocoa dusted cotton candy, white chocolate milkshakes, Larry's M&M brownie bars, and more.  I'm crushed that my schedule has be flying these dates so am going to try to assuage my depression over it with a little stop off at Fran's for some bespoke chocolates.
Dates:  December 4, 11, 18, 2011;  3-5 pm
Tickets:  $20 adults; $12 kids ages 6-12
New Year's Eve Bash
If you're looking for a classic night out on the town, with a modern twist, enjoy ART Lounge on New Year's Eve with a DJ spinning dance music with videos projected on screens around the lounge.  It's sure to be a festive atmosphere, with good food, drinks, and dancing, as party goers countdown the last minutes of 2011.
Date:  December 31, 2011, 9 pm-2 am
Price:  Complementary for hotel guests and those dining at ART restaurant; $30 for non-hotel or non-restaurant guests.
New Year's Eve Late Snack cART
An upscale take on a traditional food cart, this late-night snack venue will feature some of ART Restaurant's favorite bar snacks and appetizers:  beef and veggie mini burgers, BBQ pulled pork or seafood tacos and Uli's pork banger on a bun, with an array of condiments and toppings, soft drinks and sodas.  After a little liquid cheer, no matter where you're partying, pop into the hotel restaurant and grab a bite.  If you're out watching the fireworks off the Space Needle, you can stop by for something warm to get your through.  The cart will stay open into the wee hours, so remember that a little food before bed came help keep the next day's hangover at bay.  I'll be out watching the fireworks off the Space Needle, and stopping by for a little food cart warm-me-up sounds like a good idea.
Date: December 31, 2011; 9 pm-3 am
Food prices:  All snacks priced at $5
Eggs Galore
Start off 2012 with an all-Eggs Benedict brunch menu that includes creative options like classic Eggs Benedict, lobster, southwestern, and the very popular southern style with Uli's Sausage, biscuits and gravy all complemented with a wide variety of "morning after" beverages.
Date:  January 1, 2012, 8 am- 2 pm
Prices:  $24 for the buffet; menu items range $19-$22
If you're holiday celebrations including little ones, you'll appreciate that children ages 5 and under dine free in ART restaurant when accompanied by an adult.  And the complimentary valet parking on Christmas Day and New Year's Eve means a little savings that can come in handy this time of year.
Of course, you could just enjoy one of my favorite treats at the Four Seasons Seattle – head out to the pool deck and enjoy a beverage, some quiet conversation, and a beautiful Seattle sunset around the fire pit (in photo above).
Location:  Four Seasons Seattle and ART Restaurant are located at 99 Union Street, Seattle
Photo credit:  From the author's personal collection