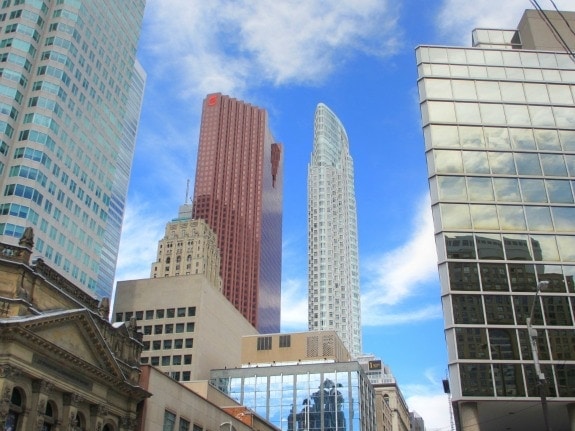 A year in the planning, months in the stressing, and now it's happening – I'm boarding a plane in the wees hours of today to head to Toronto and TBEX 13.
I've been to Toronto before. For an arbitrators' conference a over 15 years ago – although I did get to enjoy a side trip to Niagara Fall, the wine road, and a baseball game at what was then the Skydome – and last year for a site visit in preparation for TBEX. Those were two different experiences, a bit of a whirlwind look at the city, and while this trip looks like a whirlwind one as well, I'm hoping to see a little bit more of the city.
Although I'll get into Toronto a few days before things kick off with TBEX, most of that time will be spent working and getting things ready for the nearly 1,200 travel bloggers and industry representatives that will be attending. There are gift bags to stuff, registration to help get ready, rooms and other operations to assist with, and many deep breaths to take before everyone starts arriving.
I hope to grab some good food and drink, maybe spend an evening in the Distillery District, and wander a neighborhood or two before festivities begin. Evenings will be spent at a reception at the Fours Seasons Toronto's new presidential suite, an evening at  Roy Thomson Hall in the Entertainment District for the TBEX opening party, a fery ride for a party at Shopsy's on Centre Island, and a whole lot more.
One of the things I'm really looking forward to, is some relaxation and personal time when it's all over. Monday I'll have the entire day free, although don't be surprised if I sleep in and have a leisurely breakfast, but I'm looking for suggestions as things to do. Perhaps an afternoon of art at one of the museums, a walk in the park or exploring some neighborhoods if the weather is nice, maybe a quick trip out to Niagara Falls with a stop for some wine tasting along the way? So many choices, but so little time.
On Tuesday, I have a busy day planned for me by one of my favorite food bloggers, Andrew of Dobbernation Loves. Andrew has planned a day of food touring for me. A stop here for brunch, there for an afternoon nosh, and somewhere else for some time on the patio. You can bet there will be plenty of tastings – food and beverage – giving me lots to talk about and write about. Be sure to follow me on Twitter and Facebook for photos and the play by play throughout the day.
Have you been to Toronto? What's your favorite thing to do there?