Since it's Labor Day Weekend, marking the de facto end of summer,if not de jure, it's time to do a little organizational work to get life in order.  After a busy spring and summer of traveling, it may seem like things are a little out of control.  I know it does for me.  I've never quite completely unpacked from Italy, and there's still bits and pieces of "stuff" still floating about.
The change of season is always a good time to take stock of life and get things in order.  With that in mind, here are some ways to get a head start on Fall: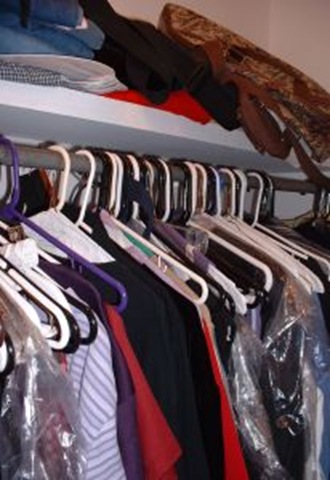 Clean out your closet – Dig deep into your closets and drawers and throw out all the old t-shirts from previous trips that are threadbare or simply no longer fit.  Sure they provide great memories, but think how much room you'll have to buy new ones once you make a little more room.  Same goes true for all your other clothing and travel gear.  If items are in good condition, bag them up and donate to your favorite shelter, clothing bank, or charity.  If items are ready for the rag bag, turn them into those rags or throw it away.
Get rid of old products – Take a look through your medications, cosmetics, and other lotions and potions and throw out anything that's broken and crumbly, smells off, was a mistake to buy in the first place, or if you can't remember when you bought it.  Sun screen generally has a shelf life of two years, but if it's starting to look or smell funky, toss it.  Sort what's left after the tossing and then you'll know what you need to stock up on for your next trip.  If you keep duplicate items always packed (I do), be sure to check what's in your luggage too.
Clothing and gear storage – Put summer things away or get them ready. If you've got tropical travel plans coming up, this process will also serve as a little early packing.  Bring out the fall/winter clothing, and check everything over before it goes in the closet. If you did the work when it went to storage, there shouldn't be anything that needs laundering or mending, but if you skimped on that, take the time to do in now. (And promise that you'll get your summer things in order before putting them into storage.)  Before you know it you'll be planning that ski vacation, so taking the time to inspect clothing now will help you know what you need to repair or replace well before you leave on vacation.
Organize your giveaways – Whether it's going to a friend or family member, or being sent off a clothing bank or charity of your choice, set up some bags or boxes so that you can start dropping things in it. Since it might take you awhile to complete the organization process, be prepared to have them hang around a bit until you're finished. If the clutter bothers you, drop them off as you fill a bag or box.  You can be a good citizen of the world by packing up your gently used items for re-use, but before giving items to an unfamiliar charity be sure to do your due diligence.
Clean your shoes, boots, and bags – It's easy to put this off while you're busy with day to day life, but take advantage of a little extra time to really take a look at everything. Do your hiking boots need new laces?  Shoes need a shine or a repair? If a pair of shoes you love is looking a little sad, talk with a cobbler to see if re-soling them can give you a little more life. (I did this numerous times with a classic pair, and finally the cobbler had to say no more – I had completely worn them out.)  Fix straps on purses,messenger bags, backpacks, briefcases, etc., replace hardware, and get rips stitched up.
Make lists – As you're getting everything organized, you'll undoubtedly come across ideas for things that you're missing, have run out of, or ideas about how to make the most of what you have. Create some lists for yourself, such as, things to buy, products to check out, items you're running low on and need to replace, etc. Look for ideas where one item will coordinate with a number of things, extending your wardrobe in any number of different ways, making it easy to plan and pack for your travels.  Consumer smarter not more.  This goes as much for your business travel clothes as it does for your beach vacation clothes.
Recycle your magazines and books – If these have stacked up over the summer, it's time to recycle them. Tear out any articles or photos that are of interest, and recycle the rest. If the magazines haven't been torn up, maybe because you've been too busy to read, just accept that you're not going to get to them and pass them on. Maybe there's another traveler who would love the back editions of your favorite travel magazine.  Or, a women's shelter, doctor or dentist office may love to have them.  Pass on guide books or other travel books to someone who will find them useful and love them as much as you did.  For some reason I'm always hesitant to pass on guidebooks.  It's really silly to hold on to them, because I usually pick up a new one if I go back somewhere.  I now keep only the ones I need for reference, and pay it forward with the others.
Relax a little – After all this organizational work, make sure you take time for yourself. Have a bubble bath, read a book, enjoy a great meal or a glass of wine.  Research new vacation plans, travel destinations, and products.  You've cleared your life of lots of debris, so take the time to dream.
Photo credit: SXC