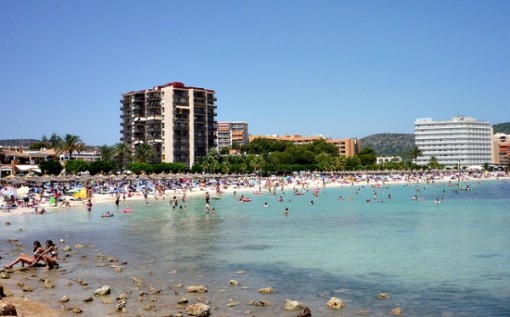 If you want a holiday destination that's full of European life, why not travel where they do – head off to Magaluf on the island of Mallorca.  The Spanish island, which is also spelled Majorca, is a popular vacation destination for Europeans, especially those from the United Kingdom, Germany, and Scandinavia.  Magaluf is pretty much a party resort, and is located a half hour away from the airport in the towns of Torrenova and Palma Nova.  If you're looking for a party-type of vacation, this is one great place to have it.  But in an interesting (and unusual) dichotomy, Magaluf also appeals just as well to families – perhaps because of its lovely beaches – and its peak tourism time is the summer months when the kids are out of school.
The sun and the beaches are the primary attraction of Majorca, and with miles of sand it's easy to understand why.  It's also what most of the families come for.  Family friendly activities on Majorca include:
Watersports – Surfing, windsurfing, jet skiing, paddle boarding, scuba and snorkeling, boat rentals, swimming, and pretty much an water option you can think of.
Black Lizard Island – Located in the center of the bay, about 425 yards from the main beach, it's home to a colony of black lizards that give the island its name.  It's an energetic swim for those so inclined, or head that way on your board or boat.
Go-karting
Horseback riding – Near the beach or around the island.
Waterpark – The waterpark is located on the outskirts of Magaluf.  With its wild west theme it offers up the usual water rides of all thrill levels, as well as a variety of performances, and is family friendly.
The nightlife in Magaluf is what you'd expect on a party island  – plenty of bars and nightclubs lining the beach.  Most of nightlife action is centered around the Punta Ballena strip, and there's enough to see and do that you can likely opt for a different club experience every night.  Some of the popular venues include:
BCM – The largest nightclub on the island has two floors of music and energy, and has recently opened a VIP lounge that provides table service.  The club puts on foam, popcorn, and water parties on its lower floor, and claims to feature the largest and most famous foam party.  (Located on the Avenida S'Olivera.)
BCM Square – Located behind the club, this venue hosts major sporting events in a stadium-like atmosphere.  Thousands turn out to watch games on the big outdoor screen, so it can get a little crazy.
Bars – Boomerangs and Bananas, among others popular across Europe, can be found in Magaluf.
Pirates – A dinner show with acrobatics, dancing, comedy, and plenty of drinks.  And an after party.
Mallorca Rocks Hotel – During the summer season, Mallorca Rocks features live concerts every Tuesday night.
Photo credit:  Chris via flickr