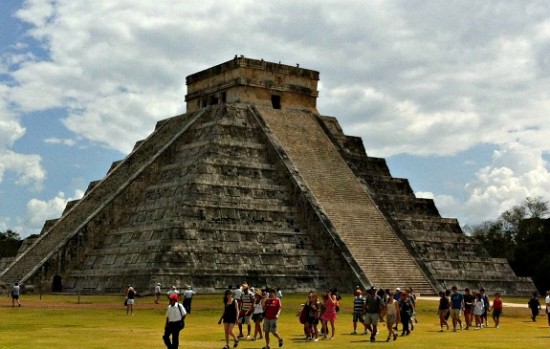 Inspired by writer and blogger JoAnna Haugen I'm starting my very own list of 100 and challenging myself to 100 new experiences in 2012.
Since travel is a large part of my life, both vocation and avocation, you can expect to see lots of travel related experiences.  But I want to highlight some of the other small things I've done.  Things that aren't designed to wow anyone.  Things that are just representative of trying to live life on my own terms in a more mindful way.  And this yearly list doesn't replace the list of 100 items on my travel bucket list.
Since I've borrowed (perhaps stolen is more accurate) the idea from JoAnna, I'm relying on her "rule" that it's okay to reflect back on the year in making the list.  It doesn't seem like I can think of very many things, but I know as I look back over my calendar and journal that I'll find plenty to add.
So let's get started – here's my list of 100 experiences for 2012:
Listened to slack guitar music
Had dinner at a private membership club
Attended a travel goods and products show
Visited Chichen Itza (in photo)
Took two gondolas up a mountain to 14,444 feet
Went on the new Transformer ride at Universal Studios Hollywood
Ate a chocolate hamburger
Made homemade ice cream (vanilla)
Attended TBEX (Keystone, Colorado)
Visited The Tech Museum in San Jose (California)
Ate poutine in Toronto
Wore a plumeria lei
Went to In-and-Out burger (not sure what all the raves are about)
Saw a sandcasting competition
Heard a performance of a friend's uke band
Made margaritas from scratch
Planned a conference
Had real tapas
Went to Spain
Drank Cava, Drank more Cava.
Drank Catalonian beer (Moritz)
Visited a winery in Spain
Went to a shopping mall in Barcelona
Spoke both Spanish and Catalon in Barcelona (and checked that off my bucket list)
Went to a new continent (Asia)
Went to Japan
Ate "pancakes" in Tokyo
Rode the Tokyo subway (and it wasn't bad at all)
Ate ramen in the "ramen war zone"
Rode on a 787 Dreamliner, business class
Stayed in Greektown (Chicago)
Rode the Ducks (Seattle)
Saw King Tut Exhibit in Seattle
Made lemon drops from scratch
Appeared on a panel at PhoCusWright
Got a charm bracelet
Cooked a prime rib roast
Colored my own hair (not great, but not horrible either)
Discovered that I enjoyed the fantasy genre reading the Game of Thrones series (and watching on television)
And hey – while we're thinking and talking about integrating new experiences into our lives – why not start a list of your own.  I'll be updating my list from time to time, and if you do one too, please leave a link to it in the comments.
Photo from my personal collection