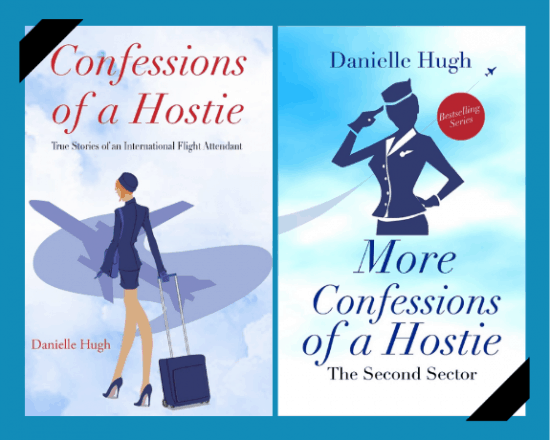 Flight Attendant.
For years the job title has conjured up visions of glamour, luxury, and a bit of mystery. And while the reality is far from where your imagination may lead you, it's always fun to have a peak behind the proverbial galley curtain.
Two recently published e-books attempt to do just that, Confessions of a Hostie:  True Stories from an International Flight Attendant and More Confessions from a Hostie:  Second Sector.
If you have ever wondered what it would be like to be a jet-setting hostie, or international flight attendant, then spending a little time in Danielle's life is a captivating journey. You might be surprised and shocked to discover many of the truths behind the lifestyle as well as the incidences and behaviour of passengers at 30,000 feet. In this updated edition, which features Chapter 1 of the sequel "More Confessions of a Hostie: The Second Sector", Danielle writes candidly, humorously and from the heart about life, love and her exploits around the world. From the slums of Mumbai to the glitz of New York there are as many highs and lows as take-offs and landings. Prepare for a turbulent ride of emotions and adventure, so place your seat upright, fasten your seatbelt and prepare for take-off. Danielle Hugh's passion for flying dazzles in this frank and amusing account of jet-setting around the globe. With almost 20 years in a unique working world, her juicy tales are often as shocking as they are colourful.
The publisher's description of the book gives us a couple of hints that might go unnoticed by those not in the airline industry. First, the use of the term "hostie." I have never, ever, in my life used this term. While occasionally I'll use the phrase "stew" when talking with others in the business, hostie is not a term that's familiar to those of us in the U.S. (whether we work international or not). Second, the spelling gives us the hint that this is written by someone for whom British English (note the ou in colourful) is used rather than American English. Third, the publisher is Monsoon Books, an independent book publisher (based in Singapore) that specializes in books on Asia.
With that in mind, let's turn to what Danielle (not her real name, of course) has to say about life in the sky. And layovers.
Since various names and situations have been changed to protect the innocent (or, perhaps, the guilty), you'll need to take everything with a big grain of salt. When you start changing stories so no one will know who you're talking about or who you work for, some things are just not going to make sense. Think of it as a little literary license, and don't examine some of those inconsistencies so closely. Further, flight attendant stories are prone to a little exaggeration – the bad is really never quite that bad and the good is never quite that good. Again, laugh and have fun with the stories, taking them for what it's worth instead of trying to psychoanalyze why someone who feels that way would keep doing the job.
Among the stories told, which are presented like vignettes that are then loosely woven together, you'll find a few common themes:  the best and worst in passenger behavior, the lazy co-worker, the promiscuous co-worker, 5-star hotels (the reality is often different), glamorous destinations (without mention of those that aren't), shopping, drinking, and reflections on life. In other words, it's like sitting down with your best friend and dishing about your lives and loves over a few cocktails.
Both books are a light, fun, read, perfect for a cross country flight or laying on the beach or by a pool. Have fun with them, and enjoy a look at life at 30,000 feet.
It's my pleasure to offer one Traveling with MJ reader BOTH e-books, available in the format (Kindle or Nook) of your e-reader of choice. This giveaway opens at the time of publishing of this post and closes on January 30th, 2013 at midnight, Pacific Time. The winner will be notified and then announced shortly thereafter. Official rules and details can be found below.
Disclosure:  I was provided both e- books for the purpose of this review and giveaway.