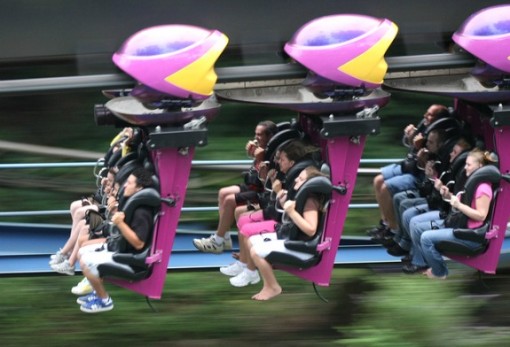 Roller coaster fans have a lot to look forward to in 2012, with new attractions opening at theme parks in the US and Canada.  Whether you're a true fan that crosses the country looking for the biggest thrill, or just want a little theme park adventure, here's a little peek at what you have to look forward to this year.
Busch Gardens Williamsburg – Verbolten is a multi-launch three-and-a-half minute ride that twists and turns like you're on the Autobahn.  It's a 2,800 foot track reaching speeds of up to 55 miles per hour.  The park has six additional rides also opening this year.  Busch Gardens is located in Williamsburg, Virginia.
Dollywood – The Wild Eagle steel wing coaster hovers 21 stories above the ground before dropping riders 135 feet into a series of four inversions, a vertical loop, a zero-G roll, and a flat spin.  Dollywood, named for country superstar Dolly Parton, is located in Pigeon Forge, Tennessee.
Hersheypark – Skyrush is a 200-foot tall steel roller coaster with cantilevered trains.  Hersheypark is located in Hershey, Pennsylvania.  (That's the Great Bear roller coaster in the photo at the top.)
Leviathan – New this year is a 306-foot steel roller coaster that promises speeds up to 90-plus mph.  You'll experience an 80 degree descent as you are propelled through the nearly 5,500 foot track.  Leviathan is located in Vaughan, Ontario (near Toronto).
Sea World San Diego – The new roller coaster Manta is shaped like a giant manta ray.  As it takes you from sky to sea, you almost touch the waves.
Six Flags America – Apocalypse:  The Last Stand is a stand-up roller coaster with a 100-foot climb.  Six Flags America is located in Largo, Maryland (near Baltimore).
Six Flags Discovery Kingdom – Superman Ultimate Flight is the new roller coaster here; it's a 150-foot high ride that speeds up to over 60 mph.  It features two upside down twists and two vertical rolls.  Six Flags Discover Kingdom is located in Vallejo, California.
Six Flags Great America – X-Flight is a new wing coaster that offers barrel rolls, Zero-G rolls, twists, turns, and ends with a vertical flip through a key-hole cutout.  Six Flags Great America is located in Gurnee, Illinois (near Chicago).
Six Flags Magic Mountain – The new Lex Luther: Drop of Doom is a floorless gondola that pulls riders to the top of a 400-foot tower, then drops them at speeds of up to 85 mph.  It's a 5-second free fall.  Six Flas Magic Mountain in located in Los Angeles.
Six Flags New England – With a coaster named Goliath, you know it's going to be big.  Goliath is a suspended seat roller coast that climbs 18 stories before dropping riders into a vertical dive, than back into a 201-foot loop, a 110-foot butterfly turn, and a 19 story drop.  Then it does it all in reverse.  Six Flags New England is located in Springfield, Massachusetts.
Six Flags Over Texas and Six Flags Great Adventure – Both of these parks are opening the Skyscreamer, an extreme swing ride that takes riders 15 stories above the ground, carrying them around in a 98-foot circle.  Speeds get up to about 40 mph.  Six Flags Over Texas is located in Arlington, Texas, and Six Flags Great Adventure is located in Jackson, New Jersey.
It looks like it's going to be a crazy, twisting, upside down year at these theme parks.
Photo credit:  William via flickr