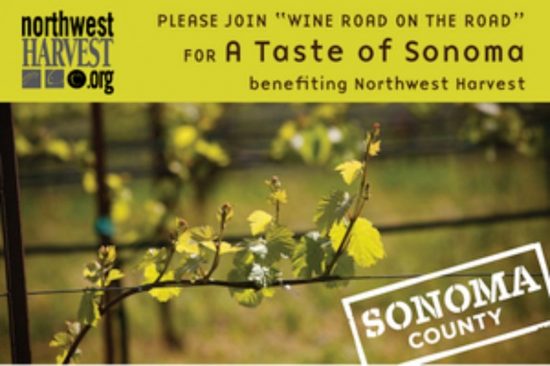 In a delightful combination of good wine and good causes, the Sonoma Wine Road comes to Seattle for a Grand Tasting Experience with proceeds benefiting Northwest Harvest. The Wine Road is an association of over 180 and 50 lodging accommodations located throughout the Alexander, Dry Creek and Russian River valleys of northern Sonoma County.
The wine tasting event will provide an opportunity to sample from over 69 wines from 26 premier wineries located along the Wine Road in Sonoma County. Appetizers will also be served. Additional evening events include jazz entertainment from the Emmanuel del Casa trio and a silent auction.
Here are some of the wineries represented:
From the Alexander Valley
Alexander Valley Vineyards
J. Rickards Winery
Jordan Vineyards & Winery
Kelley & Young Wines
Kendall-Jackson
Robert Young Estate Winery
Stonestreet Alexander Valley Mountain Estate
From the Dry Creek Valley
Collier Falls
David Coffaro Vineyards & Winery
Kokomo Winery
Pedroncelli Winery
Pezzi King
Raymond Burr Vineyards
Sbragia Family Vineyards
West Wines
Wilson Winery
From the Russian River Valley
Battaglini Estate Winery
Carol Shelton Wines
Joseph Swan Vineyards
Lauterbach Cellars
Lost Canyon Winery
Papapietro Perry Winery
Roadhouse Winery
Siduri Wines / Novy Family Winery
Sunce Winery
Woodenhead Winery
I am well aware of how fortunate I am to be able to enjoy wine tasting and the community it bring to a meal. I am equally well aware of how many families struggle to put food on their tables. If you are equally situated, and understand how truly fortunate that makes us, this event allows you to enjoy your passion for wine while supporting a worthwhile cause.
All proceeds from this tasting event will go directly to Northwest Harvest which provides more than 1.7 million meals every month to a statewide network of hunger relief programs. Northwest Harvest is Washington's own statewide hunger relief agency. Its mission is to provide nutritious food to hungry people statewide in a manner that respects their dignity, while fighting to eliminate hunger. Their vision is that ample nutritious food is available to everyone in Washington State.
I'll be there – will you?
Date & Time:  Wednesday, March 27th, 2013, 6:30-9 pm
Location:  Hyatt at Olive 8, 1635 8th Avenue, Seattle
Tickets:  $40 in advance, $50 at the door.
Photo credit:  Courtesy of Sonoma Wine Road