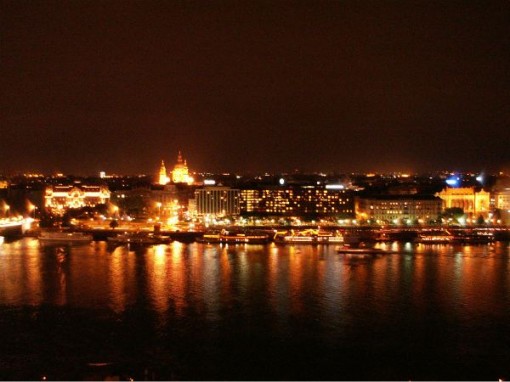 If you want to experience a couple weeks in Europe, feeling like you're being shown around by a good friend, then this new tour offering from Ipswich Tours may be just what you're looking for.
The two-week tour will take you through Prague, Kraków, and Hungary, giving you a chance to see the remarkable sights of the countries while leaving the details of flight planning, reservations, transportation, and more, to someone else.  Here are a few of the highlights of what you can expect in each country:
Czech Republic:  Spending time in Prague will give you a chance to explore the port towns within this fascinating city. We'll have an opportunity to see is that the Prague Castle, home to check rulers for many centuries, along with St. peters Cathedral, the old Royal Palace, the Basilica of St. George, along with many other architecturally significant buildings. You'll have time to stroll through gardens, delight in the winding streets, as well as time for little shopping. There will be plenty of time for self exploration in addition to group activities. And let's not forget about the nightlife at the Prague is famous for. You'll have plenty of opportunity to sample the local food, including a gourmet Czech cooking class, along with traditional music and other cultural activities. In addition to Prague, your time in the Czech Republic will also include a drive through the regions of Central and South Bohemia as you're heading toward your next destination, the beautiful medieval village of Ceský Krumlov, another medieval city. This Sunday to explore here as well, before heading off to your next stop….
Poland: after leaving the Czech republic is good for wellhead through Austria, and stop for lunch in Bratislava, the capital of Slovakia. You'll have a bit of time to enjoy the Danube River, as well as a bit of the countryside before continuing on to Kraków. Once in Kraków you'll enjoy a walking tour that hits the highlights of the old city, give you a glimpse into Poland's history. On a more somber note, there will be an excursion to the Auschwitz death camp, with a guide who will take you through this very dark period of history. You'll also have a chance to visit the ancient salt mines, some of the other city sites, and oh yes, let's not forget the opportunity to taste all the mouth watering Polish cuisine. And then, before you know it, it will be time to head off to your next destination….
Hungary: Your trip to Hungary will take you on a drive through the Slovakian mountains, eventually arriving in the picturesque town of Eger, located in the valley between the Mátra Mountains and the Bükk Range. This is wine country, and the baroque town also boasts 175 historic monuments, including a fabulous castle.  In Eger you'll meet up with your Hungarian guide, Peter, who I had the pleasure of meeting nearly 2 years ago when we were both visiting Croatia. (With Peter's assistance, our short time in Croatia was filled with a combination of great food and drink, a charming hotel, a chance to see the historical sites of the city, along with plenty of good conversation and local color.)  Peter will take the group to some wonderful and little known places in the area, including an opportunity to visit some wineries and to learn what makes Hungarian wine so popular – and tasty.  Try a dip in the thermal lake, enjoy a boat ride on Lake Balaton, and enjoy the food and drink of wine country  — and remember many of your stops along the way are going to include places where Peter is personal friends with the owners, guaranteeing you that extra special personal attention.  You'll then head off to learn about Budapest (in photo above), divided into two by the Danube River.  Get your bearings about these two cities, and learned some of the fascinating history. One of the highlights of the stay in Budapest is a one-of-a-kind cooking class — the Grand Prix. This event will create teams that compete against one another to create traditional Hungarian dishes. Participants will be given money, a recipe written in Hungarian, and teams will then be sent out on a shopping quest to secure the necessary ingredients to make their dish.  Then it's back to the kitchen for a fun and delicious cook off.
Tour dates: September 15-29, 2011
Price:  The price for this fully escorted tour is $5299 per person, based on double occupancy. This price includes round-trip air fare from Boston or New York (slightly higher from other cities), and ground transportation in an air-conditioned minibus; 13 nights in boutique style hotels with private bath (three nights in Prague, two nights in Cesky-Krumlov, one night in the Slovakian Tatras mountains, two nights in Kraków, one night in Eger, two nights in Heviz, and two nights in Budapest). Meals included are all breakfasts (13), three lunches, and 12 dinners. Also included is the Hungarian cooking class, a boat ride on Lake Balaton, winery tours and tastings in the Hungarian wine region, bathing in a thermal lake, and all tour guides, museum and monument entrance fees, tips, and taxes. That makes the quoted tour price pretty much all inclusive, with only your personal expenses not included, so you won't get nickeled and dimed once you get there. If you are already in Europe, or plan to be there during this time, ask for a price quote without airfare.
Group size:  To ensure personal attention, as well as for the enjoyment of all, the group size is limited to no more than 16 participants.
Bonus: You'll get to travel with my friend Peter. He's a great guy and will show you things that you would otherwise miss.  It's like traveling with a good friend who's already been there and is eager to show you around.
Photo credits: Firestarlf via Wikimedia