It's been a busy week, most of taken up with a trip to Cancun for a TBEX North America site visit, followed by a lot of work catching up on email and projects. I'm not quite up to speed yet, but another day or two and I'll be right back on top of things.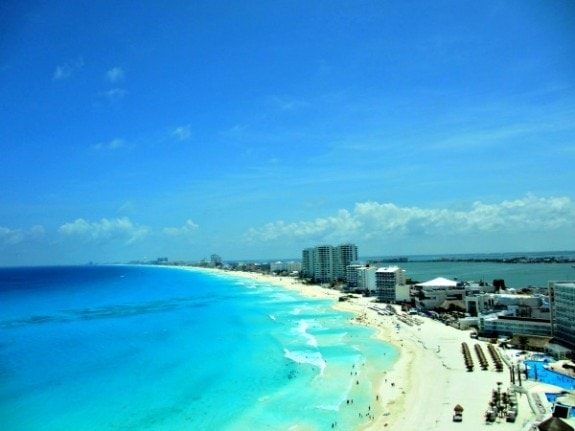 Cancun was hot and humid. It's been about 7 years since I was last there, and I had forgotten just how heavy the air could be in the middle of summer.  Stepping out of the hotel  meant an instand fogging of my glasses, camera lens, and phone. And let's not even talk about how frizzy my hair gets in weather like that. Still, it was a fun and informational trip, and I'm glad that when we return in September the weather will be less humid.
It's a short list of reading this week, but I think you'll enjoy it.
Cats Around the World
It appears that I'm not alone in snapping pics of cats when I'm traveling (not to mention my own at home). Carol started this collaborative effort of others who take photos of cats on their travels. Scoll down the photos for my contribution, the Wrath winery cat.
If you're a cat lover, like I am, you probably notice them everywhere you go.  I've found myself photographing them with almost the same enthusiasm as I do a world-famous site.
Read original article here: Cats Around the World
Chocolate Making Class in Brussels
I do love my chocolate, and what better place to learn about it that in Belgium, one of the chocolate capitals of the world. I remember visiting and being amazed at all the chocolate creations (it was Easter time), but I didn't have the time to take a chocolate class. These photos will make you wish you could take one.
Every Saturday at 2:30 pm, visitors are invited to join a Zaabär chocolate maker in a small group setting (maximum 10).
Read original article here: Chocolate Making Class in Brussels
Un"wine"ding at the Ritz Carlton Chicago Spa
Wine and spa treatments?  Two of my favorite words in the same sentence. Jennifer explains what vinotherapy is all about, as well as gives you a peek at her own experiences with it.
Though the word "vinotherapy" might conjure up images of popping the cork on a bottle and sharing it with girlfriends while you dish about man troubles or maybe lounging back with your favorite reality tv show and a glass of jammy, comforting red, vinotherapy is actually a technique used by spa experts that incorporates wine by-products into treatments.
Read original article here: Un"wine"ding at the Ritz Carlton Chicago Spa
Get Castled Out in Birmingham
I like castles. Maybe it's a throwback to childhood and the romantic idea of becoming a princess and living in one. Maybe it's the history that's steeped in every stone in the walls. Maybe it's just because they can be so darned stunning and spectacular (although, some are certainly crumbling into disrepair as well).
Birmingham is a city rich in history, perfect for exploring the past. The industrial revolution started here, but history goes much further back; within an hour's drive, you'll find more than 18 (!!) castles (and Shakespeare's home).
Read original article here: Get Castled Out in Birmingham
10 things to do in Calcutta
I have mixed feelings about visiting India. On one hand, I have a couple of friends who fell in love with the country and visit regularly. They talk about the beauty, food, and the people in glowing terms, it's a spiritual feeling that have for the country. On the other hand, there is my concern about sanitation (even regular visitors seem to experience "Delhi belly"), the pollution and crowdedness, and the extreme caste system which has so many residents living in abject poverty. I haven't resolved it in my own mind yet, so it's good for me to read stories from people who have already come to terms with it.
Calcutta, or "Kolkata", is not an easy city to understand. You need to stay here for a while to figure out the Bengali people, their incredible cuisine, the unique culture, the numerous festivals and the rush hour traffic jams.
Read original article here: 10 things to do in Calcutta