Based on the popular movie franchise, Transformers:  The Ride-3D is a mind-blowing new Transformers adventure that puts you in the middle of the ultimate war zone.  You'll fight alongside Optimus and try to survive as you protect the AllSpark from Decepticons over four stories tall. Remember, the future of the human race is counting on you.
Or at least that's what the people at University Studios Hollywood us about their new immersive thrill ride based on the iconic brand of action figures and blockbuster movie series.  Sure, we've all heard that kind of hype before, and maybe that's all it is, just some hype to pump up attendance on the kick off to summer Memorial Day weekend.  We can't help but ask, "Is it really all it's cracked up to be."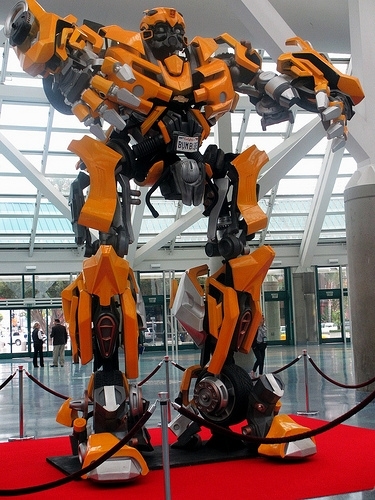 Yes.  It is all it's cracked up to be.  And more.
I had the opportunity to enjoy a few preview rides on Transformers: The Ride 3-D while in Los Angeles attending a travel industry event.  I am not familiar with the action figures nor the movie series, so I probably couldn't appreciate the story line of this motion-based thrill ride.  I don't know the characters, and can't tell the good guys from the bad guys.  Was I going to enjoy the ride when I didn't know anything about what it was based on?
Well, I may not know Transformers, but I do know a good theme park ride when I experience it.  This one is going to a blockbuster!
Using a whole bunch of special effects that I can't begin to understand (photo-realistic 3D-HD media, elaborate roaming flight simulator ride systems, and hyperrealism and immersive visual effects), the ride tells guests a new Transformers story of Earth's humans caught in the middle of an intergalactic war between alien robots, the heroic AUTOBOTS and the evil DECEPTICONS, that physically convert from common mechanical devices, such as cars, trucks and planes to robotic warriors.  Your involvement starts when you get in line, and along the way to the actual ride itself, you'll be inundated with visual and auditory stimuli that will help you prepare for battle.  And if this is the hit everyone is expecting, those lines will be long and you'll have lots of time to "prepare."
Once you reach the front of the line and are securely strapped in the real adventure begins.  I'd like to give you a scene-by-scene description of what happened next.  But I was gasping, laughing, turning to look at everything.  My heart was thumping, my senses were on alert, and I just hung on and enjoyed the ride.  I predict you'll enjoy it the same way – and then get right back in line to do it all over again.  And again.
Transformers: The Ride 3-D opens on May 25th, 2012.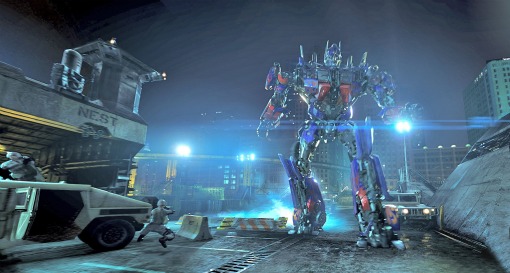 There are plenty of other great rides, too.  Try:  King Kong 360 3-D, The Simpsons Ride, Revenge of the Mummy (an indoor roller coast ride), Shrek 4-D, Jurassic Park (you will get wet), and more.
Location:  Universal Studios Hollywood, 100 Universal City Plaza, Universal City, California.  A bus stop serves numerous routes, and a free shuttle from the bus stop and subway station takes guests to the entrance to the park.
Hours:  Hours vary depending on season, with extended hours on holidays and during the summer.  Check the calendar for the date of your visit.
Admission:  Take a big gulp here, because a visit to Universal Studios will set you back some.  There are three popular ticket choices:  Buy One Day/Get 2nd Day FREE is $77 and is only available online.  The Front of Line Pass, which gives you a one-time per attraction jump to the front of the line, is $129, going up to $149 for holidays and the summer.  The VIP Experience, which combines a number of special film studio experiences with the theme park is $249/$269.
Special Transformers Info:  You must be 40" tall to ride.  Children between 40-48" tall must be accompanied by a responsible companion aged 14 years or older.
Photo credit:  Exterior and Bumble Bee from author's personal collection; interior ride shot courtesy of Universal Studios Hollywood, via TravMedia
NOTE:  I received a complimentary admission to Universal Studios Hollywood as part of a private party event.