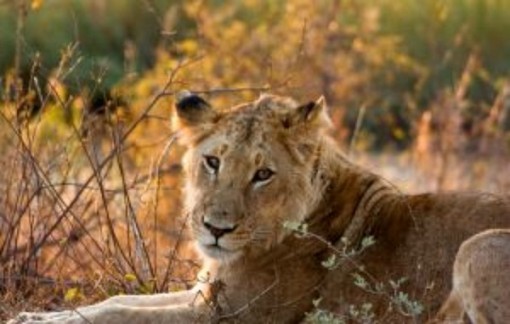 There are plenty of times when I prefer an independent travel style, cobbling together an assortment of flight plans, accommodation arrangements, rental cars, and other odds and ends that might be needed.  But there are also times when I realize that leaving all that work to someone else not only saves me time, but also money.   And when travel plans are exotic, far away, and toward the pricey end of the spectrum, looking for a good package value is even more important.
So I was pretty excited to see a 5-star luxury safari package coming in at a super value price.  Let's take a look at how this package can help make a safari, an often trip of a lifetime choice, a value luxury reality.
Lion World Tours is offering a Safari in Absolute Style 9-day itinerary that includes 4 nights at the luxuriously The Twelve Apostles Hotel and Spa in Cape Town, South Africa.  This 5-Star hotel frequently appears on lists of top hotels in the world, and you can spend your time luxuriating nd relaxing at the spa or getting out to explore Cape Town.  After you're acclimated to the time change, and have spent some time in country, you'll head off for two nights in the African bush staying at the luxurious Madikwe Safar Lodge.   The Lodge is located in the Madikwe Game Reserve and offers limited luxury suites (no more than 20 to ensure privacy) in three camps.  You'll get air conditioning, a plunge pool, and all the luxury en suite amenities that you'd expect.
Here's the lowdown on what the package includes:
Round trip economy class airfare from New York (JFK) or Washington Dulles (IAD) to Cape Town on South African Airways, including all fuel surcharges and taxes.  Add on fares available from other departure destinations.
Domestic flights with South Africa
Round trip charter air between Johannesburg and Madikwe
4 nights accommodation at The Twelve Apostles Hotel and Spa
2 nights accommodation at Madikwe Safari Lodge
Most meals:  6 breakfasts, 2 lunches, and 3 dinners
High tea at The Twelve Apostles Hotel and Spa
Game Drives
Transfers
Price:  $2,995 per person based on double occupancy
Dates:  Price valid for departures October 1-November 30, 2011
This is an incredible value for a itinerary that often ranges twice the price.  I priced out airfare, and it ranged in the $1400-1600 range alone (not including fees), and that's just to get to Cape Town.  If you're ready to take take that safari trip of a lifetime, check out the itinerary for all the value added items and start making plans.  If our travel concierge can help with your safari reservations, let us know.
Photo credit:  SXC