Last month I re-launched the monthly themed travel round up, in July focused around the theme of music. There were 12 great stories linked up, all talking about how music is an integral part of many travel experiences, and I hope you had a chance to read them. If you haven't, you can head on over and take a look.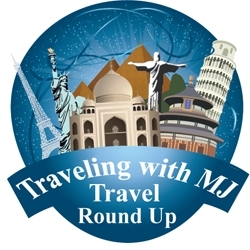 My favorite of the linked up stories was from Heidi at Wagoners Abroad. Her story, Time To See Aida in Verona, Italy, makes me want to give opera another try. Aida is one of the classic Italian operas and I can't imagine a better setting to it than in an outdoor stone amphitheater as dusk turns into night. I loved how they had this experience as a family, even if they didn't make it through the whole performance. And what a great reminder to look for these kind of opportunities to enjoy music when we travel.
Did you have a favorite from among our musical selection?
So what's up this month?
This month let's talk about food, and more specifically those great restaurants, cafes, food trucks, etc., that we've discovered and enjoyed during our travels. I'm asking my blogger friends to contribute their favorites stories centered around this theme, and I hope we'll create a delicious menu of stories for you to enjoy.
If you're a blogger and would like to participate in the link round up, here are the guidelines:
Post must of good quality and related to the monthly travel theme. No sponsored or advertorial content, please.
Only one link per blog per link roundup.
The roundup is moderated, so it may take a little while for your link to appear. Don't worry, I'll get them all approved and they'll show up in the order they were submitted. Posts that don't match up with the theme of Restaurants will not be added.
When adding your post, please use the title where it says Name (name of post).
Be a good participant and link guest by taking the time to visit the submissions of other participants. If you're hoping that others will share your post, be sure to follow the golden rule and do unto others first – leave comments and share posts.
You're encouraged to leave a comment on this round up post and, if you're so inclined, to indicate on your post that you've participated in this round up. This is a nice thing to do, the sort of sharing that was at the heart of blogging when we started.
Check back often to see new link participants.
Share on your social media networks as you think is appropriate. I hope you find some interesting and creative stories that you'll want to tell people about.
The next link up will be Monday, September 30th, 2013. Be sure to check back then for the September theme and more great travel sharing.
To participate, just click on the link up button below and add your post.