As an ambassador for TravelSmith, I'm excited to outline some of the wardrobing choices that I make for travel.
Just like my travel ethos of value luxury, I look for clothes that meet the same standards. They must be fashionable, well-made, able to do double duty when I travel, pack easily, and provide lots of choices to wear in as minimal space as possible. And, of course, they need to be fairly priced so they don't break my travel budget.
I recommend products from TravelSmith. Since 1992, they've been offering high-quality, versatile clothing and gear for men and women. And while traveling is in their company name, their clothes are equally perfect for everyday life.
Here are a few of the items that I love – and I think you might, too. I've pulled them together with other things in my closet, from accessories to pants and sweaters, creating a simple and easy-to-pack traveling wardrobe.
Please note that TravelSmith has provided me with complimentary wardrobe items; the links on this page are affiliate links.
Want to save money on your TravelSmith purchase? Scroll to the bottom of the page for a great money-saving deal.
Little Black Dress
Everyone needs a little black dress and this Indispensable Basic Short-Sleeve Dress is wonderful for travel. Wear it alone for an easy, breezy beach or poolside look. Layer a blazer and a scarf for a chic shopping trip. Layer over leggings on a chillier day. Or toss on a scarf or wrap for a fashionable uptown look. Perhaps best of all, it washes up easily – even if you're on the road and have to do your laundry in your sink and then hang to dry.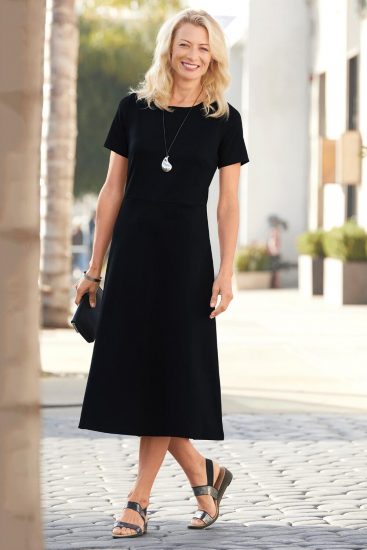 The Indispensable Basic Short-Sleeve Dress from TravelSmith comes in a few other colors and selecting two coordinating colors with mix and match accessories will give you fresh looks for weeks and take up little space in your luggage. I'm eying the teal one as adding a bright, fun color into my travel wardrobe will help brighten things up a bit.
I wore the dress touring around Paris one day, carrying a sweater and scarf to throw on when the temperature dropped. You can see me in the dress at the summit of the Eiffel Tower below.
You can find more information about the Indispensable Basic Short-Sleeve Dress, including sizes, colors, and pricing by clicking the photos above or the link here.
Canvas Tote
When you travel as much as we do, you get very demanding on the clothing and products you choose to pack. I don't want to lug a bunch of stuff around, so I'm always on the lookout for things that do double duty, things that I can wear and use in a variety of ways. I get more bang for my buck that way and, perhaps more importantly, I can look good while packing less.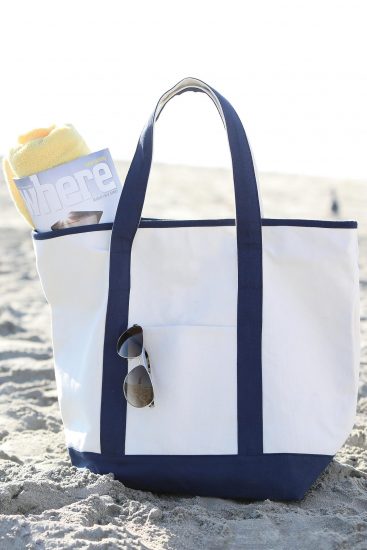 On a recent trip to Paris, this Large Canvas Tote Bag served as my carry-on for the plane (and held my laptop and cords, paperwork, small purse, and assorted stuff that I need inflight). It's also perfect for a deck tote during a cruise (it holds your book, sunglasses, hat, sunscreen, snacks), to hold a picnic lunch while wandering around Paris (meat and cheese will fit in, but that baguette will be sticking out), shopping at your local farmers market, or just zipping around town.
The bag is roomy and durable, with reinforced straps for ease in carrying and a double-layer base keeps it sturdy. The large main compartment has a zipper to keep things secure and the handy outside pocket keeps frequently used items easy to get to.
It's practical and looks fresh and even after a lot of use, I spot clean and it looks good as new. I used it for touring a cruise ship recently and stood on deck wishing I was sailing away.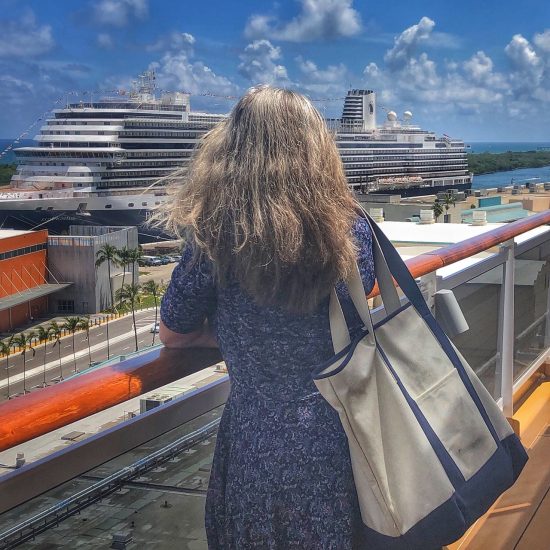 You can find more information about the Large Canvas Tote Bag, including price, monogramming options, and shipping by clicking on the photo above or the link here.