Jump on your bike and head off with SpiceRoads' Bike and Hike Wild Madagascar, a 15-day adventure to a biodiversity hotspot world renowned for its natural treasures, rich culture and charming ethnic groups. This bike and hike tour will introducd you to the friendly Malagasy people, along with their proud traditions, before heading off into the wilderness to sample the country's vast biodiversity.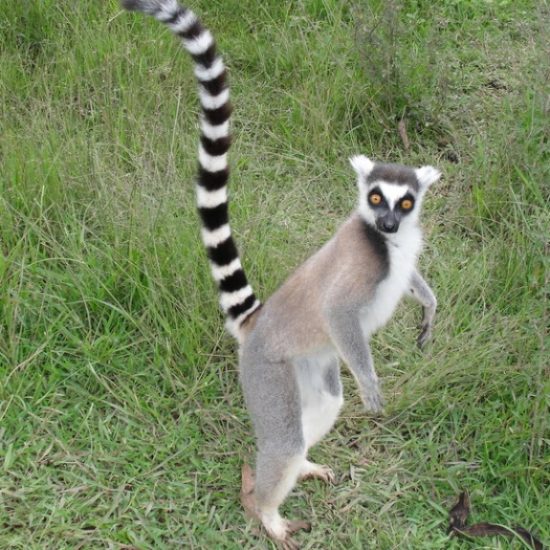 On the tour you'll spot unique plants and animals and explore stunning landscape with countless sharp cliffs and bizarre rock formations resulting from volcanic activities and wind. You'll wind through the prairies and hills of Madagascar's massifs to discover a a land this country has hidden from the rest of the planet – truly an experience unlike any other.
What to expect:
The tour meets at Antananarivo, Madagascar's capital, and then travels through the highlands to the popular retreat of Antsirabe where the biking begins.
The biking and hiking adventure then heads southwest through many magnificent national parks, past crystal blue crater lakes to magnificent savannah grasslands and ends at the turquoise waters of the Indian Ocean at Ifaly.
Highlights of the tour include:
Andasibe National Park, a tropical rainforest teeming with chameleons, leaf-tailed geckos and the largest living lemur, the Indri.
A visit to the Zafimaniry, an ethnic people who are famous for their wood carvings, which are listed as one of UNESCO's Intangible Cultural Heritages.
Trek through the rainforest of Ranomafana National Park and spot the golden bamboo lemur.
Cycle through the wine region of Madagascar to the beautiful town of Ambalavao with its brightly painted buildings.
Hike through the canyons and along the pathways of the huge rock massifs of I'Isalo National Park, home to the ring-tailed lemurs.
Cycle past Tritriva crater lake.
End the tour at Ifaty beach.
This journey is a multi-activity tour consisting of 519 km )322 miles) of riding and 50 km (31 miles) of hiking. The trip is recommended for confident and physically fit riders looking for a challenging experience with a variety of off-road activities.
SpiceRoads is a specialist bicycle tour operator based in Bangkok, Thailand, offering a range of two-wheel tours in over 25 destinations worldwide. SpiceRoads tours cater for every level of cyclist and range from day trips to complete country explorations. Participants are invited to join tours with fixed date departures scheduled throughout the year, while private or tailor-made tours can be arranged for groups or individuals on request.
Dates:  Starting in May 2015
Rates:  $3,250 per person, plus an additional $395 for bike rental. Rate includes accommodations, all meals and drinks, snacks while riding. Save 10% on the inaugural tour departing May 10th, 2015 with the promo code LEMUR.
Photo credit:  via TravMedia