Journey back to the cradle of Western Civilization like never before with Perillo Tours 12-Day Luxury Greece Island Adventure, offering authentic new cultural experiences and five-star accommodations.
On this adventure, first-time visitors as well as Greek connoisseurs will experience the majesty of viewing Athens from high atop the iconic Acropolis, and will then set sail to discover the distinct shapes, sizes and personalities of the Greek Islands in Mykonos, Santorini and Crete. Along the way, adventurers will be guided by professional tour directors and immerse themselves in enriching experiences such as a Greek language lesson, cooking demonstration, traditional ouzo tasting, a cruise to Santorini via private catamaran and more.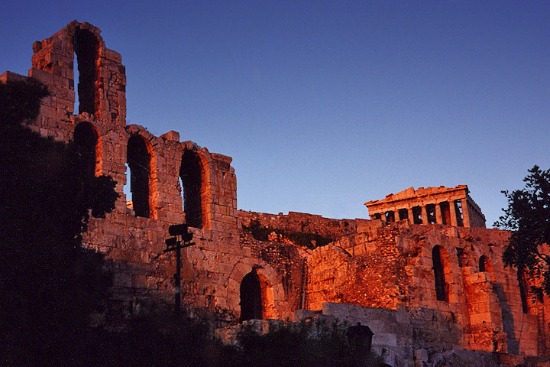 The journey begins in Athens, where guests will stay two nights in the luxurious Grande Bretagne Hotel and spend time exploring the architectural masterpieces of ancient Greece such as the Acropolis, Hadrian's Arc, and the temple of Olympian Zeus. On Day 4, visitors will head down to the Piraeus, that favorite haunt of Socrates, and board a ferry to the mythical island of Mykonos, today known for its cosmopolitan chic, festive nightlife and traditional tavernas. Guests will spend two-nights on Mykonos, its ideal location allowing for a convenient day trip to nearby island Delos, once the center of the Cyclades of the ancient world and mythical birthplace of several Greek gods.
On the sixth day, visitors will head to romantic Santorini and enjoy a luxurious catamaran cruise around the island's famous Caldera, with stops at the beaches and hot springs for swimming and snorkeling. The next two days will include a visit to the island's Volcan Winery and underground museum, with tastings, and a sampling of the Greek liquor ouzo at a traditional meze lunch.
Travelers will depart Santorini for the most populous of the Greek islands, Crete, and on the ninth day will remain based at the Hotel Porto Elounda luxury resort for the remainder of the stay. With its multiple restaurants, extensive wellness center, private golf courses, scuba diving lessons and more, the Hotel Porto Elounda is a world of luxury. Yet its real advantage lies in its proximity to the famed archaeological site of Knossos, center of the legendary Minoan civilization, as well as many charming Cretan fishing villages, providing an insight into what life might have been like for people just like us, thousands of years ago.
Highlights Include:
Greek language lesson and guided tour of Athens with visits to the Acropolis, Syntagma (Constitution) Square, and Panathenaic Stadium, where the first Olympic Games of the modern era were held in 1896;
Excursion to archaeological sites on the island of Delos, rumored birthplace of Apollo and Artemis
Private catamaran cruise in Santorini's famous Caldera, including lunch aboard the ship, with stops at the "red" and "white" beaches and hot springs for swimming and snorkeling
Visit to Santorini's Volcan Winery, featuring an underground wine museum and tastings
Cooking demonstrations on the island of Crete, with lessons in making Greek meze delicacies such as tzatziki, dakos, and loukoumades (Greek donuts)
Dates:  Departures April – October 2014
Rates:  This exclusive package begins at $3,890 per person, double, and includes accommodation at 5-star deluxe hotels, all transfers, most meals, guided city tours, and other experiences.International airfare is not included.