Nearly 70 years ago, a mighty armada embarked on an invasion that forever changed world history. The Nazi grip on western Europe was cracked on June 6, 1944, as brave soldiers crossed a slender ribbon of sea from England into Normandy and initiated one of the most influential battles of WWII. D-Day has been recalled by the veterans who fought it, the newsreels that depicted it, and thousands of dedicated historians – yet few have actually set foot on the infamous beaches.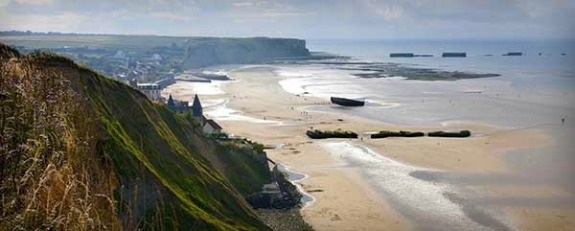 Uniworld Boutique River Cruise Collection is offering the opportunity to commemorate the 70th anniversary of D-Day in Normandy with an all-inclusive Paris & Normandy cruise. Guests explore the D-Day museum in Mulberry Harbor and venture to the Juno and Omaha Beach landing sites. The American Cemetery serves as a haunting reminder of the Allied forces' hard-won fight for freedom, and cruise guests will attend a wreath-laying ceremony and observe a moment of silence to honor the fallen American soldiers.
This itinerary deftly combines history with culture, cuisine and the brilliant landscapes of northern France. Watch the evening lights dance along the Seine River in Paris, marvel at Notre Dame's sneering gargoyles, and behold the scenery that inspired some of the world's greatest artists. Breathe in the fragrance of Monet's garden in Giverny and walk in the footsteps of Vincent van Gogh in Auvers-sur-Oise. This cruise is an enchanting immersion into a fascinating land brimming with legend, history and art.
Paris & Normandy is an 8-day river cruise, starting and ending in Paris, with stops in Giverny, Rouen, Honfleur, and Auvers sur Oise.
Uniworld has been recognized as one of the top cruises lines and has received numerous prestigious awards for its luxurious boutique ships. Average ship capacity is 130 guests, with the highest staff-to-guest ratio in the river cruise industry. They offer a true all-inclusive cruise experience.
Dates:  Weekly Sunday departures starting March 16th and running through October 2014
Rates:  Prices start at $3,199 per person, depending on sailing date and cabin category. Price includes:  All gratuities for all onboard and onshore services; unlimited fine wine, beer, spirits, and non-alcoholic beverages; shore excursions with local experts as your guide; free Internet and Wi-Fi; and all arrival and departure day transfers. Air fare not included.
Photo credit:  Uniglobe via TravMedia