Bordeaux, France, may be known for some of the most prestigious wines in the world – including sparkling ones. Visitors to Bordeaux can now try bubbles of a different kind with some very novel types of accommodations.
Situated on an 80-acre estate of century old trees and vines stretching as far as the eye can see, La Romaningue has created some whimsical choices for overnight accommodations:  Bubbles, Tree Houses, and a Gypsy Caravan.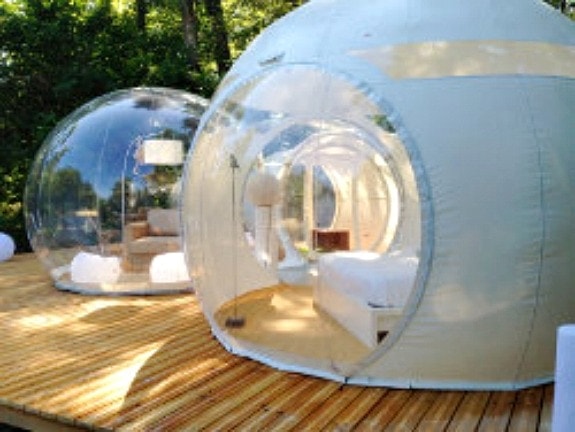 Bubbles:  Scattered across decks, among plenty of outdoor greenery, these partly opaque bubbles let you spend the night enjoying a starry sky. The accommodations consists of multiple bubbles for living space, sleeping space, and toilet area, allowing you to feel like you're a part of nature, while still maintaining a few creature comforts. Bubbles sleep 2-3 people.
Tree Houses:  Set high in oak trees, the tree houses are accessible by rope and you'll get a demonstration upon arrival. All the tree houses have terraces of some type. There is no electricity or running water, and dry toilets are available. This is roughing it, but with a great view. Tree houses can sleep 2-4 people.
Gypsy Caravan: Built with love by Romanian craftsmen, the caravan has been modernized to allow for more comfortable accommodations. Solar panels provide electricity, the bathroom has a dry toilet and cold water tank, and the caravan has a lovely porch to sit on. It's still on wheels, but don't worry, you're not going to be rolling anywhere. The Gypsy Caravan sleeps up to 4.
Upon arrival at La Romaningue, guests are provided with a backpack that includes small bottles of water, binoculars, a great LED lamp, small dynamo lamps, a headlamp and candles.
Accommodations include a breakfast hamper delivered around 9 am, allowing you to enjoy a peaceful start to the day with pastries, baguette, home made jams, juices, yogurt, and hot drink of your choice. Picnic hampers are also available in the evening for a dinner meal (additional charge). Tours of the vineyards and tasting sessions can also be organized.
Location:  Chemin de Bon Ange, 33370 Pompignac (just a few miles out of Bordeaux)
Rates:  Starting at 125 Euros for the caravan, 140 Euros for the bubble and tree house, based on double occupancy and including breakfast.
Photo credit:  Courtesy of Tourism Aquitaine; ©Cabanes de La Romaningue