Seeing the Northern Lights is on a lot of traveler's bucket lists. Here's an easy, value luxury way to see them, by sea on a Hurtigruten cruise ship.
Astronomy enthusiasts and adventurous travelers seeking a view of the Northern Lights will enjoy Hurtigruten's new addition to their winter sailing lineup, the Astronomy Voyage. These 12-day sailings along the scenic Norwegian coast allow guests to join the Aurora Borealis watching sessions on the ship's deck at night for possible views of the famous Northern Lights display, as well as visit the Northern Lights Planetarium in Tromsø to learn more about this phenomenon. Guest lecturers will also be on board to educate guests about the science and history behind the Northern Lights.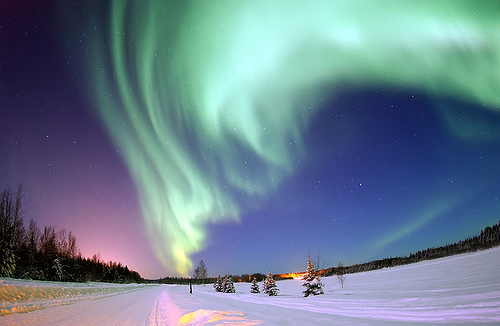 The Astronomy Voyages runs round trip between the UNESCO-listed harbor city of Bergen to the Arctic city of Kirkenes and back to Bergen. During the voyage, guests will have the opportunity to visit the beautiful Art Nouveau city of Ålesund; the royal city of Trondheim; the legendary Lofoten Islands; Tromsø, the capital of Arctic Norway; Hammerfest, the world's northernmost town; and Kirkenes, located just a few miles from the Russian border.
In addition to a litany of optional excursions, all guests will visit the Science Center of Northern Norway's Northern Lights Planetarium. Norway's largest planetarium, it features the world's first all-dome, 360-degree theater showing screenings of "Experience the Aurora," a planetarium movie about the Northern Lights. The film features footage taken over seven months of winter sky watching, hundreds of thousands photographs and hundreds of hours under the spell of the Aurora.
Guests will learn more about the science behind the Aurora Borealis through a series of onboard lectures conducted by acclaimed astronomy scholars and experts. Four to five lectures per sailing allow guests to learn about this phenomenon as well as to share their enthusiasm for astronomy with fellow travelers. Guests can sign up to be awoken during the night should the crew spot the lights.
Optional land excursions include a visit to Atlanterhavsparken, one of Northern Europe's largest salt-water aquariums; a polar history walk including a tour of the Polar Museum; a trek to the North Cape, the northernmost point on the continent; a Viking feast complete with homemade mead; and the chance to go reindeer sledging, the traditional Sámi way of transport through the Arctic landscape.
Dates:  Departures on September 25th, October 20th, and November 20th, 2014; January 7th, February 6th and 9th, October 6th and 9th, November 9th, and December 4th, 2015.
Rates:  2014 rates start at $2, 579 per person, double occupancy. 2015 rates start at $2,584 (an early booking rate), with an additional 5% early booking incentive good through September 30th.
Photo by Image Editor