While winter closes in and outdoor sports fade out for the season, BikeToursDirect presents great tour choices to escape the cold for the most exciting—and warmest—Asia destinations for winter travel by bicycle.
From the beautiful and haunted ruins of Angkor Wat in Cambodia to the royal palaces of India and beautiful blue-green waters of the Philippines, there is an alluring destination for travelers looking to escape the short, cold days of the winter season. So dig your summer clothes out from the back of your closet, and hop a flight to a warm spot this winter.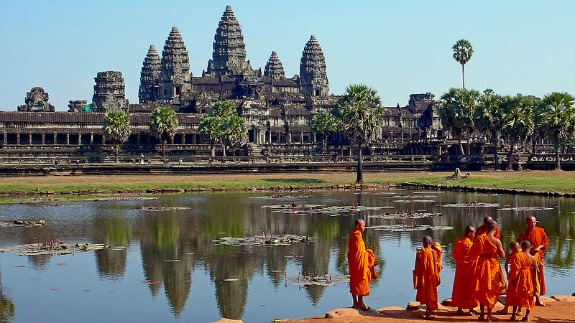 Short and long tour options are available, with prices starting at $715 for a one-week tour. Take a look.
1.  Cambodia
Cycle tourism in Cambodia is still relatively new, so it is a great way to leave the tourists behind and experience the real Cambodia by interacting with the locals. Travelers will cycle through traditional wood and thatch villages that unchanged for centuries, witness locals tilling their vibrant rice fields, watch barefoot children herding the family cow, and exchange greetings while passing the many Khmers for whom the bicycle is their only form of transport.
On the 5-day Angkor Wat Explorer Cycle Tour you'll discover the Cambodian countryside and its many riches, from ancient temples to floating villages, by bike. Explore Siem Reap and the nearby temples of Angkor Wat, the largest religious monument in the world, on foot. Then spend three days exploring the area cycling.
Price:  $542 for parties of 4-6 ($874 for parties of 2)
Dates:  Available daily on request.
2.  India
The Remote and Beautiful Rajasthan tour gives you a chance to see rural Rajasthan up close on a cycling journey that takes you away from the busy tourist trail. Cyclists can explore remote villages and see rustic thatched huts, drooping camels, women in bright saris, and ever-smiling children. This tour is ideal for cyclists looking to explore beyond the iconic monuments as they uncover the visual and spiritual majesty of Rajasthan.
Price:  $2,107 (for parties of 2)
Dates:  January 31, February 28, and March 24, 2014. Private departure available on any date for parties of 2 or more.
3. Thailand
Northern Thailand's mountainous landscape is a perfect biking destination, with stunning views, ancient temples and the culture of hill tribes.
The Thailand Heritage ride takes you back in time on a route paved by kingdom builders. Starting in Bangkok and finishing in Chiang Mai, this tour will take cyclists through the rice basket region up to the mountains in the north.
Price:  $1,375 per person. Bike rental is $275
Dates:  January 20, February 10, March 17, 2014
4. Vietnam
The 7-night Dragon's Tail Tour takes travelers from the hill station of Dalat to the UNESCO World Heritage Site of Hoi An. This unique journey is a fantastic way to see the country by bike in an ideal climate for cycling.
This tour, though hilly at times, takes riders along the famous Ho Chi Minh Trail. Riders will also take a boat to a remote village on the far side of Lak Lake where they can do some light trekking from the village. The trip also includes a visit to Sea Lake, a local minority village (Ba Na), a scenic suspension bridge, a traditional wooden church, Russian tanks and Charlie Hill.
Price: $714 (bike rental included)
Dates: Daily, on request, with parties of 2 or more.
5.  Burma/Myanmar
Bicycling through Burma, or Myanmar as it is now known, showcases the immense legacy of a proud and powerful former kingdom that dates back 1,000 years or more.
On the Burma Heritage tour, travelers cycle among the ancient temples on the route from Mandalay to Bagan, they will also see the diversity of its modern people, culture, and topography that make Burma one of the region's most fascinating and beautiful countries.
Price:  $2,450.00
Dates:  January 13, February 10, March 10, 2014
6.  Malaysia
Dense jungles, wild animals and exotic flora are the introduction to Borneo on this cycling holiday. Rivers, mountains, and beaches follow as cyclists bike on dirt and tarmac roads across northern Borneo.
From wildlife reserves to majestic mountains, travelers will get to experience the unique flora and fauna, spectacular mountain scenery, beautiful beaches, and, of course, great cycling.
Price:  $2,395; bike hire is $150
Dates:  February 9, April 6, 2014
 Photo credit:  wikimedia