Seattle's holiday traditions are ramping up at the Sheraton Seattle Hotel with festive plans for the 21st annual Gingerbread Village, the 29th annual Senior Holiday Party, Seattle's Traditional Santa Breakfasts and the display of a Providence O'Christmas Tree in the hotel lobby.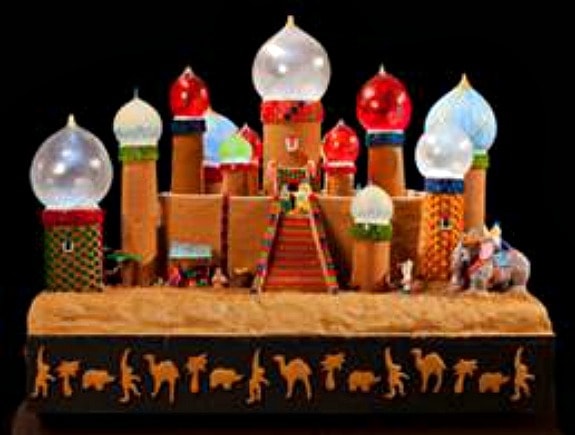 There is a rhyme and a reason this holiday season at the 21st annual Gingerbread Village, where classic nursery rhymes come to life with fanciful detail, beloved characters and a generous helping of imagination. Local architecture firms and trade associations team up with the Sheraton's culinary team and together donate more than 1,200 hours of experience to design, bake and build the gingerbread masterpieces. This year, local architecture firms are teaming up with the Sheraton's culinary team to present six nursery rhyme-inspired gingerbread houses.
The gingerbread creations will be displayed in the hotel's lobby from November 26, 2013 until January 1, 2014, and visitors will have the chance to vote for their favorite display throughout the duration of the exhibit. The event is free to the public, but donations to the Northwest Chapter of Juvenile Diabetes Research Foundation are encouraged and appreciated.
The Gingerbread Village is an event I try to go to every year. I marvel at the craftsmanship and detail that goes into these creations, and it's a chance to enjoy some holiday cheer and help a very worthy cause.
Additional festivities at the Sheraton
Approximately 400 seniors from the greater Seattle area will don their holiday finest for an afternoon of dancing, socializing and refreshments at the 29th annual Senior Holiday Party. On December 16, 2013, music and laughter will fill the air as the young-at-heart show off their moves on two dance floors. A special visit from Santa, portraits by a caricature artist and raffle round out the festive event.
The Sheraton Seattle Hotel is also home to Seattle's Traditional Santa Breakfasts, a beloved event for the whole family with proceeds benefiting the Arthritis Foundation Pacific Northwest Chapter. The Santa Breakfasts feature holiday entertainment including Strolling Minstrels, Leo the Clown, mini Nutcracker Ballet and Santa himself. Generations of families are a common sight at this traditional event. Available dates are December 14, 15 and 22 from 9:30 to 11 a.m.
A Providence O'Christmas Tree will be on display in the hotel's lobby from November 26, 2013 to January 1, 2014. The trees, decorated by local designers who volunteer their time, are on display throughout the city to raise funds for Providence Senior and Community Services. This local organization serves those living with chronic and/or life-limiting conditions through services including assisted living, hospice and elderly care.
Festive Holiday Packages
Guests of the Sheraton Seattle Hotel may select from several festive holiday packages including the highly anticipated Macy's Holiday Shopping Package. Packages start at $219 and include a $100 Macy's gift card for each night of their stay and complimentary photos with Santa Claus at the Downtown Seattle Macy's store for stays between November 28, 2013 and December 24, 2013.
Guests can also choose to unwind with the Vida Spa package, which includes a $100 Vida Spa gift certificate for each night of stay. The Vida Spa package starts at $229 and is available for Thursday-Sunday stays until January 18, 2014.
Photo credit:  Courtesy of the Seattle Sheraton and Richmond Public Relations