Wya Point Resort, Vancouver Island's new year-round eco-luxury destination, invites guests to experience storm watching season with its West Coast Adventure package. Tucked into a lush coastal rainforest next to an exclusive beach, the Ucluelet, BC resort offers a two-night stay in a rustic ocean side yurt, along with adrenaline-pumping surfing and a boating excursion that transports guests to a soak in geothermal hot springs. Wya Point Resort's West Coast Adventure package celebrates Mother Nature at her best.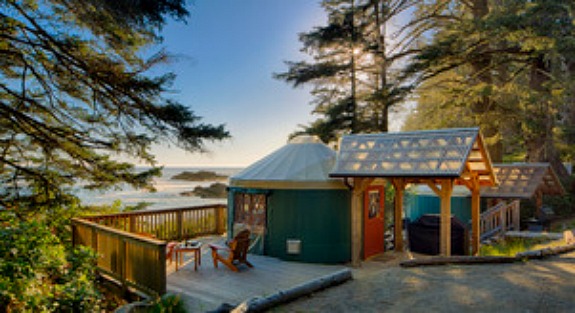 Nestled in the coastal forest, a few miles outside Ucluelet, and within minutes of world-famous Pacific Rim National Park Reserve, Wya Point Resort is an ideal retreat for individuals, couples, families and groups seeking a luxurious eco getaway by the sea. With its broad range of accommodation and amenities – including the Wya Welcome Centre, Surf Shop, Wya Point Campground, Yurts and the Lodges at Wya Point – Wya Point Resort draws a variety of travelers. With direct access to the private beaches within the Ucluth Eco Resort, the Wya Point Yurts have full amenities including summer kitchens, barbecues, fireplaces, wrap-around cedar decks, oceanfront beach access and cedar lounge chairs. For those looking for a more luxurious experience, the Lodges at Wya Point offer deluxe accommodation in self contained, architect-designed lodges complete with fireplaces, modern kitchens, spectacular ocean views and walk-on beach access at Ucluth Beach.
Upon arrival at Wya Point Resort, unwind in your private beachfront yurt. The platform tents are perfectly suited to those wishing to connect with nature while having access to key amenities and offer spectacular views of the private beach and Pacific Ocean beyond. Cozy up to the fire in the comfort of your beautiful yurt as the sound of crashing waves lulls you into a restful sleep.
For surfing newbies who wish to hit the waves when the beach is less busy, fall is the perfect time of year. At the Wya Point Surf Shop expert surf instructors will guide you through an outstanding wilderness surfing experience on the shores of Pacific Rim National Park Reserve – the place to surf in Canada. After a morning of surfing, pick up lunch to go at the Wya Surf Shop Café.
After a satisfying lunch, sit back and enjoy incredible views on an 80-minute boat ride, then disembark at a trailhead which winds through an old growth cedar forest to Hot Springs Cove. The geothermal springs come out of the earth at 120°F, cascading down a waterfall into a series of soaking pools naturally cut out of the surf rocks. After a morning in the surf, it's the perfect place to soothe tired muscles.
For dinner, retreat to Kwisitis Feast House, Wya Point Resort's new beachfront restaurant that celebrates local ingredients and the traditional foods of the Yuu-tluth-aht First Nation. While enjoying the ocean view, linger over a delightful lunch of dishes such as hot smoked salmon, fragrant fresh bannock, crab legs with drawn garlic butter, halibut and chips, and Dungeness crab club.
The West Coast Adventure Package Includes:
Two-night stay in a rustic beachfront eco yurt
Surf lessons and rentals for two from Wya Point Surf Shop
80-minute boat ride to geothermal hot springs
Lunch for two at Wya Surf Shop Cafe
This package starts at $600 for two people and is available through December 15th. Some restrictions may apply.
Wya Point Resort is located on the West Coast of Vancouver Island, an internationally renowned region that attracts visitors year-round with its storm watching, surfing, kayaking, hiking, fishing and captivating wildlife.
Photo credit:  Courtesy of Wya Resort