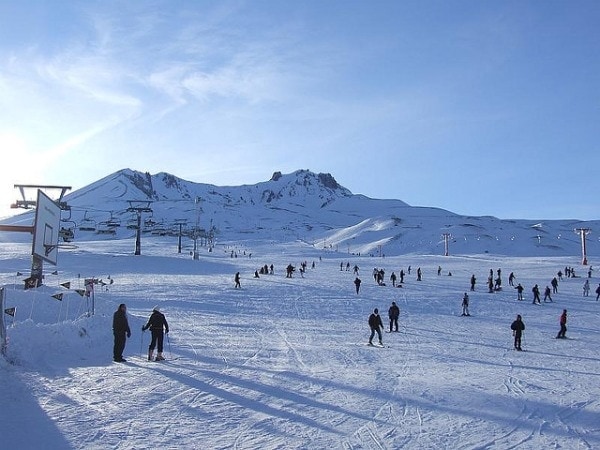 Winter vacation opportunities are still value-priced, so if you're looking for an exotic ski vacation destination, give Turkey some consideration.  Although Turkey is often a focus for summer travel, in the winter you'll find great skiing, with a season generally lasting November through April.  Start looking for flights to Turkey, and some good snow savings in an exotic location.
Snow recreation in Turkey, which has altitudes comparable to the Rockies, includes:  downhill and cross-country skiing, snowboarding, snowshoeing, and the adrenalin-rush of heli-skiing.  Facilities are modern, and offer all the amenities you'd expect at your favorite ski resort at home.  With the Turkish Lira valued at about 1.60 to the US $1, you'll find plenty of ways to stretch your budget while having an incredible skiing or boarding vacation.
Here are some ski resort suggestions:
Uludag Ski Center – Uludag is one of Turkey's most popular ski areas, offering 13 runs serviced by chairlifts and t-bars.  It's a self-contained vacation spot, with lots of hotels, restaurants, and shops in the area that will keep you snow happy for days.  The resort is located about an hour from the airport.
Palandoken Ski Center – Palandoken offers an extensive system of ski runs serviced by chairlifts, t-bars, gondola, and baby lifts.  Plan your runs carefully and you'll find that you can ski continuously for 17 miles.  Luxury accommodations and restaurants are located nearby.  The resort can be reached via Istanbul and Ankara airports.
Kartalkaya Ski Center, Located in the Koroglu Mountains, this top resort has a bit of a shorter season, with skiing generally available December-March.  Runs are serviced predominantly by t-bars, but there are also a couple of chairlifts and baby lifts, and you can find 12 miles of continuous skiing.  Hotels are nearby.  The resort is an easy drive from Ankara and Istanbul, making it a great ski weekend getaway.
Erciyes Ski Center – If you're looking for an adrenalin rush, you'll find it on the slopes on this non-active volcano where you can glacier ski all year long.  Heli-skiing is also offered.   Located about a half hour from Kayseri, you'll find accommodations in a nearby hotel as well as guest houses.
Sarikamis Ski Center – If you're looking for a little lower elevation, Sarikamis is your best bet.  The resort offers a couple of chairlifts and a t-bar, and is suitable for the less skilled skier while still providing a great slope experience.
Saklikent Ski Center – There are two compelling reasons to make this your ski destination, the first is that it offers plenty of options for beginners and intermediate skiers, as well as a half-pipe for boarders.  Come spring, though, is a real treat – you can ski in the morning and then drive down the mountain to swim in the Mediterranean in the afternoon – a great snow/sun combination.
Photo credit: Serdar Gurbuz via flickr
NOTE:  This post was sponsored by Thomas Cook.  The opinions expressed are those of the author.