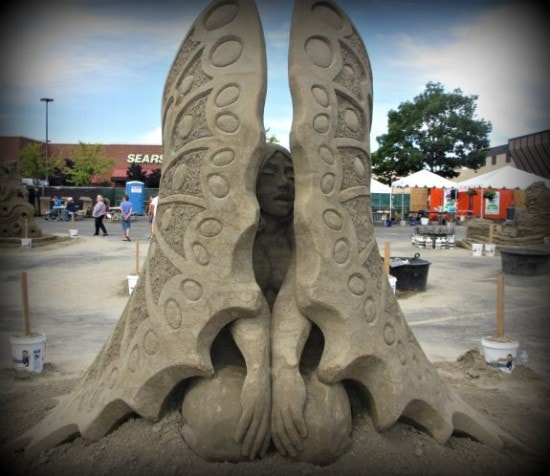 If you think the World Championships of Sand Sculpting is held at some gorgeous beach somewhere, you'd be wrong.  The Tournament of Champions in this sandy competition is held in the parking lot of a suburban shopping mall with very fine, sharp grained glacier till sand delivered in from a local quarry.  The sand locks together well, allowing artists to create masterpieces of museum-quality art.
The artists in the Tournament of Champions must qualify by winning a number of other competitions, and this year's competitors represent nine different countries.  They gather in the parking lot of the Commons Mall in Federal Way, Washington, and receive a marked off area full of sand, 10 yards of sand for solo competitors, 20 yards for doubles.  To give you an idea of how much sand that is, 10 yards is about one dump truck load – it's a big pile of sand.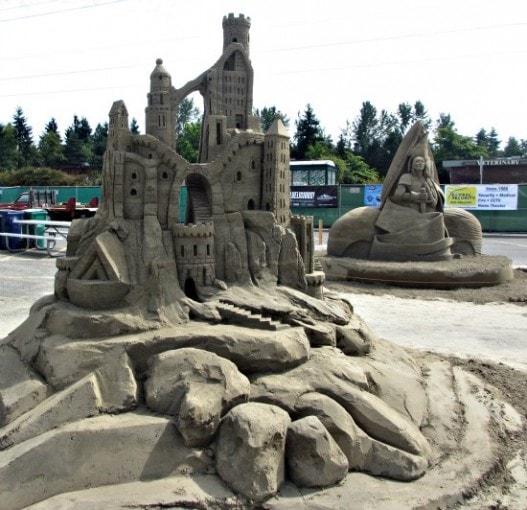 Between a big pile of sand and the finished masterpiece is 28 hours of labor, and if you time it right you can see the artistic process in action.  No help is permitted except for the lifting or removing of forms, and the only tools allowed are a shovel and tamper.  At the end of the time limit, the finished sculpture can be sprayed with a mixture of diluted Elmer's glue that serves to put an egg shell type coating on the surface of the sculpture.  This is the only protection against surface drying and inclement weather than these masterpieces have, and it help to ensure no matter when you visit that the masterpiece will still be, well, masterful looking.
We visited after the Solo competition finished up (that's the winner in the top photo), and as I wandered among these beautiful sculpture I wanted to reach out and touch them to make sure they were real.  Alas, they were roped off so no touching allowed, but I still kind of want to know that it's real sand and not cement.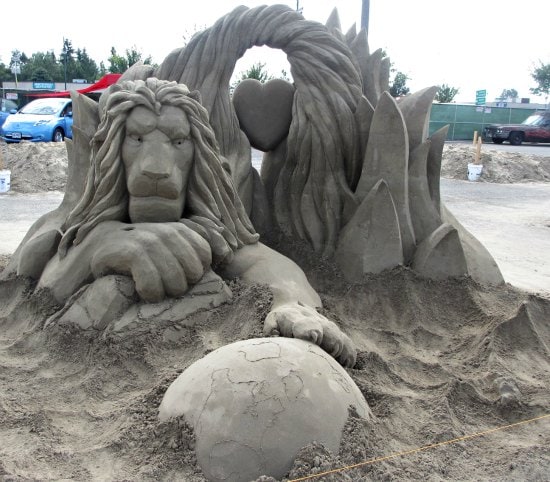 If you're in the Seattle area this week, and through Labor Day weekend, it's worth a drive to the 'burbs for a look.
Location:  1701 South Commons, SW corner of the Commons Mall Parking lot, Federal Way
Dates:  August 16th-September 3rd
Admission:  $7 adults; $5 seniors (65+) and youth (ages 5-17)
Photo credit:  personal collection