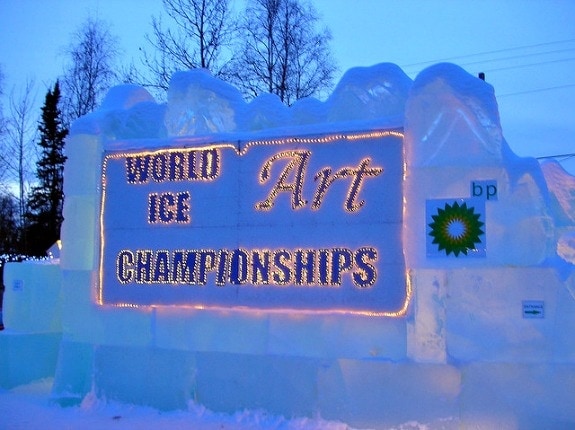 There is ice everywhere. Large blocks of it, sure, but also larger than life animals, scenic depictions, and stunning artistic designs. Because all those creative interpretations happen when you turn turn professional ice-sculptors loose on a huge block of ice at the World Ice Art Championships in Fairbanks, Alaska.
The process all starts the same way, with large square blocks of solid ice.  To give you an idea of how much ice we're talking about, teams (one or two persons) in the Single Block Classic competition starts with a 3 x 5 x 8 foot block of ice, weighing in at approximately 7,800 pounds.  In the Multi-Block event, teams of 4 persons each start with 10 blocks of ice measuring 4 x 4 x 3 feet, with each block weighting around 3,000.  That's 30,000 pounds of ice!
The results are as varied as they are spectacular and represent the efforts of over a hundred sculptors from around the world (39 countries so far).  By March 9th, all the professional level competition will be completed, with the sculptures lighted and on display for visitor viewing. The amateur competition begins on March 12th.
Depending on when you visit the Ice Park, you'll see various stages of the competition or the completion of sculptures.  You can find a full schedule here, but I wouldn't get caught up in scheduling the best time to go.  I've been through the Park during the championships many times over the years, and it doesn't really matter when you go, there's always something amazing being created.  Although the weather in Fairbanks this time of year drops to ridiculously low temperatures at night, if you are able, dress warm, button up, and go through the exhibit at night.  The lighting of the sculptures and park background makes for truly dramatic displays.
If you're intrigued with the idea of ice carving, why not sign up for an ice carving class. Just imagine the piece of art that YOU can create.
Dates:  February 26th – March 31st, 2013
Hours:  10 am-10 pm daily
Location:  George Horner Ice Park, Fairbanks, Alaska
Admission:  Day passes are $10 adults, $5 children aged 6-12, FREE for kids under 6. Season passes are also available.
Photo credit:  James Brooks via flickr