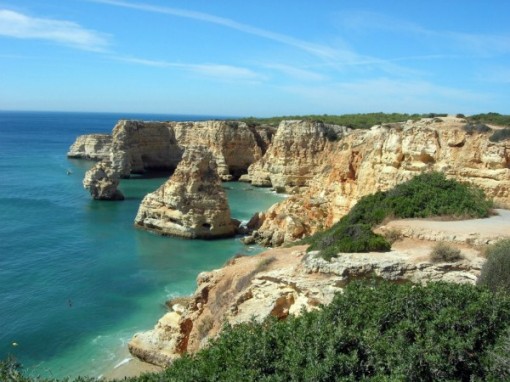 My time in Portugal was abbreviated, but I managed to get a lot done in two days.  However, one of the spots I was unable to get to (and it will have to stay on my to-see list along with the other sights I had to skip) is a visit to the Algarve, an area along Portugal's southern coast.  It's about a 3 1/2 hour drive from Lisbon, or catch a quick flight, and is a popular choice for a long beach weekend (which is exactly how I planned to do it).  The Algarve can also be reached by bus and train, and requires a bit of planning and good timing, but these options weren't in my consideration.
The three spots on my Algarve visit were to be Salema, Cape Sagres, and Lagos.
Salema
At the end of a small road between Lagos and Cape Sagres, Salema is a fishing village that still manages to offer restaurants and bars, a few hotels, some condos and time shares, and a paved boardwalk along its beaches.
What I wanted to do:  Eat fish fresh the boats in a small restaurant in old town.  Wander the morning (weekdays only) market picking up whatever looks and tastes good.  Spend some time on a beach with a good book (or Kindle, in my case) and relax.
Cape Sagres
Back when people believed that the world was flat, Cape Sagres was thought to be that spot right before where the edge of the world dropped off.  Even today it is still referred to as the "End of the World" with a lighthouse marking the spot.
What I wanted to do:  Visit the old fort and learn more about the history of Henry the Navigator and why he decided this spot wasn't the end of the world.  Check out the wind compass, a mysterious 100 foot circle outlined by round pebbles, that has never been fully explained.  Enjoy the great views with a walk around the Point and reflect on the seafaring lore surrounding the part of the country.  Enjoy a bit of rest on the beach.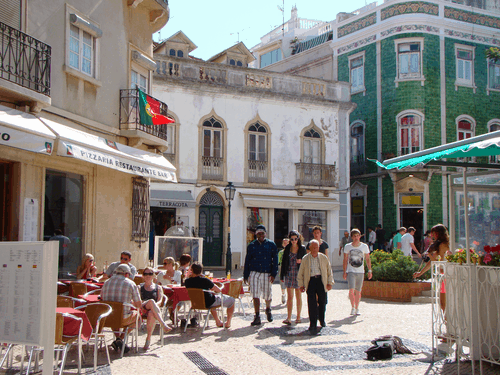 Lagos
A big city beach resort town, with attitude to match, the town is still full of history.  This was the spot where the Portuguese explorers launched from and it was home to the first African slave market in Europe (not a pleasant thought, but historical nonetheless).
What I wanted to do:  Wander the walled old town with its crazy mix of streets full of shops, bars, restaurants, and art (in photo above).  Get out on the water with a boat and skipper and soak up some sun away from the beach, and maybe spot some dolphins while we're out there.
Two days is not near enough time to see the Lisbon area, let alone get a little further afield in discovering the rest of Portugal, but it was enough of a taste to convince me that I'll need to go back.  With a combination of lovely beaches, and often overlooked history, it's a wonderful part of the world to spend a few time.  Add in the warm weather (it's been in the 90's while I was here and not a cloud in the blue sky) and delicious Portuguese restaurants (try the Bacalhau – a dish of cod, potatoes, and lots of butter and garlic), and you'll see why Portugal is a place to spend time in.  Maybe next year.
Photo credits: Had01 via wikipedia (cliffs) Lacobrigo via wikimedia (Lagos city)
NOTE:  This post was sponsored by My Destination Info, the opinions expressed herein are those of the author.