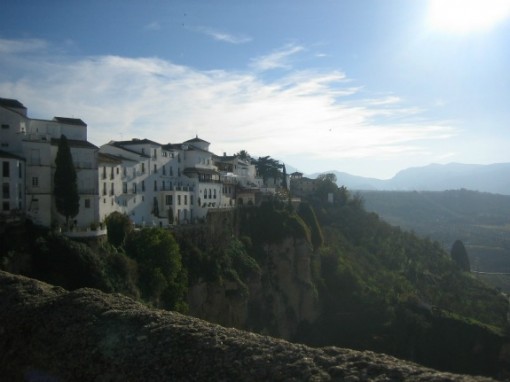 When travelers think of the Costa del Sol in Spain, the first thing to come to mind is often American-style resorts. What was once a quiet coastline of fishing villages has expanded rapidly, resulting into what many would call over development. Yet this isn't the only side of Andalucia.
Venture away from the coastline and into the hills and you will find the region's famous white villages. Stunning from afar, impossibly perched up on hillsides, they are somehow even more fascinating when you finally reach them after a series of hairpin turns on two lane roads. All you will need to explore is a rental car, a basic map, and an appetite, and with so many options, it's fascinating and affordable.
Once you arrive in each of the following villages, explore on foot and find a restaurant or tapas bar that strikes your fancy.
Ronda
One of the best known white villages is Ronda. Located just over 60 miles from Malaga, it is an easy day trip from anywhere along the Costa del Sol. Take your time on the drive up as you will pass many other villages and scenic lookout points along the two-lane road.
Ronda is famous for a gorge that runs down the center of the village (seen in photo above). This canyon plummets for over 100 meters to a river below. Standing on a bridge over this gorge, seeing white buildings built into the rocky cliff face, is sure to be one of your most memorable moments in Spain.
Frigiliana
The white village of Frigiliana has often been called "the prettiest little village in all of Andalucia". As you approach by car, it will be easy to agree. This hilltop town is pristine white, full of shops with handmade items like pottery and jewelry, and has many options for restaurants from the affordable to the splurge worthy.
The only way to explore this village is on foot, so be prepared with a good pair of walking shoes. Frigiliana is very hilly and full of stairs, but with each climb, the views are your reward. If you're interested in more than just soaking up the culture over a coffee, there are a few local attractions including a 17th century church and a Roman fort.
Vejer
If you're looking for a town that is a little off the tourist map, check out Vejer. While the other two options are accustomed to receiving visitors seeking the beauty of the "pueblos blancos", Vejer remains under the radar. Just like the other villages, the thing to do here is wander the cobbled streets, browse the craft shops, and nibble the day away at different tapas bars.
Besides the beautiful white buildings that give these towns in Andalucia their name, Vejer is also home to another architectural style. This town was controlled by the Moors for a period of over 500 years. As you stroll through the town, you will see the influence of the Moors through architecture and patterned tile work.
A trip to the Costa del Sol can be about relaxing on the beach and soaking up the famous Spanish sun, but get away from the coastline into the mountains, and you will discover a different, more culturally rich side of Andalucia.
Photo credits:  This post was written by travel blogger and writer Jessica Colley.  Jessica also provided the photos.