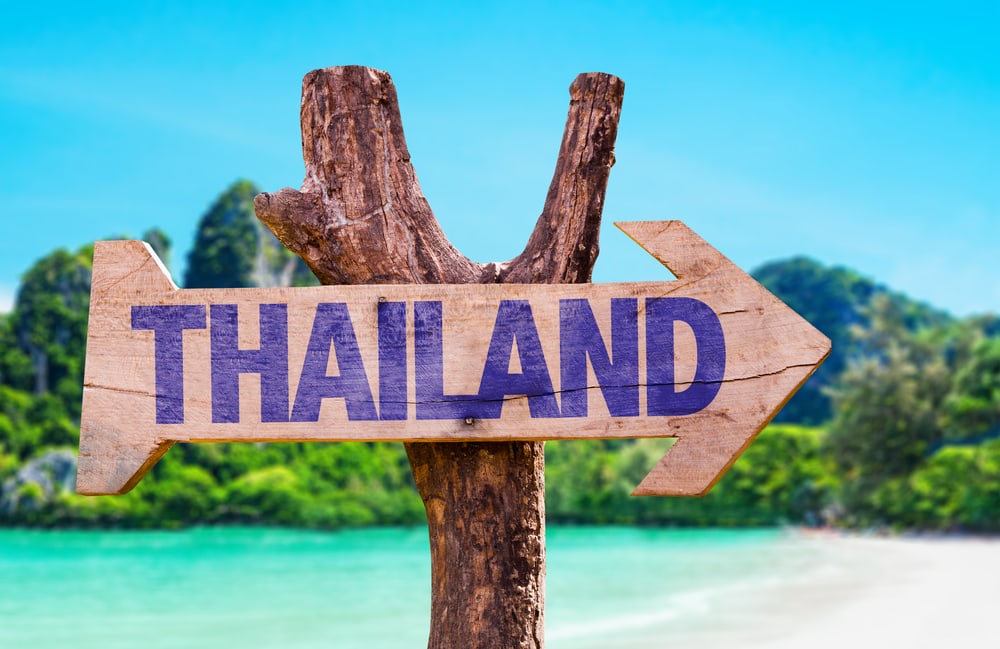 From ancient culture and mystic temples to lush landscapes and sugary sand beaches, a visit to Thailand offers such variety that it's a popular vacation spot for many. The neighboring countries of Myanmar, Malaysia, Laos, and Cambodia have all had some influence on Thailand and its people, but the Land of Smiles remains largely unspoiled by European colonialism and has preserved its own distinct culture.
The country is larger than most people realize and you likely won't see it all in one visit – unless that visit is a very long one. To plan your visit, think of Thailand as one country with five different regions, each region offering something a little different, a little special.
So, let's discover Thailand!
Information for this previously published post was updated in December 2020 and contains affiliate links.
Explore Northern Thailand
The North is the heart of Thailand's historic heritage and one of the most mountainous regions of Thailand. From quiet Buddhist stupas to rushing waterfalls and remote hill tribes, the northern region is the best stop to explore and experience Thai culture.
The main destination in this part of the country is Chiang Mai.  Chiang Mai is situated on the Ping River, and you can arrive here by internal flight or by train. Other major northern region towns are Chiang Rai, Mae Hong Son, and Lampang. 
Things to do in Northern Thailand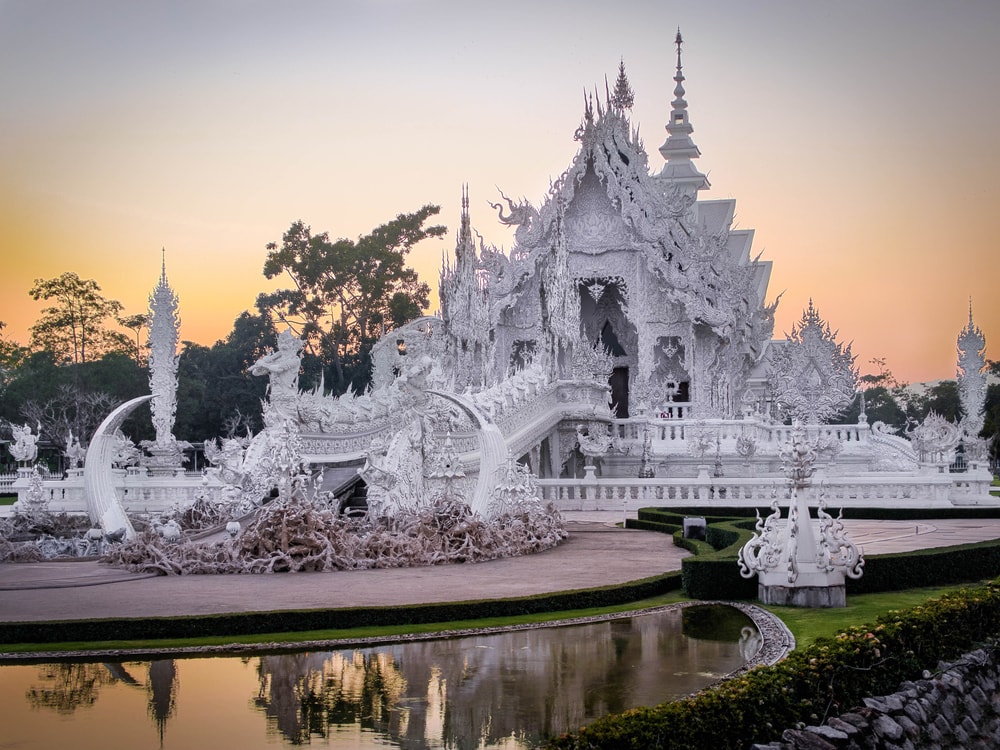 Here are some suggestions on what to do and where to stay in Northern Thailand:
Chiang Mai
Chiang Mai is a charmer in the north Thailand region with a cool climate, stunning nature, and enchanting culture. In The Old Town, you'll find nearly 300 temples, far too many to see in one trip, but put Wat Phrathat Doi Suthep on your must-see list. In addition to the impressive site, you'll get a glimpse of the surrounding area from its elevation.
Northern Thailand's capital also offers hiking opportunities in lush jungles, zip-lining, and rafting in raging rivers. Caring for elephants is one of the unique things to do in Chiang Mai at the Elephant Nature Park; you can learn what it's like to live and visit Elephant Nature Park here. Visit the Chiang Mai Night Zoo, go shopping at the buzzing night market, or simply enjoy a nightly bar crawl through the lively Chiang Mai watering holes.
Chiang Rai
Chiang Rai is a bit more laid back than Chiang Mai, and a good home base for exploring the Golden Triangle (the intersections of Myanmar, Laos, and Thailand on the Mekong River). Explore the area by boat, whether at a lazy pace or whitewater rafting on the Mae Kok River.
Visit Thailand's most unique temple – the glowing Wat Rong Khun, also commonly known as the White Temple. This beautifully bizarre temple is privately owned by Chalermchai Kositpipat – the artist behind the unusual creation.
Sukhothai
Out of all the regions of Thailand, Sukhothai is perhaps the melting pot of Thai history. Get a glimpse of this history at Sukhothai Historical Park, home to temple ruins dating back to the 13th century. While there, check out Sri Satchanalai, set back on the hillside, and the preserved elephant temple.
If you visit during November you can enjoy the Loi Krathong Festival in Sukhothai. The rivers will be aglow with floating flowers, incense, and candles in tribute to the Thailand water goddess.
Mae Hong Son
For a more immersive vacation, don't skip the remote city of Mae Hong Son. This is where you can trek into the hills for a chance to understand the country's hill tribes and culture. You'll get to meet the long-neck Karen villagers and Lisu hill tribes.
Pai
Pai is a beautiful representation of Thailand's scenic nature but on mountain tops. It has a hippie feel and is awesome for trekking to adventure the mountains and meet the hill tribes. Each evening, Pai's street is a night market, always abuzz with activity and offering a great opportunity to shop and eat local Thai street food.
Where to Stay in Northern Thailand
You can find luxury, mid-range, and budget properties and hostels. Let your personal preference and budget help you make the best decision. Here are three ideas to get you started.
Ping Nakara Boutique Hotel and Spa
Ping Nakara Boutique Hotel and Spa is a luxury hotel built in a colonial style but furnished with modern amenities for your comfort and convenience. Each of the 19 guest rooms includes Wi-Fi, a TV, a DVD player, and a minibar. The hotel onsite serves authentic Thai food to pamper your taste buds.
Rates and booking information here.
Scent of Sukhothai Resort
A serene resort, just over 1 km drive from Sukhothai Historical Park and a few minutes to food markets and restaurants. Rent a bicycle here, take a tour of the surrounding places, and find exciting things to do in Sukhothai.
Rates and booking information here.
Chada Mantra Hotel
This 3-star hotel in the heart of Chiang Mai Old City is cozy and has rooms with a balcony, cable TV, and a seating area. There's also an outdoor pool so you can take a dip whenever the Thai temperatures are skyrocketing.
Rates and booking information here.
Explore Northeast Thailand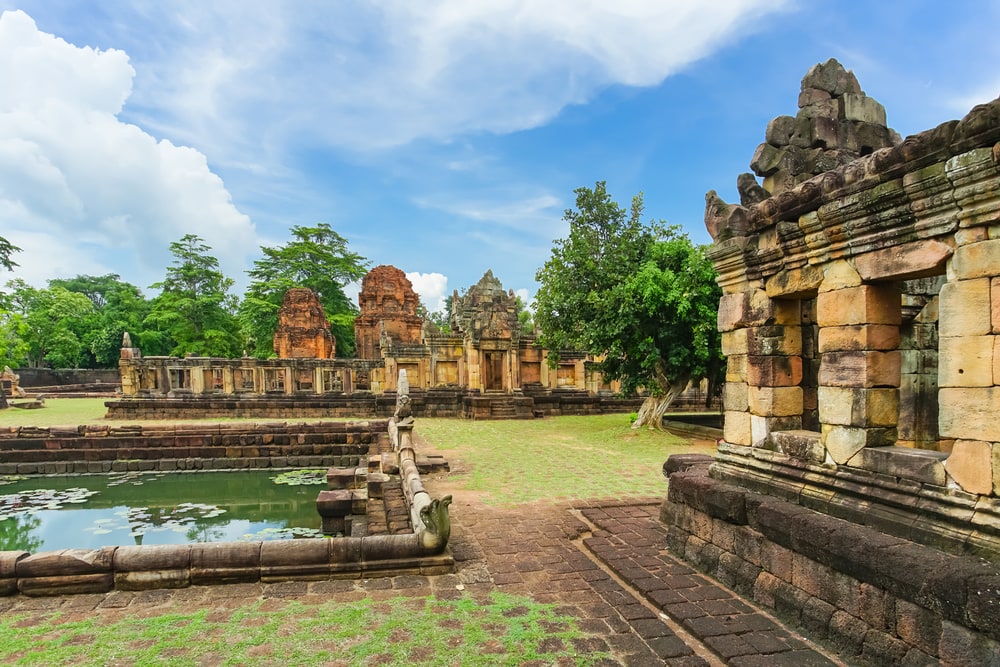 Not all Thailand regions are about exciting nightlife and stunning beaches. The Northeast, for example, is predominantly an agricultural area and much of the country's rice and other crops are grown here. The history of this region dates back at least 5,000 years and you'll see ruins of Khmer Hindu and Buddhist temples.
This area may be a bit more of a culture shock for vacationers, but many consider this the area to visit for a look at "authentic" Thailand.
Things to Do in Northeast Thailand
Some suggestions on things to see and things to do in Northeast Thailand:
Muang Tam & Phanom Rung Historical Park
The ruins of Muang Tam, a 10th-century towered site, are located at the foot of Phanom Rung. These two temple complexes are a great representation of fine Khmer architecture and have been recently renovated.
The name Phanom Rung means vast mountain, and it's no coincidence that the spectacular building stands atop an extinct volcano. Muang Tam ruins, also restored, are on the plains below. If you're planning on visiting, consider going in the afternoon when it's less crowded.
Ban Chiang
Ban Chiang makes the northeastern region stand out among the five Thailand regions. It boasts of being Thailand's most famous archaeological site, a UNESCO World Heritage Site (declared in 1992) with artifacts dating back 5,000 years.
Though the village is unremarkable nowadays, you should definitely visit the Ban Chiang National Museum and check out the unique Bronze Age finds that have been preserved for ages.
Khao Yai National Park
Enjoy the wildlife of Khao Yai National Park with its mix of forests, rainforests, and grasslands. The animals include elephants, Asiatic black bears, Malaysian sun bears, tigers, leopards, barking deer, and over 300 species of birds.
Khao Yai National Park is also known for its night safari, also commonly referred to as "night-lightings." Truckloads of tourists head out after dusk hoping to see interesting animals under the illumination of specially fitted searchlights. You'll likely spot civets and deers or elephants.
Surin
Attend the annual 3-day Surin Elephant Festival in November and watch the spectacle of hundreds of elephants gathered together. It's definitely one of the touristy things to do in Surin province.
About 20 1/2 miles from the city center is the Phanom Sawai Forest Park. This is a great location for a view of the countryside as you tour the three peaks and marvel at Buddha statues.
Where to Stay in Northeast Thailand
Charoen Hotel
Located in the heart of Udon Thani city, Charoen Hotel has guestrooms and suites to pamper all types of travelers. The units are spacious and conveniently furnished. Some of the facilities available include a bar, three restaurants, a botanic garden with an outdoor swimming pool, a fitness center, and a massive ballroom.
Rates and booking information here.
Amari Buriram United
Whether you're traveling for business or pleasure, Amari Buriram United offers some of the best rooms in Buriram in Northeastern Thailand. This 4-star hotel has a centrally located swimming pool, tennis courts, and a fitness center so you can remain active while on your vacation.
Rates and booking information here.
Sala Khaoyai
For a private getaway in the Khao Yai National Park, book one of the seven impressive villas at Sala Khaoyai. The property offers a private pool, a sunken lounge room, a secluded balcony with a 360-degree view of the lush surroundings, and pure relaxation. Guests have access to a golf course, mountain bikes for cycling escapades, and can enjoy some winery tours as well.
Rates and booking information here.
Explore Bangkok & Central Thailand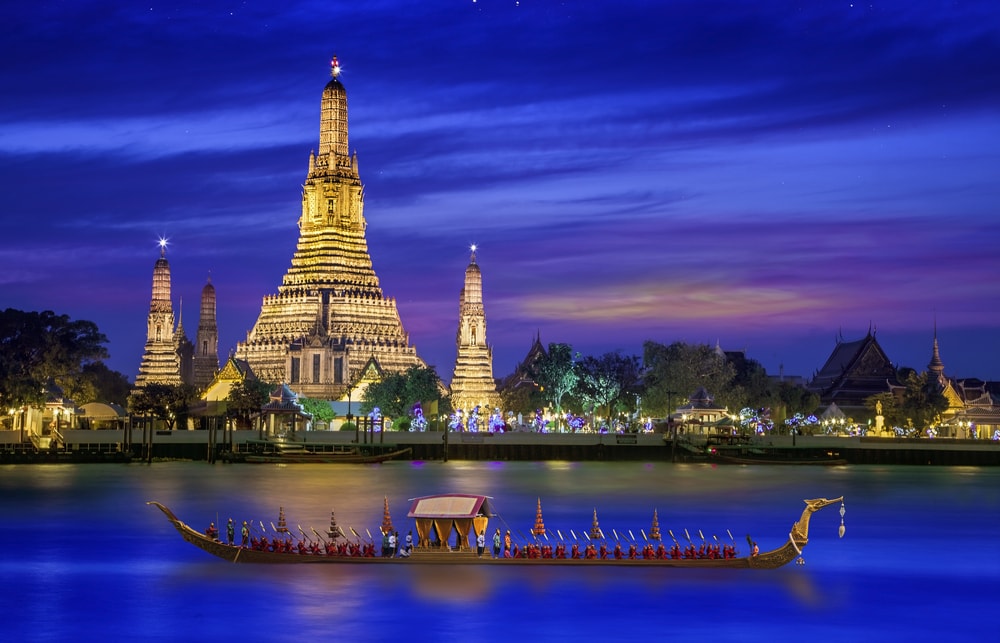 The Central region, one of the most explored regions of Thailand, is home to Bangkok, and for most travelers, this is the first glimpse of Thailand that you'll see. It's a frenetic blend of luxury hotels and spas, rushing business people, crowded streets, noisy nightlife, and simple market stalls.
There's no shortage of things to do in Thai's central region. You'll find top-notch museums in the city, including the National Museum, the National Gallery of Fine Arts, and the Royal Barge Museum. Bangkok will give you a headache to be sure, but you need to see it and experience it. And then, venture out a bit for some of the other sights the central region has to offer.
Things to Do in Bangkok and Central Thailand
There is so much to choose from in Bangkok and Central Thailand, so this to-do list just scratches the surface.
Ayutthaya
This was once the capital city when the country was known as Siam. One must-see attraction here is Wat Phra Mahathat, where you'll find a Buddha's head in a tree.
Next on your list should probably be the Grand Palace, Wat Phra Si Sanphet. Tour and marvel at the symbol of Ayutthaya – the three huge chedis in a row. Climb up the stairs and take some photos. The park and aquarium are worth a visit as well.
Saraburi
This province is definitely off the beaten path and makes for a much-needed break when you're tired of the crazy Bangkok scene.
Top on your to-do list: learn about Buddhism in Saraburi's Phra Phutthabat Woramahawihan Temple. This is one of the most sacred spots for Thai Buddhists as it is believed that the site contains the Buddha's Footprint.
You can also visit Khao Sam Lan National Park and trek the mountains for some amazing panoramic views then tour the stunning waterfalls. Camping here is allowed and the park provides tents or you can bring your own.
Nakhon Pathom
In Nakhon Pathom (about 30 minutes from Bangkok) is the Phra Pathom Chedi. At 380 feet, this is the world's tallest Buddhist Monument. This is also home to the famous Floating Market, but plan to visit early as it is typically empty at 8 a.m
Kanchanaburi
Have a Hollywood moment at Kanchanaburi, in central Thailand, something few Thailand regions can brag about. This is the site where the movie The Bridge on the River Kwai was based on. It is also a good spot for a float trip down the river on bamboo rafts.
For history buffs, this is also a grand opportunity to take a peek at Thailand's World War II historical landmarks. Found here are the Death Railway, the JEATH War Museum, the bridge over the River Kwai, the Krasae Cave, and the Kanchanaburi War Cemetery.
Hua Hin
Hua Hin is a lesser-known town just 120 miles south of Bangkok. Also known as the Royal Coast, its highlight is the beautiful sandy coastal strip with plush beachside hotels and resorts. This is Thailand's oldest beach resort and offers what you'd expect – luxury hotels, golf courses, water, and outdoor activities.
Where to Stay in Bangkok and Central Thailand
Bangkok is filled with chain and high-rise business hotels, but you may want to try something with a little more personality. Here are some suggestions:
Casa Vimaya Riverside
This mid-range, but classy hotel in Khao San is perfectly located for easy access to Bangkok city and its many sights and attractions. It's perhaps among the best value hotels in the central Thailand region The rooms are enormous, all having air-con, huge flat-screen TV, and a private bathroom. There's a rooftop pool and bar for relaxation.
Rates and booking information here.
The Float House River Kwai Resort
Be one with nature as you lodge in this unique resort atop River Kwai. The rooms are so luxurious and conveniently furnished with internet access, LCD/plasma screen TV, and air conditioning. The Float House River Kwai Resort also has amazing recreational facilities e.g non-motorized water sports, fishing, and massage.
Rates and booking information here.
Glai Gan Place Hotel
If your travels are focused around Saraburi, then Glai Gan Place Hotel is one of the best accommodations you'll find. From its ideal location close to the city facilities to comfy rooms with complimentary amenities to a large fitness center and an outdoor pool. There's something for every traveler at this hotel.
Rates and booking information here.
Explore Eastern Thailand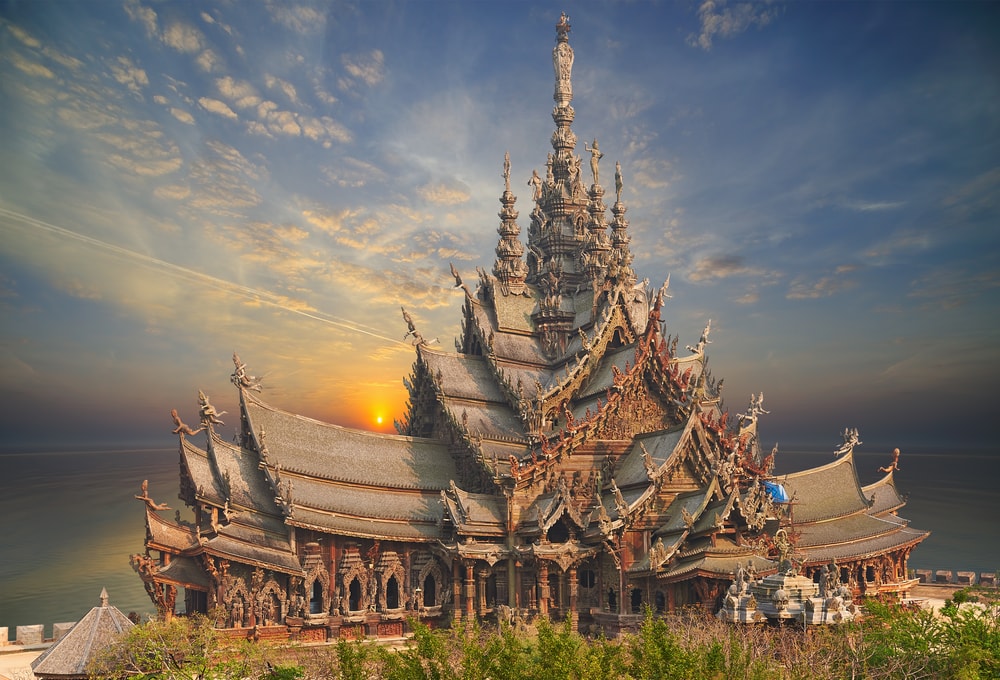 The East region is sort of the "Riviera" of Thailand, offering a busy resort community for guests willing to pay for it and a myriad of things to do. Pattaya is the prime spot and was once the location for American GIs to head for R&R during the Vietnam War. It's full of the usual water activities, high-end restaurants and clubs, and "happening" kind of beaches.
If you can pull yourself away from the draw of those activities, you'll also find other interesting, but less-explored, things to do.
Things to Do in Eastern Thailand
Of course, there are the beaches, and if that's all you want to do, no judgment here. But why not try to explore a little more? Here are some suggestions.
Underwater World Pattaya
For animal lovers, there are plenty of things to do in Eastern Thailand. You'll have the time of your life at the Underwater World Pattaya. This massive aquarium gives you a look beneath the sea, viewed from a clear acrylic tunnel that visitors walk through. Also, check out Khao Kheow Open Zoo and Dolphin World Pattaya if you get the chance.
Sanctuary Of Truth
As one of the most visited attractions in Thailand, a tour of the Sanctuary of Truth should feature on your East of Thailand itinerary. This is a major wooden religious structure located in Pattaya. The architecture is interesting and a visit provides an opportunity to learn about ancient creations.
Ko Chang
Slow things down a bit with a visit to Ko Chang, one of Thailand's many islands, offering beaches that are just as upscale but a little quieter. You can hang out at the beach, go diving, or explore the beautiful cascading waterfalls (there are seven of them).
Namtok Khlong Chao
Namtok Khlong Chao is a waterfall on the island of Ko Kut. You can swim in a massive jungle pool created by the waterfall. This is the photo op that you see in movies – and it really does exist. Further north of Ko Kut island is another smaller waterfall, Nam Tok Khlong Yai Ki. This also has a plunge pool so you can enjoy a dip.
Where to Stay in Eastern Thailand
Beach resorts abound, from luxury to budget, so it's not hard to find a hotel that suits your preferences and budget.
Grande Centre Point Pattaya
This 5-star hotel offers some of the best accommodation in Pattaya, and if you can afford it, then don't hesitate to stay here. The property has a well-equipped fitness center, a water park, an outdoor pool where you can splash around all you want, and a spa.
Rates and booking information here.
Pattaya Posh Condos
Conveniently located three miles from the city center, Pattaya Posh Condos has an infinity pool that's a traveler's dream. Cozy rooms, free Wi-Fi, 24-hour security, and an equipped kitchen are some of the facilities you can enjoy at this property. All the benefits of home, with an incredible view of the city and beyond.
Rates and booking information here.
Pajamas Koh Chang
Looking for a budget hotel? Then look no further than Pajamas Koh Chang. This hostel offers comfort and convenience at a bargain price. Most of the 22 guest rooms have plasma-screen TVs, linens, complimentary tea, instant coffee, and clothes rack. There's also an outdoor pool and the beach is just a 1-minute walk away. Hostels aren't for every traveler, but this one is popular with families.
Rates and booking information here.
Explore Southern Thailand
Among all the regions of Thailand, the south has some of the most spectacular beaches. This is where you'll find the major beach resort towns, including Phuket and Samui, their luxury drawing planeloads of visitors each year.
Phuket is the largest of Thailand's islands and has its own international airport. It's a bit of a lifestyle of the rich and famous, with yachts, luxury spas, and nightlife – with prices to match. There's still plenty to see and do if you ever leave the beach, but it's all tailored for the international visitor.
Things to do in Southern Thailand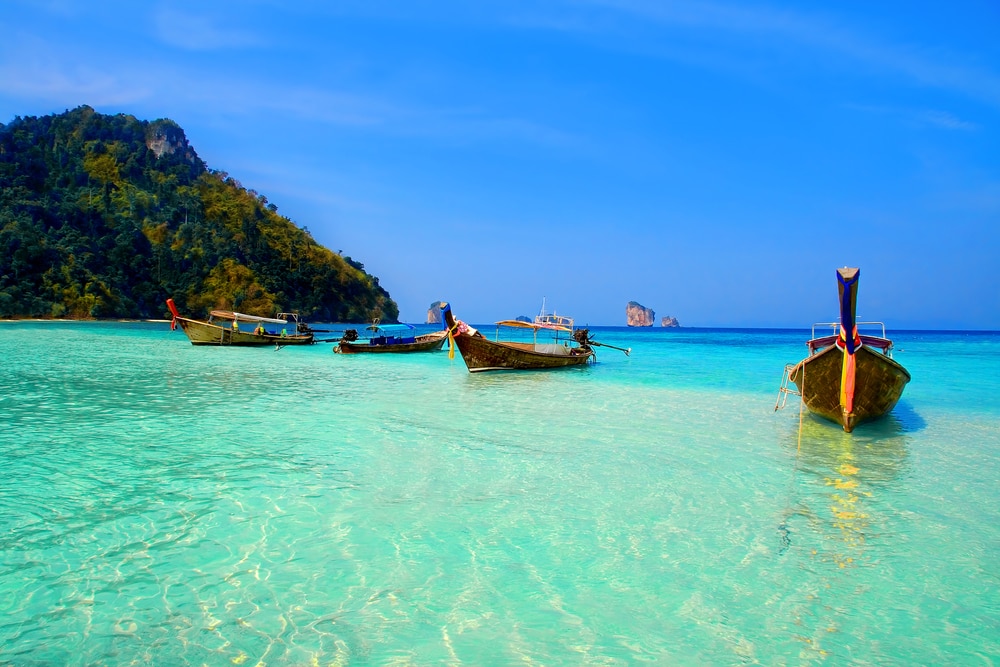 It's heavy on the beaches, but that's why you're coming here.
Ko Tao
Go diving in Ko Tao in the Gulf of Thailand. The coral formations and exotic marine life are impressive. And in case you don't know how to dive, you can find PADI certification courses on the island.
Ko Phi Phi
Catch a view from the Phi Phi islands with their vertical cliffs that face the sea. This is one of the most beautiful places in Southern Thailand with its picturesque white-sand beaches. You can also enjoy fun water activities on this magnificent island.
Railay
The two main Railay attractions are Phra Nang beach and Rai Leh West beach. This is an adventure hub for rock climbing and swimming beneath the surreal limestone structures.
Khao Sok National Park
Khao Sok National Park is a unique forested Southern Thai island offering a splendid encounter with nature. It's calm. It's beautiful.
When visiting this attraction, make sure you take photos of the Cheow Lan Lake amongst the cliffs, thank me later. You can also tour Tang Nam gorge and Wing Hin waterfall on this very island.
Where to Stay in Southern Thailand
Beach resorts, of course, make up the largest assortment of properties, but there are other options if you're willing to look a little deeper.
Kata Sea View Villas
Both business and leisure travelers find Kata Sea View Villas one of the best places to stay in Phuket in the southern region of Thailand. It's only about half a kilometer from the city center so you can quickly and easily get to the city's attractions for adventure or offices for business errands. The hotel has a golf course (approximately two miles from the property), an outdoor pool, and a garden.
Rates and booking information here.
Phi Phi Coco Beach Resort
For luxury accommodation on Koh Phi Phi island, stay at the Phi Phi Coco Beach Resort. With 76 tasteful rooms to choose from, every traveler can find their preferred accommodation here. The resort has a beautiful outdoor pool that overlooks the beach, an indoor pool, snorkeling, diving, and more. This is a great place for relaxation.
Rates and booking information here.
City Hotel Krabi
This budget accommodation right in the heart of Krabi town offers air conditioning in all rooms, free Wi-Fi, a refrigerator, and a flat-screen TV. The weekend night market is right across the hotel and there are several restaurants and shops close by. From City Hotel Krabi, you can easily reach the beaches and go rock climbing among other activities.
Rates and booking information here.
More to Know About Visiting Thailand
Thailand is easily accessible from the United States, although it's a time commitment – so it's a great time to spring for an upgrade. With a rich ancient history surviving the upscale modernization, you should be able to find a Thailand vacation that's just right for you.
Here's what else you need to know about visiting Thailand:
International Airports: Bangkok International Airport (fully name Suvarnabhumi Airport); airport code BKK. This is likely the airport you'll be flying into. Other airport options include Chiang Mai (CNX), Chiang Rai (CEI); Phuket (HKT), Ko Samui (USM), and Krabi (KBV), all of which have international airports.
Entry Requirements: US citizens staying fewer than 30 days do not need a visa, but must have a passport valid for six months and proof of a return ticket.
Language: Thai is the official language, although English is generally understood. Most road signs are also posted in both Thai and English.
Electricity: 220 volts AC. Be sure to bring an adapter kit.
Money: Baht, divided into 100 satangs, is the Thai currency. The current exchange rate is currently $1 = 30 baht.
Time: 12 hours ahead of the US Eastern Standard Time (7 hours ahead of GMT).
With a rich ancient history surviving the upscale modernization, you should be able to find a Thailand vacation that's just right for you.
Pin this to your favorite Pinterest boards.