Located on the Virginia shore of the Potomac River, opposite the District of Columbia and bordering the northern end of Arlington National Cemetery, the Netherlands Carillon is adjacent to the Unites States Marine Corps War Memorial. The site is park of the National Park System.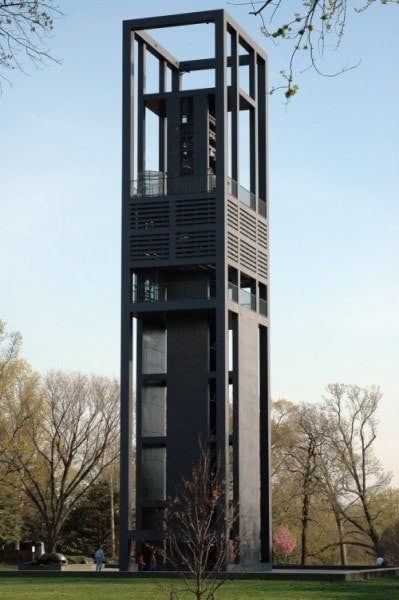 Set among thousands of tulips in a park setting, the 127-foot high tower was a gift to the American people from the Dutch.  It was a symbol of friendship characterized by a common allegiance to the principles of freedom, justice, and democracy that has weathered temporary differences.  The bell carillon was originally installed in a temporary tower in 1954, and was then moved to its current location in 1960.  It was officially dedicated on May 5th, 1960, the anniversary of the liberation of the Netherlands from the Nazis, meaning the 50th anniversary is nearly upon us.
The carillon originally contained 49 bells.  On May 5th, 1995, the 50th anniversary of the liberation, a 50th bell was added.  The largest bell measures nearly 7-foot in diameter and weighs 12,264 pounds.  The smallest bell is eight inches in diameter and weighs 35 pounds.  The bells are programmed to play automatically by computer, striking the hour daily between 10 am and 6 pm.  In addition, special programs and concerts are also held.
Two bronze lions guard the plaza steps of the carillon, and a staircase leads up to an observatory platform.  From the observatory platform, a small circular staircase winds up to the glass enclosed bell cabin, which is 83 feet above the ground.  You can climb up the tower.
Plan a picnic and enjoy the beautiful gardens surround the bell carillon.  When the tulips are in bloom it is especially pretty.  This is a family friendly space, and it's okay to play on the grass.  In fact, this makes a perfect spot for the kids to burn off a little energy while the adults spread out for a few restful moments, or just sit and enjoy the weather and a little people watching.  The spot provides a great view of DC's monuments, and if you linger on into dusk you can enjoy the spectacular view of the city as the lights of the monuments and city come on.
Photo credit:  wikimedia