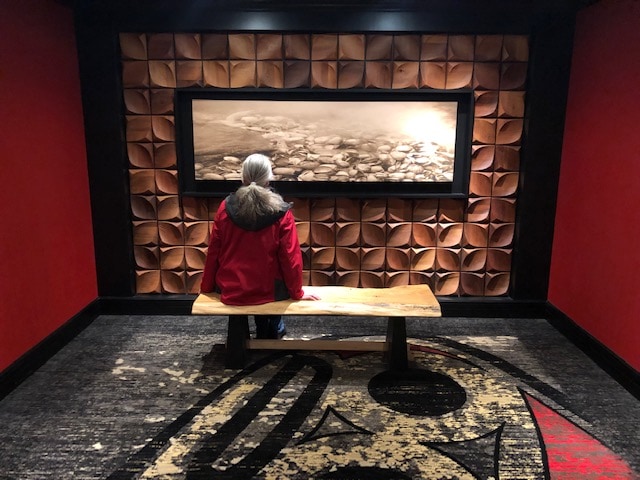 If you are visiting Washington State and looking for a luxury getaway outside of the downtown Seattle area, a stay at the Tulalip Resort Hotel and Casino is a great choice.
Located in Quil Ceda Village, about an hour north of Seattle, the Tulalip Resort may be best known for its casino – but that's not the only reason for a visit. You'll find beautiful hotel rooms, great restaurants with an impressive cocktail and wine menu, and a decadent spa, as well as top-class entertainment throughout the year.
We loved all of our stays at Tulalip Resort & Casino and never wanted to leave. We think you'll feel the same way, too.
This is part of a series of themed features talking about places we've stayed and never wanted to leave. This post may contain affiliate links, sponsored travel, sponsored content, or paid product placement. We've hand-picked these destinations and products because we like them and we think you will, too.
Here is our guide for your getaway to the Tulalip Resort and Casino, along with tips to help you enjoy this premier destination resort.
Rooms
The Tulalip Resort hotel has 360 guest rooms decorated in a style that pays homage to the diverse history and culture of the Tulalip tribe.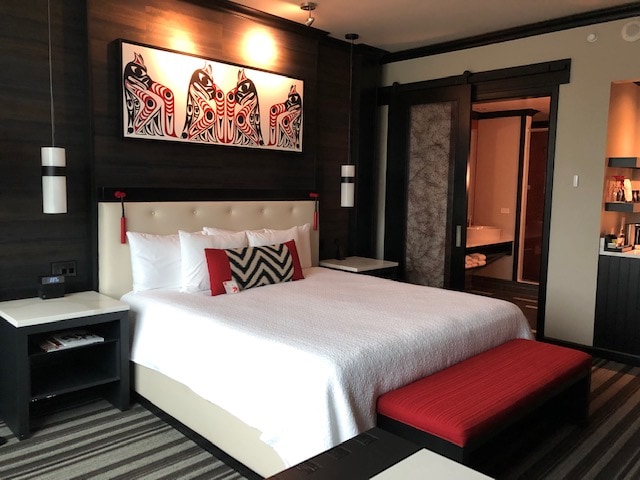 There are three main types of rooms at Tulalip Resort hotel, standard, deluxe, and resort. The standard rooms are primarily located on the third through to the tenth floors, while the resort rooms are on the 11th and 12th floors. The higher floors have better views, so if your budget can stretch that far, we highly recommend them. Regardless, all rooms offer the same blend of style and comfort along with high-quality amenities.
Rooms are well-sized, no room smaller than 500 square feet, and were updated in 2016. All rooms feature floor-to-ceiling windows, a 55-inch smart TV, complimentary WiFi, complimentary tea, coffee and water, 24-hour room service, bathroom with designer glass tiles, polished stone counters and vessel style sinks, and adjustable body spray showers.
Tulalip Resort also has 23 fabulous Northwest Washington suites. The hotel's Orca suites, located in the front corners of the 12-story tower, can accommodate up to four guests. , and have a slew of exclusive amenities. These include: a two-person jetted tub; separate bedroom and living room with wet bar; a 55-inch curved smart TV located above a quarried stone and wood fireplace; comfy oversized seating; a queen sleeper sofa; in-room refrigerator; and contemporary art. These suites overlook either the Tulalip Reservation to the west or the Cascades, including Mount Pilchuck, to the east.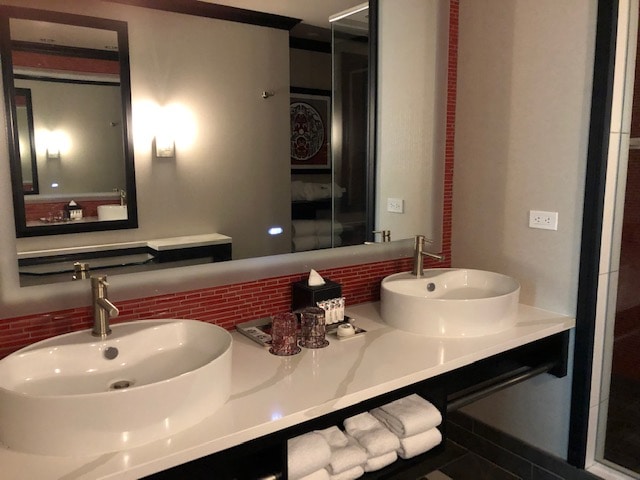 Over the years, we've stayed in every level of rooms at the Tulalip Resort and have found all of them comfortable enough that we wouldn't have needed to leave the room. I think my favorite part of the Tulalip hotel rooms are the adjustable body spray showers – who am I kidding, I barely wanted to leave the shower. The fireplaces in the Orca suites make a great spot for a glass of wine before heading out for the evening or at the end of the day. You may never want to leave.
In addition to the Orca suites, there are five specialty suites which take luxury to a completely different level:
Tulalip: Features include a baby grand piano, granite bar complete with sink, catering kitchen, and dining space for up to ten people.
Players: Dedicated to gaming and fun, features include an arcade-style Golden Tee video golfing game, dartboard, and a custom pool table.
Grand Asian: This suite takes its inspiration from the Asian nations of China, Japan, Thailand, and Malaysia. Features include a slate fountain within a bamboo garden of moss and river rock, bamboo flooring, and a Zen-like bedroom with four-poster bed.
Cascade: Named after and taking inspiration from the nearby mountain range, features include a double-sided fireplace made of quarried stone, solid walnut flooring, and granite bar, along with 65-inch TVs, digital art that comes to life on the walls, and a fibre-optic starlight ceiling that will make you think you are sleeping outdoors.
Pan Asian: An exquisitely exotic suite inspired by the Silk Road, features include deep red, black and gold colors of Asia combined with the earthy tones of the Pacific Northwest. A sculpture garden is located across from the wet bar, and an authentic contemporary Pachinko machine.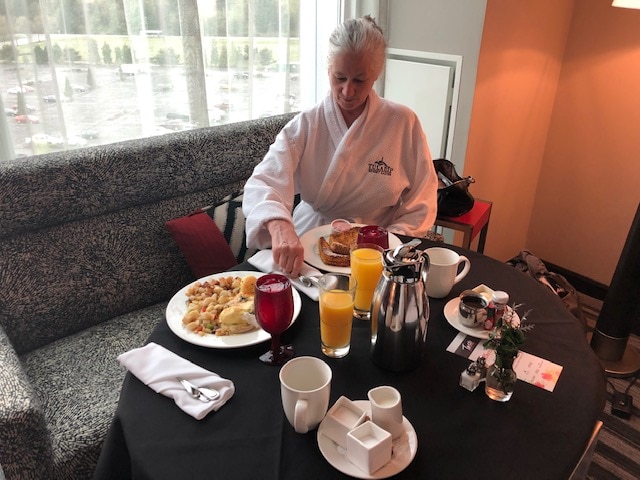 We have not stayed in any of the specialty suites. We think they'd be perfect for a special occasion and can think of lots of fun events to book them for. Note, however, these are not designed as party/event rooms (e.g., no loud bachelor parties with strippers) and typical hotel policies regarding noise and outside guests applies.
Restaurants
The food at Tulalip Resort is one of the best reasons to stay here. There are eight restaurants, from fine dining to casual, offering a variety of culinary experiences (listed in alphabetical order).
Blackfish
The hotel's premier seafood-centric restaurant is a great spot to sample local oysters, shucked to order, along with freshly caught fish and shellfish. Try the salmon, prepared in a traditional tribal manner over an open fire pit, it's delicious. There are grilled steaks and chicken on the menu, but with so many other restaurant choices at the Tulalip Resort, come to Blackfish for the seafood.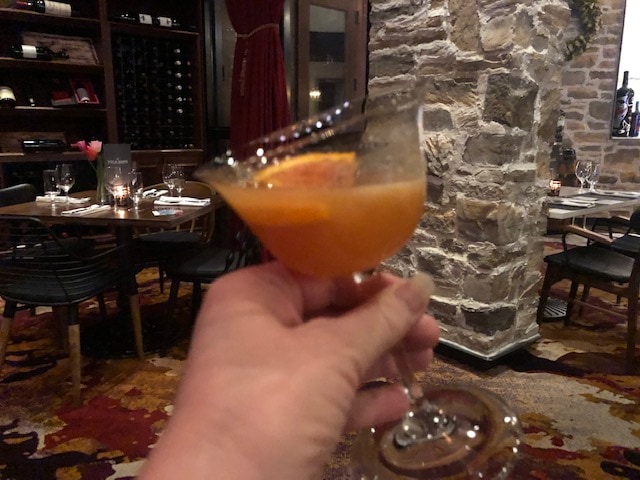 Some of our favorites: Hazelnut Shrimp Fritters and the Dungeness Crab Cakes (both are appetizers and are perfect for a small appetite; add a house salad and it makes a satisfying dinner meal), Lobster Salad, and the Pacific NW Bounty Bowl (full of all sorts of delicious Pacific Northwest seafood).
Check out the full Blackfish menu here.
Blazing Paddles
If it's pizza you crave, Blazing Paddles is the place to go. You can opt for one of their signature pizzas or create your own from a selection of over 50 topping options. They also offer salads and desserts. This dining venue at Tulalip is close to the gaming action and is generally noisy.
Some of our favorites: The Ultimate Meat Treat (so much meaty goodness) and the Four Alarm Firehouse (although I'd much prefer arugula over spinach). Consider getting the pizza to go and heading back to your room for a quieter dining option.
Check out the full Blazing Paddles menu here.
Canoes Carvery
Canoes Carvery is a great choice if you are looking to just grab a quick bite to eat. They offer freshly-made sandwiches, pizza, soups, salads, and pastries. Pick up something to take back to your room as seating is limited. Canoes Carvery is located next to Canoes Cabaret.
Some of our favorites: Canoes Clubster (love the cranberry cream cheese spread) and the burgers.
Check out the full Canoes Carvery menu here.
Cedars Cafe
Open 24/7, Cedars Cafe provides the perfect relaxed atmosphere for breakfast, lunch, and dinner. Their style is simple and classic with a menu that includes coffee shop and pub favorites. Breakfast is served until 2 pm, with both cold and hot options. An added treat is the fiber-optic night sky ceiling.
Some of our favorites: The Crusted French Toast and the Pacific Northwest Benedict are our go-to choices for breakfast. The Chili Lime Shrimp appetizer is a perfect light bite and the Burgers satisfy that rumbling stomach when we're really hungry.
Check out the full Cedars Cafe menu here.
Destinations Lounge
Located in the lobby of the Tulalip Resort, Destinations Lounge is a perfect spot to start or end your evening. It has cozy tables and chairs, is fairly quiet and conducive to conversations, and the fireplace adds a warming vibe during the rainy Washington Winters. An extensive wine and cocktail menu is available along with appetizers.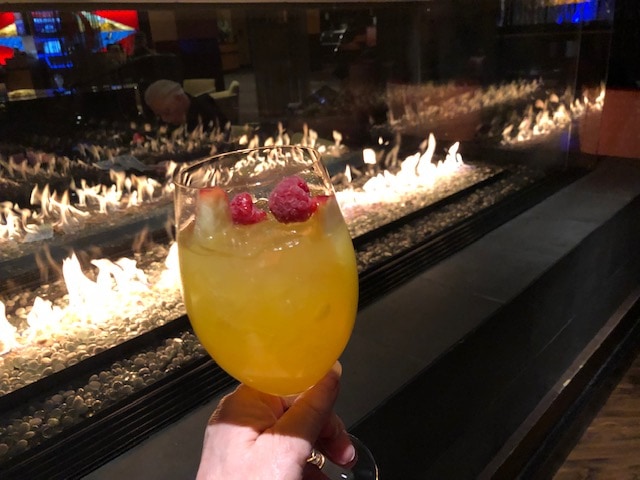 Some of our favorites: We loved theDorado Sangria (Miguel Torres Verdejo, Miguel Torres Magdala Spanish Orange Liqueur, mango and peach nectar, agave liqueur, rose water, and fresh lemon juice). A wine favorite is the Reynvaa Vineyards "The Contender Syrah" from Walla Walla (vivid and expressive, with plum, blackberry, black olive and tar flavors on a meaty note).
The Draft
The ideal eatery for sports fans, The Draft is the hotel's sports bar, featuring a dramatic 14×9-inch wall matrix of HD TVs that put you right in the center of all the broadcast sporting events. The food here is what you would expect from a sports bar, including 'Build Your Own' burgers, chicken wings, fish tacos, and salads. There are some great craft beers, wines by the glass, and hand-crafted cocktails from their extensive cocktail menu.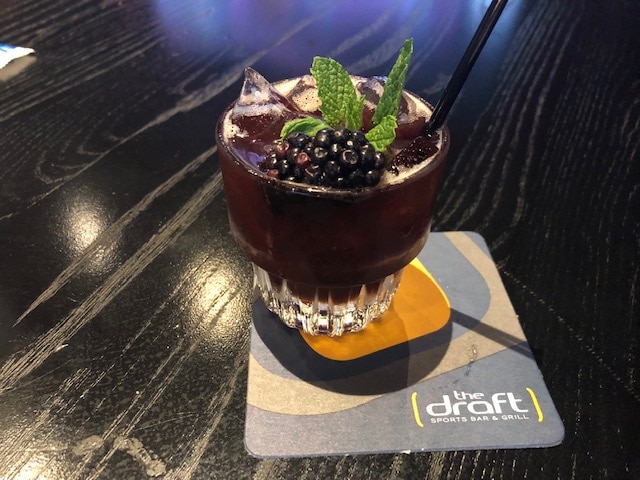 Some of our favorites: The wings! The traditional buffalo is good, but the Asian Lime Chili kicks it up a notch. They also deliver consistently good burgers; I'm a fan of the Blue Thunder.
Check out the full Draft menu here.
Eagles Buffet
Eagles Buffet features international cuisine from a variety of food stations that serve over 72 different menu selections. It's a culinary world tour that includes a full-scale sizzling Mongolian Grill, Asian Wok Kitchen, American Bounty Rotisserie and Carving Station with salmon and prime rib, and a design-your-own pasta bar. To complement these options there are two salad bars and a decadent dessert display. The menu is ever-changing, so plan to visit often and find something new to enjoy.
Some of our favorites: Honestly, we rarely eat here as we tend not to enjoy buffets. Friends and family swear by the Crab and Seafood Fest on Tuesday nights and the Crab upgrade (currently an additional $8 to the regularly priced buffet) on the weekends.
Journeys East
As the name may suggest, Journeys East offers Asian cuisine, serving dishes from China, Japan, Thailand, Vietnam, and Korea. They serve Asian classics as well as some new takes on traditional dishes. You can get your food to-go, or do as we often do, have them pack up your leftovers for a middle of the night snack. There are refrigerators and microwaves in the room, ideal for late-night snacking.
Some of our favorites: We love so many of the menu items, that it's hard to narrow it down. I'm a fan of the Pho and Tony of the potstickers. We both love the Stir-Fried Garlic Prawns, Bulgogi, and the Mongolian Plate. Neither of us like sushi, so we have no recommendations from that part of the menu.
Check out the full Journeys East menu here.
Tula Bene Pastaria and Chophouse
If you love Italian cuisine but want to eat something other than pizza, head to Tula Bene. The menu here features mouth-watering pasta and steak dishes, with specialties such as lobster ravioli, lamb mezzaluna, and a 16-ounce New York steak. Start off with a cocktail from their creative menu and pair a bottle or glass of wine from their extensive list to accompany your meal.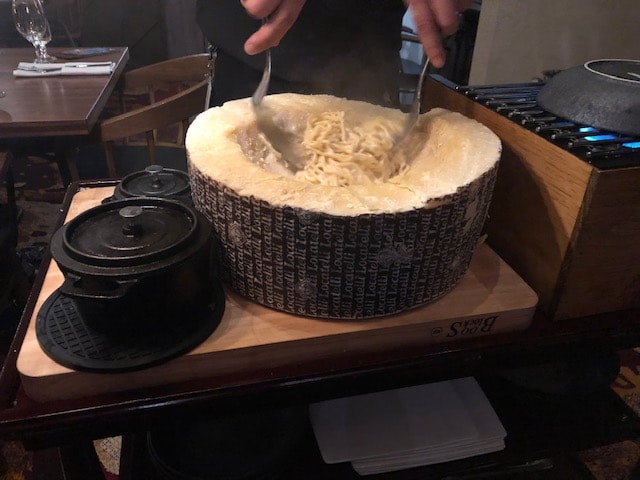 Some of our favorites: A glass of wine and sharing the Salumi Sharable (a charcuterie plate) is a perfect lunch or light meal for us. When we're in the lobster mood, we know we won't go wrong with the Lobster Salad, Lobster Bisque, and/or Lobster Ravioli. You can't go wrong with any of the steaks and a few are sized just right for sharing. If they're still available (limited quantity) the Red Wine Braised Short Ribs are to die for. We never seem to have room for dessert, but we're told by friends that the Sugared Ricotta Fritters are delicious. One of these evenings, we're going to just stop off for dessert.
Check out the full Tula Bene menu here.
Entertainment
The entertainment at the Tulalip Resort varies based on the time of year (and the weather), but you'll be certain to find something no matter the time of year. While the casino is an obvious popular entertainment venue, there's plenty of other options to choose from.
Casino
The casino is one of the biggest draws of the Tulalip Resort, with its variety of table games and slots. Table games include Blackjack, Ultimate Texas Hold 'Em, Craps; Pai Gow, Three-Card Poker, and Roulette.
There is a section dedicated to poker, with options including Crazy Pineapple, 7-Card Stud, and Omaha, with limits ranging from $1 to $500 and No Limit games. If you are the competitive sort, there are a number of tournaments held throughout the week.
For bingo lovers, Tulalip Resort Hotel holds 23 bingo sessions a week. You can choose either to play old-school with paper sheets or you can use their state-of-the-art electronic machines to play multiple games at once. While we're not big bingo players, there's something fun about getting a group of people together and heading out for a night of laughs, drinks, and bingo. Sometimes we've laughed till we've cried.
Canoes Cabaret
This live entertainment venue offers shows ranging from 70s funk, 80s new wave, classic rock tributes, comedy, and PPV MMA boxing – and yes, that's a mixed bag of entertainment genres. Thursday is Ladies' Night, and happy hour specials and other events are offered throughout the month.
As Baby Boomers, this really isn't our scene, but the long lines and cheerful patrons make it a fit for those a bit younger than we are.
Orca Ballroom
The Orca Ballroom is a popular events venue at the resort. It's an intimate space (about 1,200 people depending on layout), with up-close seating. This isn't Las Vegas flashy, and neither are the prices, just a solid entertainment line up.
We saw Howie Mandel in the Orca Ballroom, just a few rows back from the stage. Coming up: Air Supply, Richard Marx, Jefferson Starship, and Herman's Hermits. Baby Boomers unite!
Tulalip Amphitheatre
A true outdoor amphitheater, Tulalip Amphitheatre has fast become a summer tradition. This entertainment venue is well-known for having a great sight line, meaning wherever your seat is you will have a great view. It's a larger venue, about 3,000-person capacity, featuring national acts.
Tickets sell out fast, and the rooms book up quickly on concert nights, so this will take planning well in advance. Watch the calendar for the 2020 summer season and book right away.
Coming up: REO Speedwagon, Patti Labelle and the Pointer Sisters.
Hibulb Cultural Center
The Hibulb Cultural Center is dedicated to revive, restore, protect, interpret, collect and enhance the history, traditional cultural values and spiritual beliefs of the Tulalip Tribes.
The calendar of events is full of classes (e.g., weaving, silversmithing, crafts, etc.), poetry and storytelling series, and a film festival. You can find the calendar of events here. The Center is not located at the Tulalip Resort and is a short ride away.
The Hibulb Culture Center is a special place for my family. In addition to the numerous cultural and community activities, it is also a spiritual place of worship. We held a memorial service for a brother-in-law at the Center, full of many Tulalip tribal traditions, and it was incredibly moving and uplifting.
Relaxation
It's easy to think that it's go-go-go the entire time you're staying at Tulalip Resort & Casino. Not the case, though, as there are plenty of options to kick back and relax. We're fans of a glass of wine in the room before heading out for the evening, especially on a cold winter night in front of the fireplace.
When you're ready to leave the room for more relaxing activities, here are our recommendations.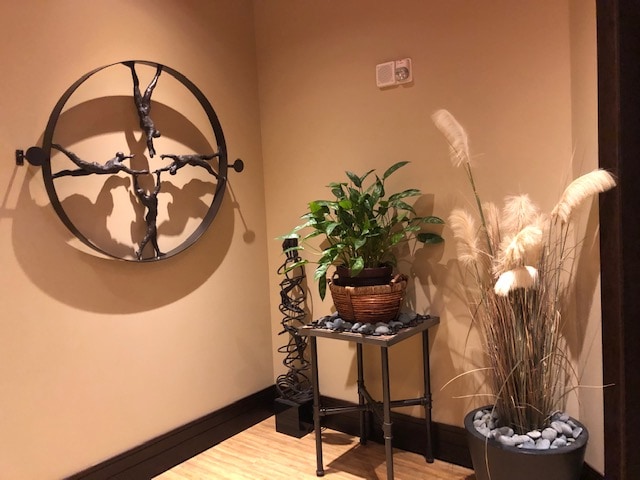 Oasis Pool
Western Washington is known for its rainy – and often blustery – winter weather, so outdoor pools don't get year-round use around here. That's just one of the reasons why we appreciate a great indoor pool – especially when it has all the features of an outdoor pool.
The Oasis Pool provides a tropical environment with its glass atrium, a cascading waterfall, whirlpool, footbridge, and outside patio. Towel service is offered as well as poolside food and beverages available during pool hours.
T Spa
Everyone loves to be pampered and the T Spa does a mighty fine job of helping that along. e is nowhere better to do so when on a Tulalip Resort getaway than T Spa. This opulent spa covers 14,000 square feet and provides a calm sanctuary. The spa is furnished with river rocks, wide bamboo floors, candles and natural foliage which help to calm the spirit and soul.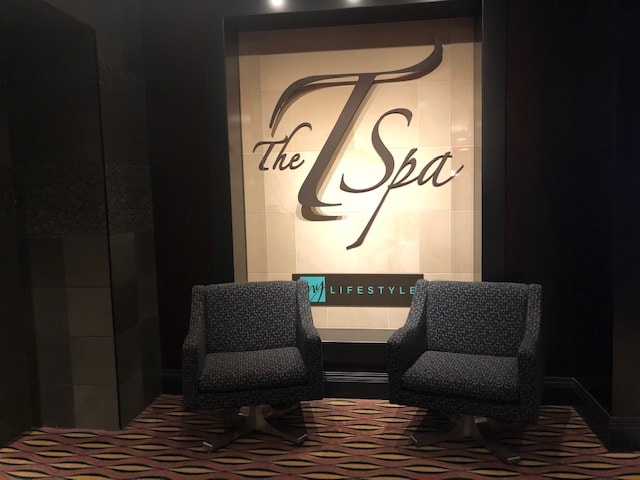 The usual spa and beauty treatments are available at T Spa, including massage, body and skin care treatments, tanning, makeup, hair removal, nail care, and teeth whitening. All treatments include use of the spa facilities, or buy a day pass if you're not having a treatment, including cedar saunas, steam rooms, and grotto showers. It's worth taking the extra time to enjoy the spa amenities. If you want to make a day of it, check out the monthly special and the packages available.
Also located in the same space as T Spa is the state-of-the-art lifestyle fitness center. There's a good selection of cardiovascular equipment, strength training machines, free weights, and a stretching and abdominal area. With the use of the fitness center comes complimentary spa lockers, showers, steam rooms, and saunas.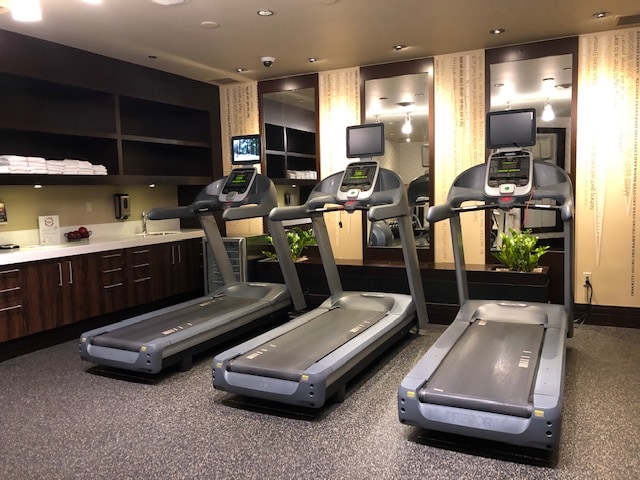 I've seen but never used the fitness center, instead preferring to spend my time at the spa. No surprise there!
Shopping
We generally don't spend our time shopping when we getaway to the Tulalip Resort, but there are times we've forgotten something or decide to indulge in some retail therapy.
Here are a few options.
Salal Marketplace
Located in the resort lobby, the Salal Marketplace offers all kinds of classic gifts, simple shopping, fashion and accessories, art and sundry items. You can find Coast Salish design apparel, tribal art, Washington wines, and locally-made Northwest treats. The marketplace also has a five-star floral boutique which provides a selection of wrapped seasonal flowers and in-room floral arrangements for special occasions.
Seattle Premium Outlets
Featuring over 130 upscale stores, Seattle Premium Outlets is an easy walk from the Tulalip Resort. Stores represent apparel, jewelry, leather good, sporting goods, and specialty shops along with an indoor food court with fast food as well as sit down dining.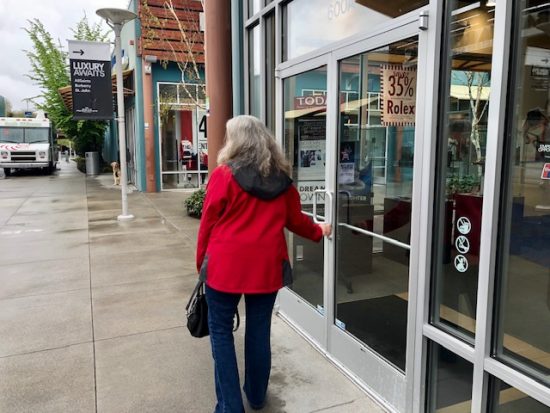 Check out the stores and restaurants at the Seattle Premium Outlets here.
Tulalip Resort & Casino is a destination getaway, with everything you need to make your stay amazing. We've visited numerous times and have loved every stay. We think you'll agree – and never want to leave.
Book your Tulalip Resort & Casino getaway here:
For Pinterest
Save this to your favorite Pinterest boards.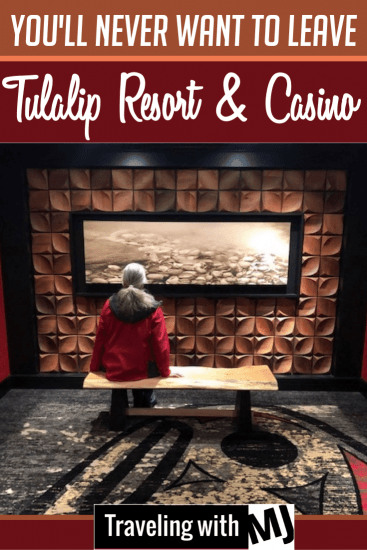 Disclosure: We have visited the Tulalip Resort on many occasions. Some of them have been media visits where we have been hosted for a room, food and beverage, spa treatments, and/or entertainment. Other visits we have fully paid for ourselves.