Beach vacations are a popular choice, whether you're flying to an exotic location or hitting the shore close to home.  But you can't just head out to the beach — it can actually be one of the vacation destinations that is complicated to pack for.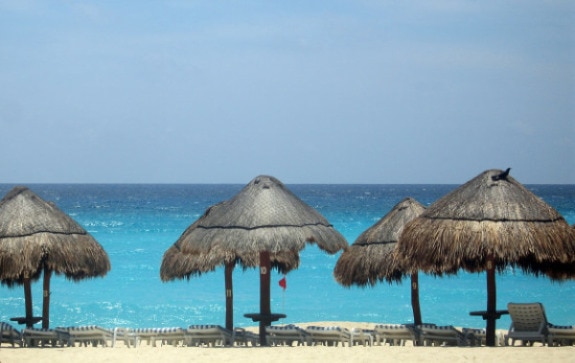 Here are 10 items that I consider essential for a beach vacation:
Swim suit and cover up – whether you'll be walking to the beach from your hotel room or out the door of your cabin, a swimsuit is the essential item of beach clothing.  You'll also want a cover up for walking through a hotel lobby, or when it's time to cut back on your sun exposure.  If you'll be at the beach for more than a day or two consider packing additional swimsuits.
Sunscreen – it seems like this is a no brainer, but I've looked around the beach all too often and seen the red results of people who didn't put on their sunscreen.  Bring lots, you'll need to apply and reapply.
Water – or other non-carbonated, non-alcoholic beverage of choice.  Hydrating is important, and I think water does it best.  It's nice to have a way to keep it chilled, too, whether in an ice chest, insolated container, or thermos.
Sunglasses – because you're eyes need protection, too.
Flip Flops – perfectly cheap, and perfect for the beach, flip flops will protect your feet from hot sand, a rocky beach, or while wading in shallow water.  There are other good beach shoe options, so pack your favorite.  I like flip flops because they are cheap and can be left behind.
Hair protection – to protect against sun damage to your hair and scalp.   A hat, scarf, or bandana is always best, but if you're in and out of the surf, that might not be practical.  So slather on some conditioner to protect and nourish your hair, apply some sunscreen to your scalp, and don't stay out too long.
Lip gloss – flavored, unflavored, tinted or not, and maybe it's not called lip gloss but lip protector.  Think of it as sunscreen for lips, and apply and reapply.  Sunburned lips are no fun.
Book or magazine – or whatever you prefer to read.  Use it to tune out annoyances around you, catch up on some long overdue reading, learn something new, or just relax and enjoy – there's a reading why there are books referred to as beaching reading.  When you're done pass it on to someone else to enjoy.
Towel – maybe even more than one.  Use it to lay on, cover up a beach chair, dry off, wipe yourself down, or roll it up and make a pillow.  If you bring or buy an inexpensive one, you can leave it behind or pass it on to someone else to use.
Camera – I always bring one, but it's one you may want to pass on.  I like taking photos of the sun, sand and surf, and all the people enjoying the beach.  You can opt for a waterproof camera, or take good precautions to avoid the grief caused by sand, oil, and water.  I'm careful, but not paranoid, and have never had a problem.
Those are the things that I consider essentials, but there are a few other things that are nice to have for that trip to the beach:  spray bottle (because a little spritz can be refreshing), iPod (I'm not a fan of electronics at the beach, but your experience may be different), and a beach mat (I prefer a towel, but if a mat is your preference buy one and leave it behind.
All that work for just a few hours in the sun. — you are only spending a few hours out there, aren't you?  You do know better than to spend all day there!
Did I forget anything?  What do you take with you on a beach vacation?
Photo credit:  personal collection