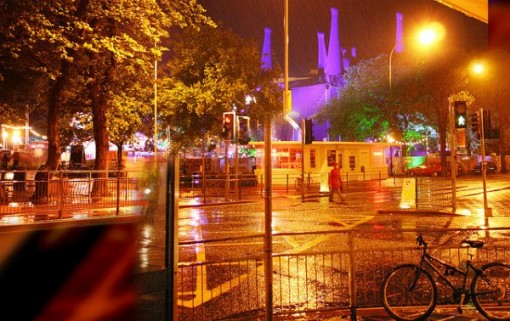 If all Olympics and Jubilee festivities of London are a bit too stuffy for you, get out of the city and head to Brighton, known as a premier UK hotspot for nightlife, music, and festivals.  About an hour south of London, by train (the Jurys Inn Brighton is located not too far from the station), it's easy to pop down for a day trip.  But with so much to do, you may want to make it a weekend.
Here are a few Festivals in Brighton to choose from:
Brighton Festival –  The second largest arts festival in the UK (the largest is in Edinburgh), the festival is full of parades, fireworks, theater, music, dance, visual arts (and lots more) all staged in venues around the city.  One of the unique features of the festival is the Artists' Open House – artists open their homes for the public to come in look at, and hopefully buy, their works.  The festival has events for all artistic tastes and temperaments, and also features family-friendly activity.  The 2012 Brighton Festival will be held May 5-27th, and Vanessa Redgrave will be the Guest Director.
Brighton Festival Fringe – Running in conjunction with the Brighton Festival, the Fringe is the third largest fringe festival in the world.  There's a good mix of free and fee events, last year over 3,000 performances, and the Fringe is likely to attract (again) over 100,000 people.  Visit Fringe City for some of the best free entertainment around.  Between both festivals, nearly a million visitors make it to Brighton during the month of May.
The Great Escape – Three nights of live music in various venues across Brighton.  Dates:  May 10-12, 2012.
Paddle Round the Pier – One of the hippest fund-raising events around, bringing together surfers in a social gathering to raise funds for charity.  Dates:  July 7-8, 2012.
Soundwaves Festival – Featuring contemporary classical music (composed in the 21st century), this festival features professional and amateur performances.  Dates:  July 13-15, 2012.
Brighton Live – A free to see celebration of some of the newest music around from local bands, along with educational sessions for musicians.
Brighton Pride – With a very active LGBT community, it's no surprise that Pride is a big event, with activities that include a parade, street party, and plenty of entertainment.  This years dates have been scheduled later in the year due to the Summer Olympics.  Dates:  September 1-2, 2012.
White Nights – Also called Nuit Blanche (French for White Night) is an annual Free all-night arts festival.  It features multiple venues, a variety of art (music, digital spoken word, performance, etc.) and lasts right up till dawn.  Dates:  On the day that British Summer Time "falls" back, giving you an extra hour to enjoy all the entertainment.
Burning the Clocks – A winter solstice festival that features a procession of lanterns and costumes, made from willow canes and white tissue paper, led by local bands.  The parade goes through the streets from the city center to the water where there's a lantern bonfire and fireworks.  Dates:  December 21, 2012.
There are plenty of other festivals in Brighton – all year round.  If you've gotten the idea that Brighton is a party city, that's not quite accurate.  There's the beach, of course, but there are also over 300 pubs to choose from.  While you're making your festival and visiting plans don't forget hotels Brighton – no drinking and driving allowed.
Photo credit:  Dominic Alves via flickr