Bogota, the capital city of Colombia, boasts a vibrant food culture that showcases the country's diverse culinary heritage. With influences from indigenous, Spanish, and African cuisines, Bogota's food scene offers a wide range of flavors and ingredients. From street food stalls serving traditional dishes like arepas and empanadas to fine dining restaurants featuring modern takes on Colombian cuisine, your sure to find something tasty, no matter your preferences or budget.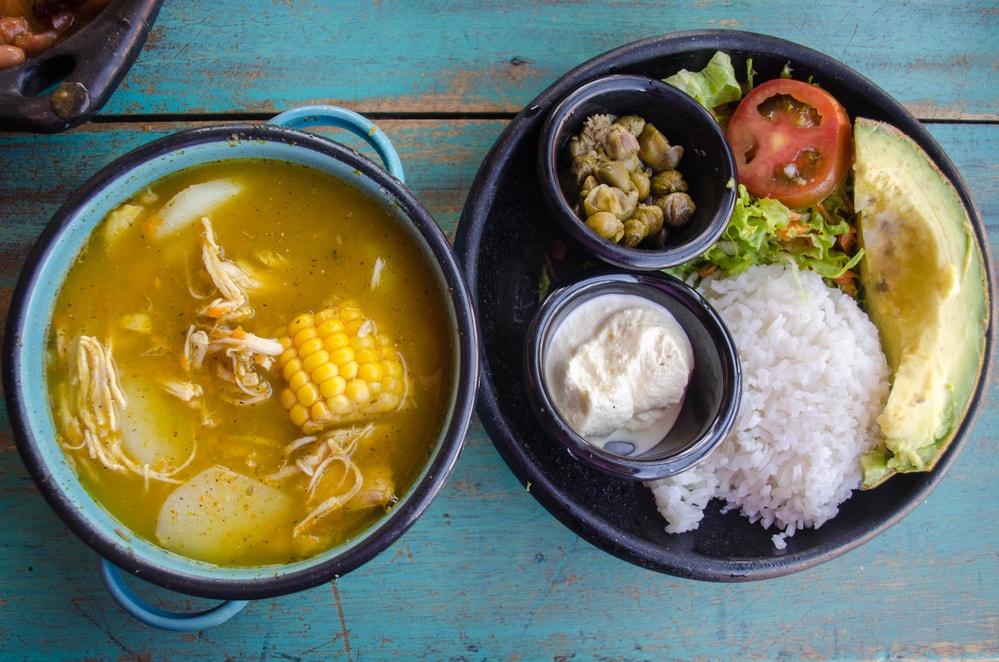 One of the dishes I fell in love with when I visited Bogota was ajiaco. I liked it so much that I took a cooking class to learn how to make ajiaco and later did a market shopping tour to learn more about the ingredients.
Ajiaco is a traditional Colombian soup made with chicken, potatoes, and corn. It is flavored with a variety of herbs and spices, including cilantro, capers, and guascas, and is usually served with a dollop of sour cream and rice. The dish is a staple of Colombian cuisine, culture, and national identity, and is a popular comfort food for locals as well as visitors.
This is not your typical chicken soup or potato soup! I would have happily enjoyed this for most every meal that I ate in Bogota!
It's fairly easy to make, although some of the ingredients require substitutions here at home.
History of Ajiaco?
The exact origin of ajiaco is unknown, but historians have their guesses as to how this hearty meal came about. It is thought the word "ajiaco" comes from the word "aji" meaning "hot pepper" from the language of the indigenous Caribbean tribe, Taino.
Because of this, Cuba also claims this dish as their own. There have been records of the dish being popular in Cuba in the 16th century, but there were also records of it being eaten at the same time in Colombia and Peru, which is why the exact origins are still uncertain.
In Colombia, the Chibcha people of Cundinamarca, which used to be the flat region that surrounds Bogota, have been eating this dish since before the Spanish arrived in 1499. The Spanish added chicken and cream to the original recipe, creating the dish that is the most well-known in the city today.
Common Ingredients and Combinations of Ajiaco
The main protein in ajiaco is chicken. We used shredded chicken breasts in our cooking class.
In Colombian ajiaco, it is typical to use three different kinds of potatoes – criolla, sabanera, and pastusa potatoes. These potatoes tend to be much smaller than ones in Europe or North America. Since these are not available at home (at least I haven't been able to find them so far), I have had to make substitutions. I use a combination of russet, Yukon Gold, and yellow new potatoes (the latter are often harder to find) to simulate the creamy texture and flavor of the hearty soup.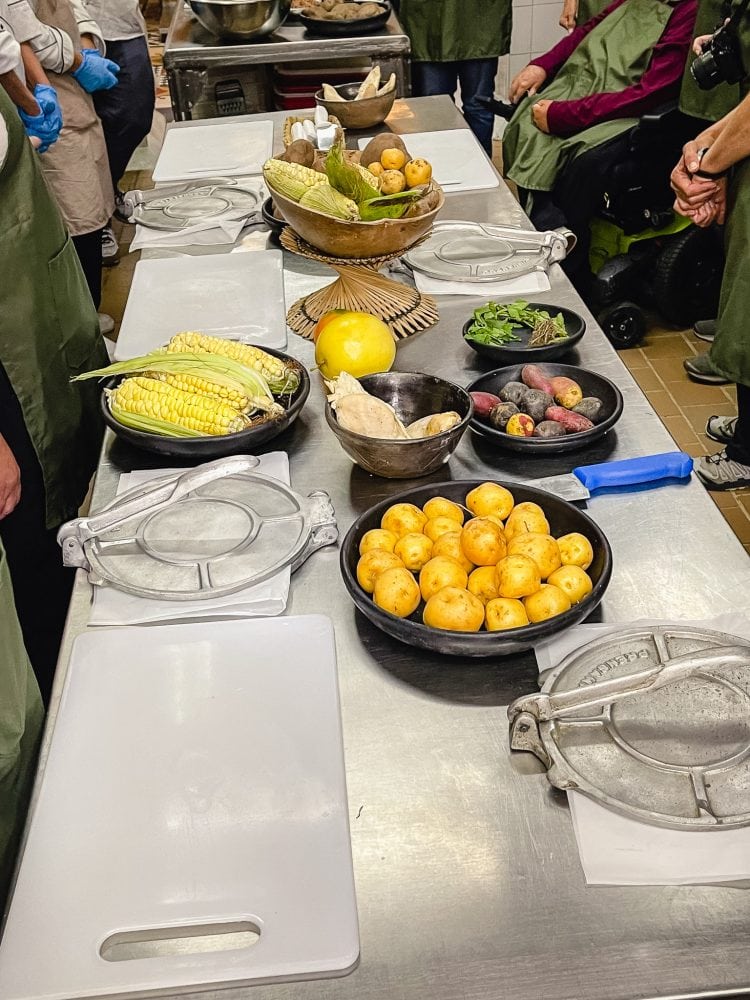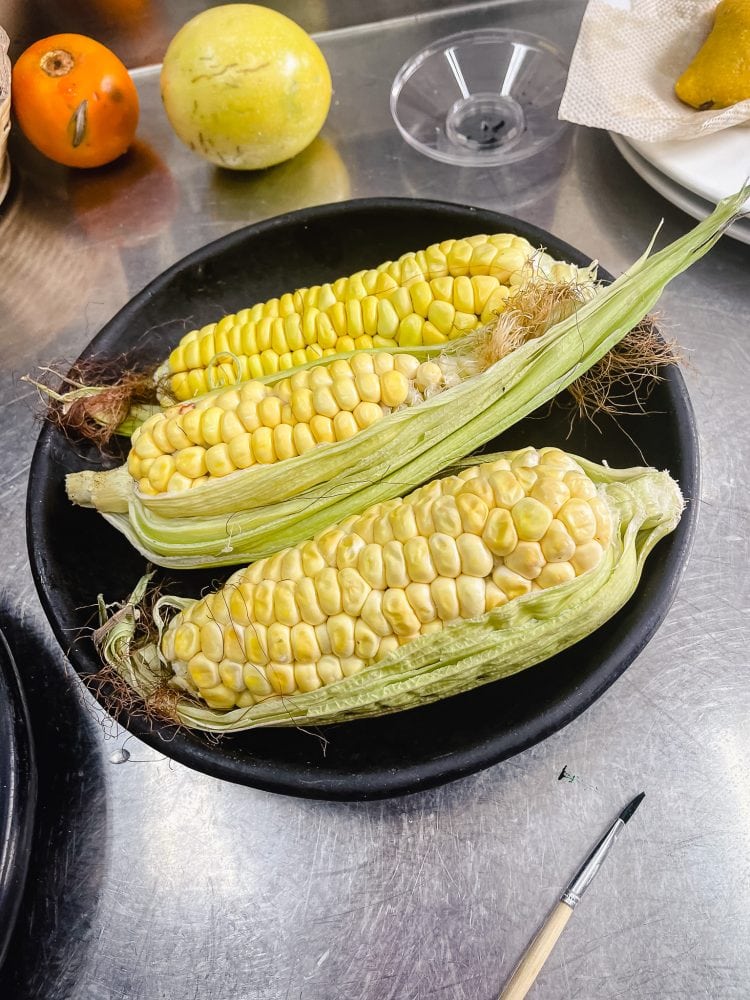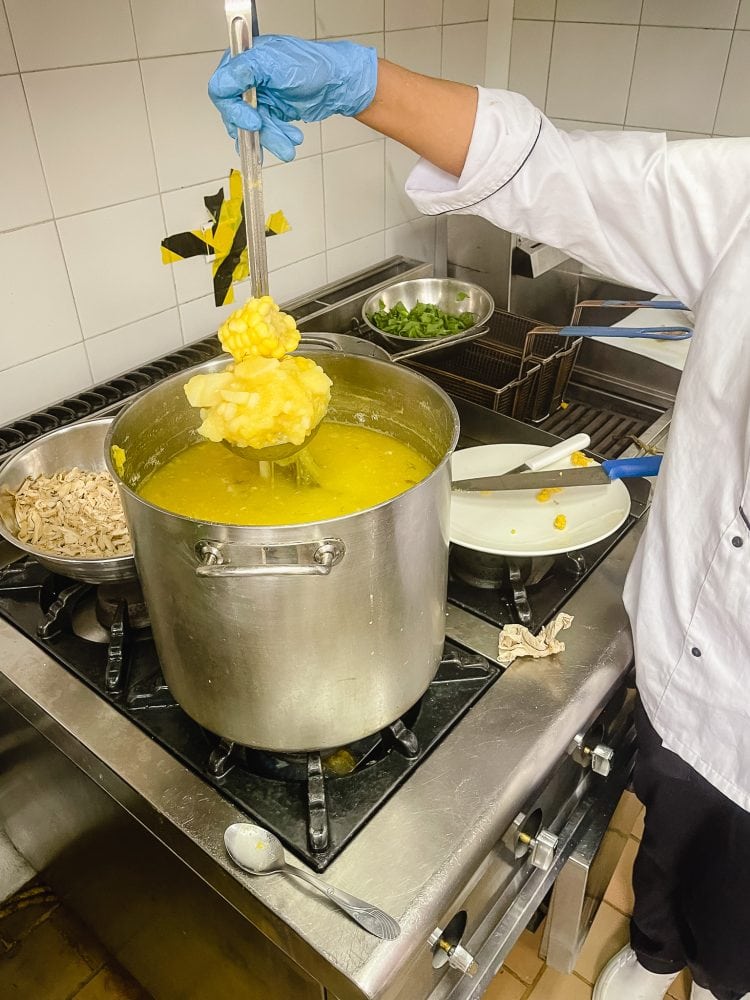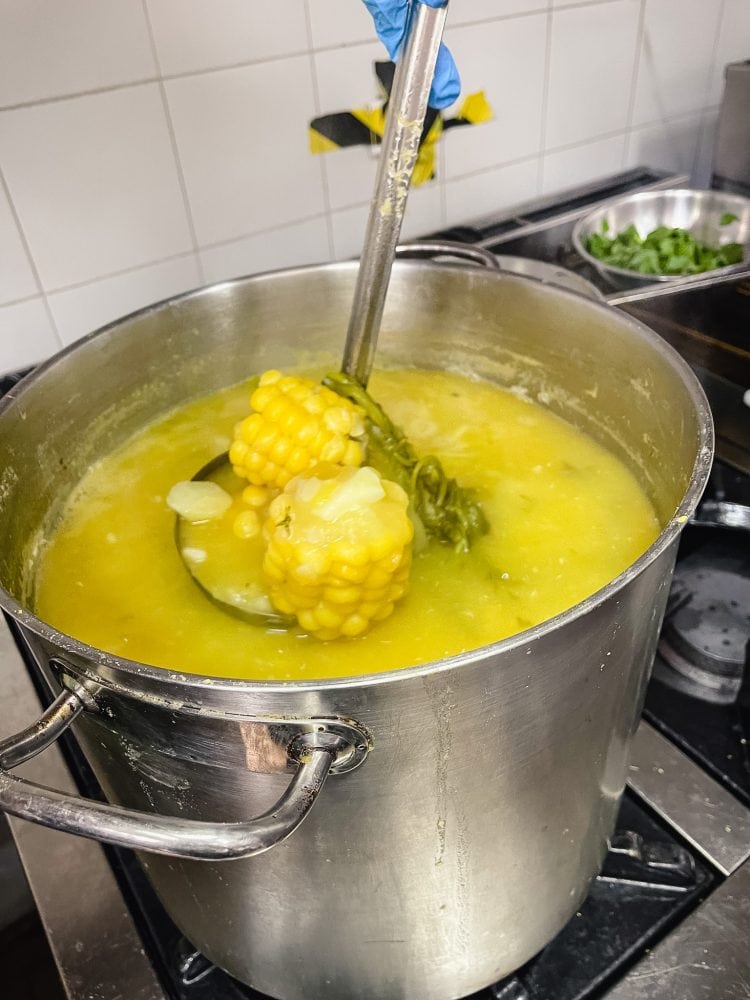 Next, an ajiaco recipe will call for guascas leaves, a fragrant Colombian herb. In our cooking class we used it fresh. I've been unable to find fresh guasca at home, although I'm told that it can sometimes be spotted at farmers markets (I'll keep an eye out when they open up around here). One options is to use dried guascas, which is much easier to find. Another good substitute is to use dried oregano, or for more robust flavor, a combination of dried parsley, oregano, and crushed bay leaf.
Small sections of corn on the cob are served in the dish, as are capers. Heavy cream, fresh avocado, white rice, and additional capers are served on the side.
How to Eat Ajiaco Soup
Grab a spoon and dig it!
Okay, there's a few more options to enjoying this very popular dish. Here are a few suggestions.
The soup will be served with a small section of corn on the cob. Scrape the kernels off the cob into your soup. I picked up the cob and gave it a chew, later learning that wasn't how it should be eaten.
Add the rice (served on the side) into the soup and mix together. It will become thick and lumpy; all the more delicious.
The additional side of capers can be added if a little more zip is preferred.
Cream is added as a floater on the top. I mixed it in, making an even creamier creamy soup.
Avocado slices can be layered on the top or broken into small chunks and added to the soup before eating. Another option is to take a small spoonful of avocado, then dig into the soup, creating an amalgamation of flavors and textures in one spoonful.
Controversial Ajiaco
It was too much to hope that a dish this could be simply scooped into bowls and enjoyed.
In addition to Colombia and Cuba claiming ownership to the dish, Peru also lays claim to ajiaco, referring to it as a potato stew. Unsurprisingly, the origination of ajiaco may trace back to Africa along with so many other parts of South American culture.
Yield: 6
Traditional Colombian Ajiaco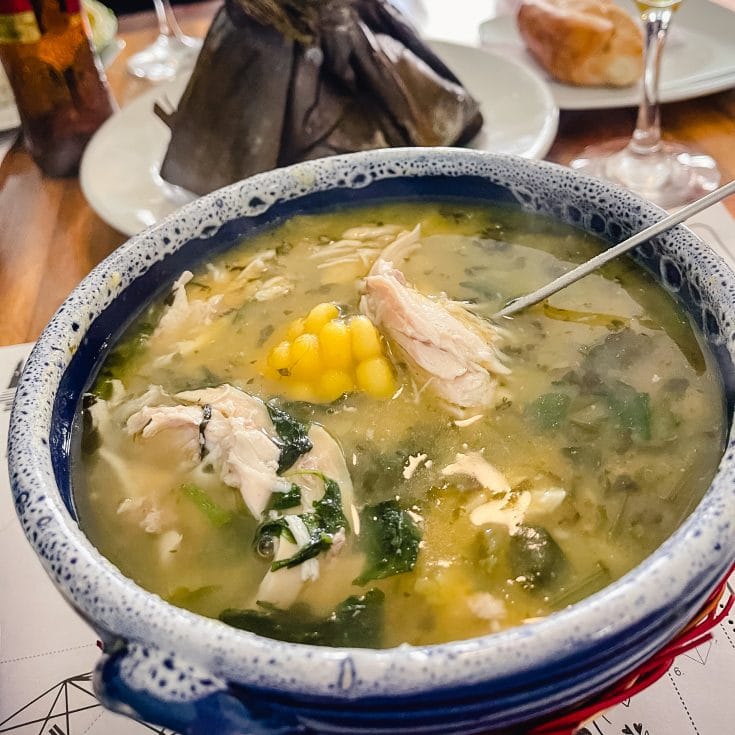 Ajiaco is a rich soup made out of a variety of potatoes, along with corn, chicken, and herbs. Measurements are approximated because the best Colombian chefs add in "just the right amount" from experience rather than a recipe. I've done my best to approximate for home use what they do for restaurant-sized preparation.
Ingredients
1 1/2 lbs potatoes (recommended mix of Yukon Gold, russet, and new yellow potatoes), peeled and cut into chunks.
2 ears of corn, cut in pieces
1 whole chicken breast
2 Tbsp dried guascas (see note below)
1 bunch cilantro
1 green onion
Salt and pepper. to taste
Steamed white rice
Heavy cream, on the side
Capers, drained, on the side
Avocados, sliced, on the side
Instructions
Make a stock by placing onions, cilantro, dried guascas, and chicken to a large pot. Generously cover with water and bring to a boil. Then reduce to a simmer and continue cooking for about an hour. (See note below.)
When the chicken breast is cooked, remove from stock and add the corn. Let simmer for an additional 20 minutes.
Shred the chicken and set aside
Add potatoes to stock and continue simmering for 20 minutes longer.
Add salt and pepper to stock, tasting frequently for desired seasoning.
During final simmer time, steam the white rice.
To serve, ladle spoonfuls of broth and potatoes into individual dishes, top with shredded chicken, and add a piece of corn to the soup. Serve with a scoop of steam white rice on the side.
Place garnishes in dishes alongside the soup - sliced avocados, capers, and heavy cream - letting everyone add their own according to their taste preferences.


Notes
Substitute a mix of dried parsley, oregano, and bay leaves if dried guascas in unavailable.
Stock can be simmered all day, for a delightful aroma in your kitchen. Make in batches to freeze, and then when you need it, pull it out and thaw. If you aren't getting the robust flavor you want from the stock, consider adding a chicken bouillon cube or some packaged chicken broth.
Recommended Products
As an Amazon Associate and member of other affiliate programs, I earn from qualifying purchases.
Nutrition Information:
Yield:
6
Serving Size:
1
Amount Per Serving:
Calories:

270
Total Fat:

8g
Saturated Fat:

2g
Trans Fat:

0g
Unsaturated Fat:

5g
Cholesterol:

23mg
Sodium:

117mg
Carbohydrates:

40g
Fiber:

6g
Sugar:

3g
Protein:

12g
(NOTE: nutritional information is auto-generated and should only serve as an estimated guideline)
Save to your favorite Pinterest boards