When choosing how to vacation, it can often be a tough decision about whether to choose something adventurous and exciting, or luxurious and relaxing.
Why compromise? A luxury expedition cruise allows you to do both.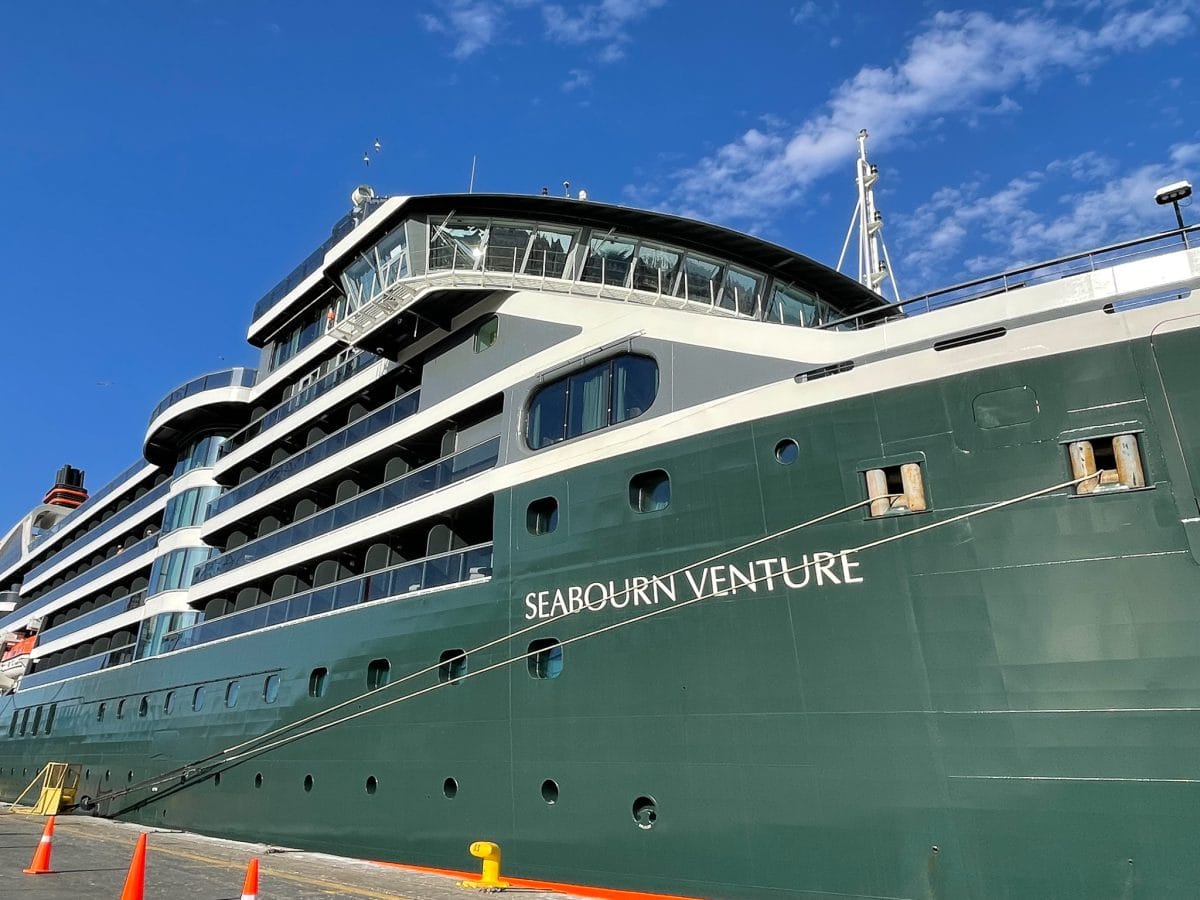 One of the biggest draws to a Seabourn expedition cruise is the thrill of adventure you get with their itineraries combined with the world-class service and luxury that they are known for. With a Seabourn expedition cruise, you can travel to remote destinations – what expedition cruising is known for – without skimping on the luxuries.
Sounds good, right? But what does Seabourn offer and what are the ships like? I sailed with Seabourn on their newest ship, the Venture, from Lima, Peru, to Santiago, Chile. Here's everything you need to know about the ship and the experience it offers.
What is Seabourn known for?
Seabourn is known for its luxury service and ships. The Venture is an expedition ship and is designed to sail where regular ships don't, but that doesn't mean scrimping on the Seabourn comforts. And for many of the onboard guests, those creature comforts make expedition cruises on Seabourn an attractive vacation choice.
Think caviar and champagne before dinner – or any time at all – gourmet meals, comfortable and well-appointed staterooms, diverse wine selection, formal nights, and a crew committed to going above and beyond to make your experience the best it can be. All are part of the all-inclusive pricing.
The service is friendly and inviting. It's a small ship, so you always feel like you have a personal experience even when you're around other people. The hostess in the dining room called us by name every single night we saw her. I remarked upon it, but repeat cruisers pointed out that it was just the type of customer service that Seabourn ships are known for. Since this was my first time sailing on Seabourn, I had nothing to personally compare it to. I took their word for it.
What is Expedition Cruising?
When you think of expeditions, I think of exotic destinations (e.g., the Arctic Circle or Antarctica) and activities like clawing my way up a mountain to the vast unknown. I got it a little bit right, and a little bit wrong.
An expedition is all about journeying for the purpose of exploring, which means getting off the beaten path. It's about adventure, and sometimes scientific research.
That's what an expedition cruise offers. You will travel with a team of knowledgeable scientists, scholars, and experts who will take you to places that are not on the usual tourist trail. You'll focus on wildlife and nature, up-close encounters with the world, and a look and its untamed wilderness.
Expedition cruising is a perfect choice for adventurers and explorers who are curious about the world.
About the Ship: Seabourn Venture
The Seabourn Venture launched in July 2022 and was designed to sail to diverse and remote environments. The ship has been fitted to PC6 Polar Class standards so it can withstand any voyage, including Arctic and Antarctic expeditions. The ships were built by T. Mariotti, using an innovative design that allows the ship to sail diverse environments, and sometimes challenging waters, while maintaining a level of luxury.
The Venture's Godmother is Alison Levine, a world-renowned climber and explorer. She's led climbs to some of the highest mountains in the world, including the first American Women's Everest Expedition in 2002. Levine is also a New York Times bestselling author and Ellis Island Medal of Honor winner.
Onboard Seabourn Venture
The ship was designed by Adam D. Tihany, who has crafted a space that feels like a well-proportioned blend of a homey cabin in the woods mixed with a five-star hotel.
The decor is sleek and modern throughout, both in the public spaces and in your cabin. Some parts of the ship create a lodge-like feel with faux fireplaces, fur pillows, and plush furnishings. In other spots, the feel is more traditionally elegant, with lots of wood paneling and strip lighting. Whether it's lounging on your private veranda or sipping champagne by the fire, you're sure to find a perfect place for conversation and relaxation.
Here are some notable locations on the Seabourn Venture:
The Discovery Center
The Discovery Center is located on Deck 4 and is a theater space where passengers can listen to presentations about upcoming ports, history and nature topics, and get all the info they'll need for the cruise. The theater can accommodate all passengers on the ship and offers lectures, briefings, and conversations every day.
The Seabourn Conversations are particularly worth checking out. They are led by the exhibition team and aim to enrich and educate passengers about their expedition experience. It's a chance to learn from wilderness experts, scientists, historians, and naturalists onboard. Not surprisingly, the wildlife presentations were my favorite, and their enthusiasm and passion for wildlife were contagious.
Expedition Lounge
Also located on Deck 4 is the Expedition Lounge. which is considered the beating heart of the ship. The design is warm and inviting, with natural materials and neutral colors, plus an etched glass partition displaying a vintage map of Antarctica to add an adventurous feel. Plus, two faux fireplaces.
It is a gathering place and bar where you can kick back with a beverage. It's also the meeting point for shore excursions.
I thought it was a great spot for a glass of champagne and caviar (any time, always included) before dinner.
The Restaurant and The Colonnade
There are two dining areas on the ship, The Restaurant and The Colonnade.
For a more relaxed dining atmosphere, head to The Colonnade on Deck 5. Here you'll find an indoor and outdoor space with an open kitchen and well-sized buffet table serving regionally themed cuisines for breakfast and lunch, and a bistro-style dinner in the evening. You can opt for an outdoor dining table just a few steps away.
The Restaurant is the main dining area on the ship and is located on Deck 4. It is an open-seating dining room where you can come and go as you please. No reservations are required. The room is spacious, with a menu that changes daily along with a few standby options that you'll see every day.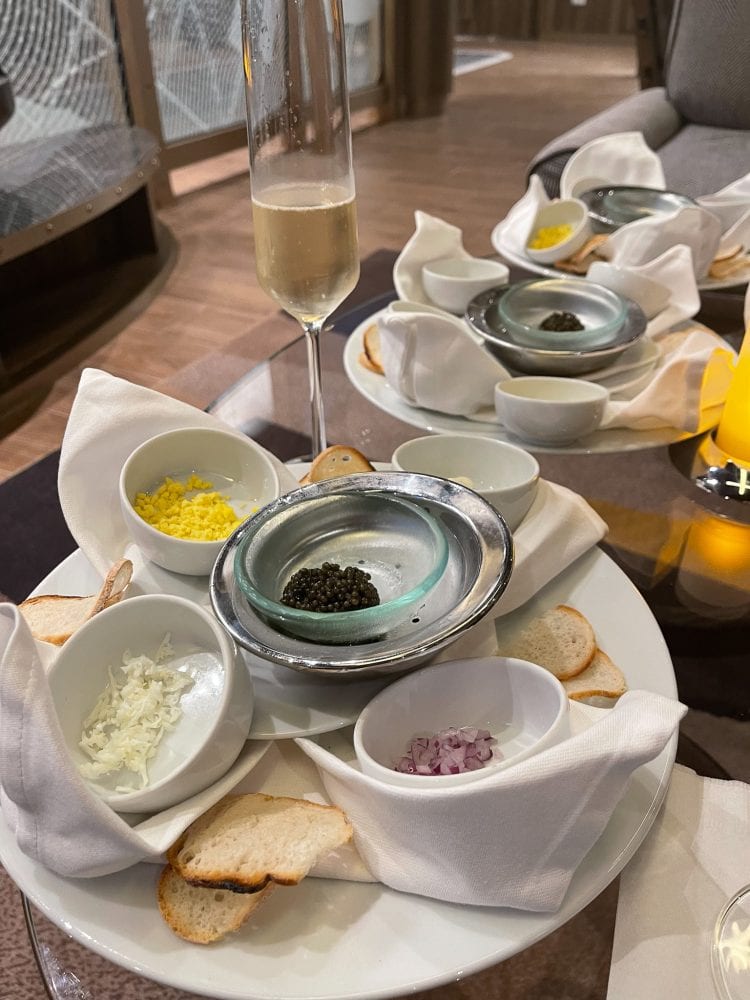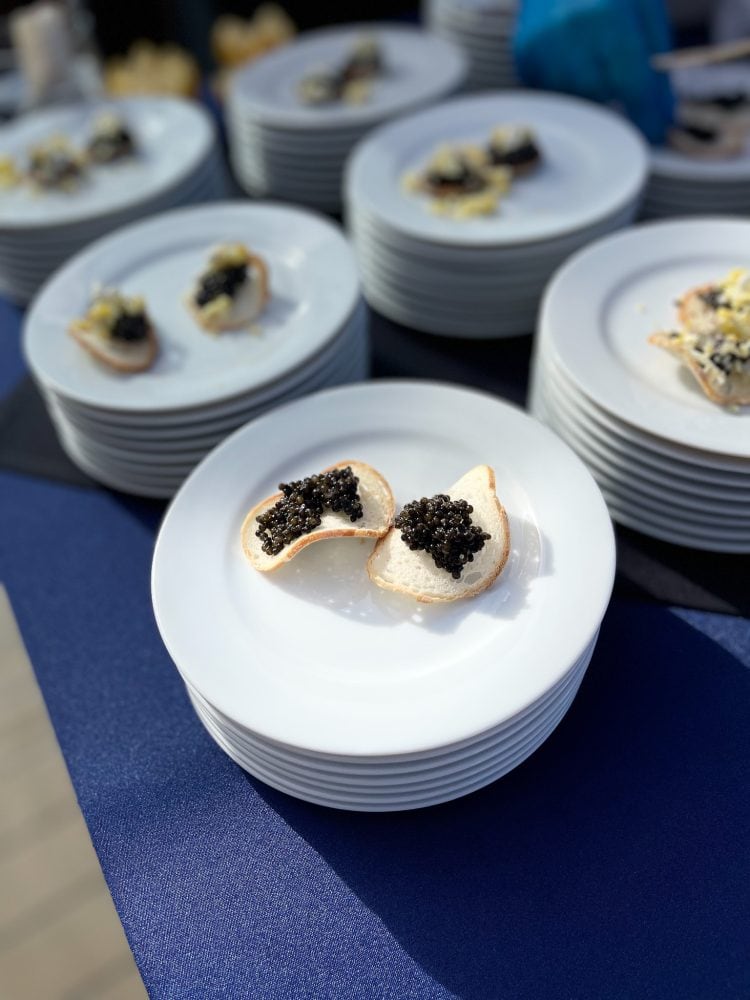 I thought the food was uniformly good. We ate in The Restaurant most of the time for dinner, and The Colonnade most of the time for breakfast and lunch. I was a fan of the desserts – delicious souffle and the gelato cart. Perhaps I should have spent more time in the gym!
Although I'm not a sushi fan, it is served in The Club and got solid reviews from those who could appreciate it.
The Patio and Infinity Pool
The Venture has an outdoor infinity pool, which is located at the back of Deck 5.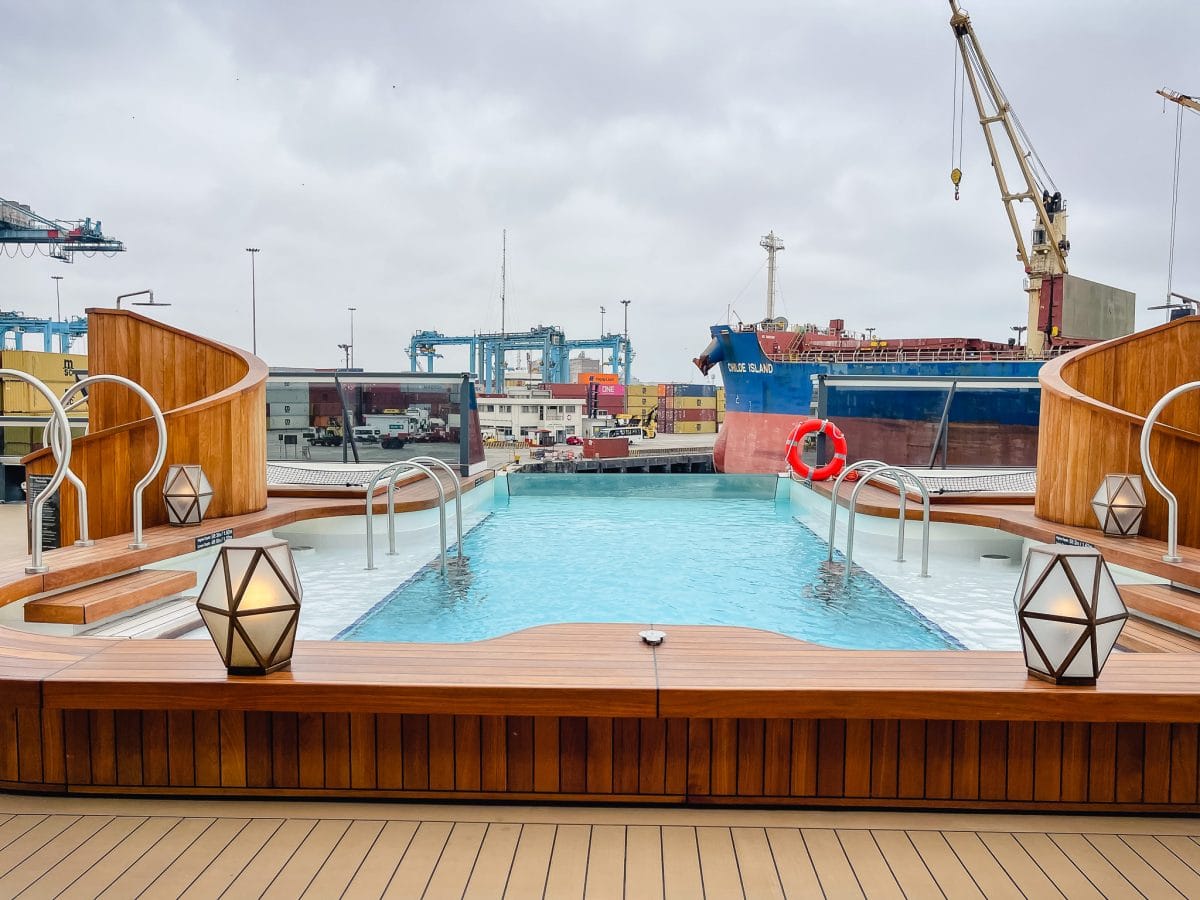 Although it was a little chilly to relax on a lounger by the pool, it was enjoyable to have a cocktail or two and enjoy the view. We had dinner on the deck (under cover where it was a little warmer), providing a small taste of what it would be like in warmer weather.
A highlight of the pool was a caviar and cocktail celebration by the pool. It was an impressive display and lots of fun. Apparently, according to guests who sailed with Seabourn before, it's an expected event throughout the Seabourn fleet (although they vary in presentation). I could get used to this.
Seabourn Square
This space has been designed to feel like a living room, with a European-style coffee bar on one side and a library on the other. In the center, are long sofas and coffee tables, chairs, and seating areas for conversations.
This quickly became my favorite spot.
I'd head there in the morning for a latte and freshly-made pastry, catching up on emails and news on my laptop or phone. If I had questions, I could pop over to chat with staff at the Guest Services desk who offered advice and recommendations in addition to concierge and booking assistance.
Since I had to spend some time onboard working, I'd often hunker in here and get things done. Of course, the snacks available helped – light sandwiches, desserts, and gelato throughout the day.
Bow Lounge
The Bow Lounge is located on Deck 6 and has incredible views over the front of the ship. Bow = front of the ship.
This lounge has several touch screens that offer live maps, show the ship's location and plotted course, and weather information, as well as provide a look at navigational charts and scientific information on upcoming expeditions. You can also watch live footage of various points on the ship that's displayed on large screens. You might also find Expedition Team members here who can answer questions and offer information. And maybe you'll spot some marine life.
Outside the lounge is an outdoor deck, Bow Sprit, which, during good weather, allows passengers to stand in front of the ship and see views of waves parting or ice sloughing off the bow.
Regrettably, I didn't spend much time here. I should have.
Spa Treatment Room, Sauna, and Fitness Center
Located on Deck 7 are the Spa Treatment Room, Sauna, and Fitness Center. If you want to keep fit while you're on vacation, or you need some pampering, this is the area for you.
I opted to join a tour of the area and won a spa gift certificate. I opted to use it toward a facial (with a bit more out-of-pocket).
A few things to note about the spa: Not every spa treatment and service is available on the new expedition ships. The smaller size of the ship means less room for the spa, so some of the specialty treatments (e.g., acupuncture) weren't available. Prices were about what you'd see in an upscale spa on land. Most of the classes are complimentary.
Constellation Lounge
The Constellation Lounge is located on Deck 8. It has floor-to-ceiling windows offering outward-facing views from every angle. There was occasionally entertainment in this lounge, but I would have loved to see a more robust schedule of entertainment.
The Club and Sky Bar
On Deck 9, you'll find The Club and the Sky Bar. It's relaxed and comfy with tables and chairs. Outside is the Sky Bar, an outdoor bar and viewing area which offers panoramic views from the back of the ship. Check it out at sunset!
The Staterooms
Like most luxury cruise lines, Seabourn is plenty proud of their staterooms. Let's look at what there is to choose from:
Veranda Suites – The smallest room on the ship is the Veranda Suite which measures 355 square feet, including the veranda. Though it's the smallest room, there is still plenty of space as it comes with a living area, queen-size bed, walk-in closet, writing desk, and a spacious bathroom with a bathtub and separate shower. Each room comes with an interactive TV with plenty of music and movies to choose from, plus a minibar and fridge, plush robes and slippers, a make-up vanity, a personal safe, and luxury toiletries.
Veranda Spa Suites – These suites have a roll-in shower and more walking space, which makes them a good option for those with reduced mobility. Plus with spa suites, you get spa options included in the price.
Panorama Veranda Suites – These are the same size as the veranda suites and have the same features. The BIG difference is that these are located in the center of the ship and have a bay window that extends out a bit past the rest of the ship. Both the sitting area (in the bay of the window) and the deck offer coveted panoramic views.
Penthouse Suites – The same features as the veranda suites, just more room. These are about 527 square feet, including the veranda, and provide a little more living room.
Wintergarden Suites – A whopping 1,044 square feet in total, this two-story suite has an upstairs balcony bedroom.
Owner's Suite – The Owner's Suite is located at the front of the ship, so you have one of the best views in the house from your room. It's 1,023 square feet in size and features a dining area on the veranda.
Signature Suites – Located at the back of the ship on Deck 8, these suites have a wraparound veranda with lounge chairs and a dining area. This is the biggest suite on the ship, coming in at 1,400 square feet. There are only two signature suites on the ship, so if this is the luxury you're looking for, you'll need to plan pretty far out.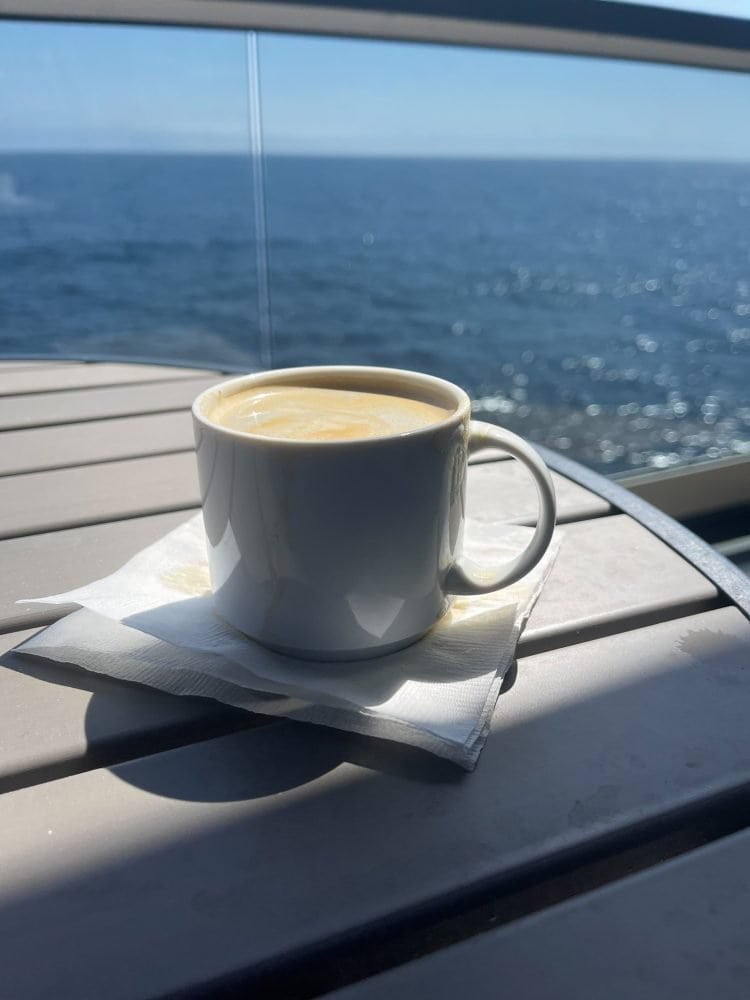 We stayed in a Panorama Veranda Suite. It was lovely! And while it may be one of the smaller suites, the bay window added something special to the room and experience. In fact, I rate this in the top five cruise ship cabins that I've stayed in. Loved, loved, loved this cabin category.
Expedition Equipment
While we didn't have much opportunity to use the expedition equipment (more on that later in this post), it's important to factor in these options as you're making a choice for your expedition cruise.
Zodiac Embark and Landing Zone
Located on Deck 3 is the landing zone. This space has been designed for passengers using the Zodiacs and submarines.
There's a space to store shoes and bags, with angled cubby holes that allow wet boots to dry more quickly. There are built-in foot showers so you can wash off debris before continuing on into the ship. It's also an opportunity to disinfect your boots to prevent any microbe spread. Respect for the environment is a key component of expedition sailing.
Submarines
The use of submarines is controlled by the various countries whose waters are sailed through. Decisions are made to protect fragile environments, maintain eco-friendly tourism, and we knew in advance of sailing that the submarines were not permitted to be used during our itinerary. We did get to take a look at them, and then look pretty darned cool.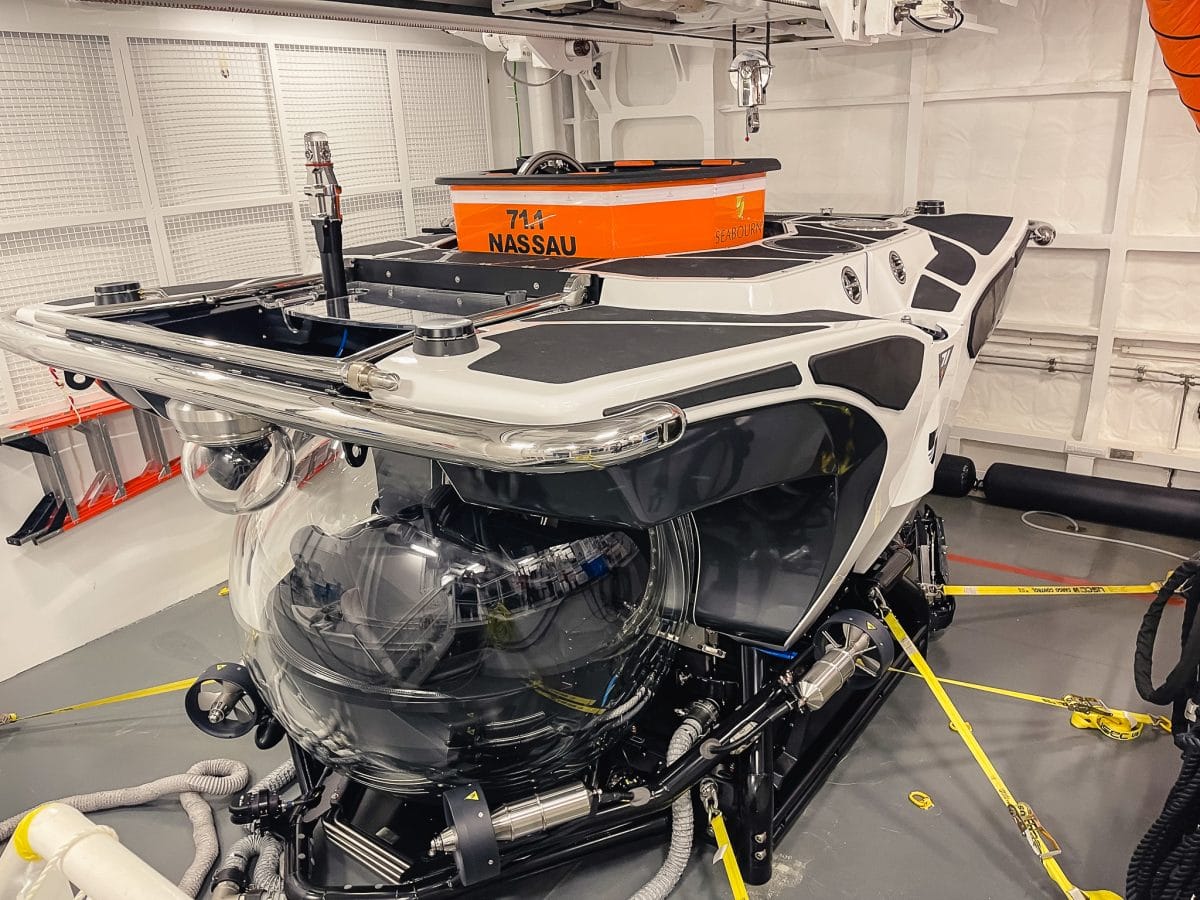 These two state-of-the-art expedition submarines allow passengers to explore beneath the ocean's surface and see sights they would never see any other way! These custom-built submarines have a pod with room for six passengers sitting in a circle around it. When submerged, the chairs swivel to face the windows and passengers get a close-up view of what lies beneath the sea. I'm not a strong swimmer and don't scuba or dive, so the opportunity to have a sub experience would be a big booking decider for me.
There is an additional fee to use these submarines, $600-900 for a 45-minute dive. Competing lines have submarines as an included experience. Think about what's the best value proposition for you.
The Itinerary
We started the cruise in Lima, Peru, and cruised south along the Pacific coast of Peru into Chile, ending in Santiago, Chile. This was a repositioning cruise, moving the Venture from the Arctic to the Antarctic in its inaugural season. We ran into many cruisers who had started on the ship in the Caribbean and a few who were staying on to go to Antarctica. Most passengers that I talked with were loyal Seabourn customers. They had sailed on other ships and other itineraries and were dipping their toe into expedition waters.
The port excursions were generally good, just not what I would have expected on an expedition cruise. And I wasn't alone in that.
By the end of the 12 days, some consistent themes and comments emerged.
Loyal Seabourn customers were still going to be loyal Seabourn customers
All were excited about the addition of expedition cruising into the Seabourn lineup
Most were disappointed with the expedition experience on this itinerary and will wait a while before giving it another try
The Expedition Experience
This was my first time sailing with Seabourn, and the destination was going to check off a couple of things on my bucket list, so when my friend, Chris, asked if I wanted to join her it took me about half a nanosecond to say yes. And I'm glad I did! Still, there were a few things that fell a little short, and a new-to-Seabourn cruiser might not rely as much on brand reputation in reflecting on the experience.
The Great
Brand new ship! It still had that new ship smell.
Mostly all-inclusive (submarines, spa, specialty excursions, and a few high-end drink items had an extra fee). You know what your vacation will be priced at all-in right up front.
Excellent food and beverage, including caviar and champagne on request, any time.
Outstanding service, attentive without hovering, engaging without becoming too personal. We were always greeted by name, preferenced remembered, and suggestions made in keeping with other choices.
High-end small ship experience. The ship can carry 264 passengers (less for Antarctica) and 239 crew. Our sailing was about half full.
Spacious public areas, with comfortable work and lounging options. Handy for conversation, games, reading, or, as in our case, for those who need to work on the road (or sea, if you will).
I'd highly recommend the Panorama Veranda Suites. Enough said.
The expedition crew was knowledgeable and passionate. It was infectious.
Passengers were interesting to talk with, coming from around the world for this experience. As an introvert, it's often hard for me to have conversations with strangers, but that wasn't the case here. Everyone I talked with was well-traveled, interesting, and full of stories about their favorite (and not-so-favorite) destinations.
Towlies. What can I say, I'm still a sucker for a great towlie.
Checked off a couple of bucket list items: the first trip below the equator, drank Chilean wine in Chile.
We saw the Nazca lines, the Atacama Desert, ghost towns, and mummies.
We drank Pisco Sours, ate lots of caviar, drank lots of champagne, and saw alpacas.
We also saw penguins!
The Not As Great
No zodiac excursions scheduled, a real disappointment for wildlife enthusiasts. One zodiac trip was put together when many passengers remained onboard rather than opt for an excursion. That would have been a more expedition-like excursion than a city tour with a long drive time.
Most of the excursions had a long drive (often two to two and a half hours each way) to get to the destination. That's a long time in a motorcoach.
Formal nights on a long expedition cruise seemed incongruent. It seemed pretty evenly split between those who enjoyed it and those who didn't. We didn't pack formal wear and opted to eat in The Colonnade. Some people spiffed up a lot (although I didn't see any tuxes worn by anyone who was not crew), and others just elevated a notch with a little nicer than everyday wardrobe choice.
High price for submarines (although we didn't have the option to use them)
When the expedition leader asks if anyone needs motion sickness medication for the Nazcas lines excursion, make sure you're covered. I was fine, although glad to be back on the ground, we had some sick folks on our small plane.
Wrapping it Up
I think most of the hiccups we encountered were related to new ships, new destinations, and repositioning. I'd expect most of these, with the exception of formal nights, to get worked out for smooth sailing it Seabourn's sophomore year in expedition cruising.
For Pinterest
Save to your favorite cruise Pinterest board