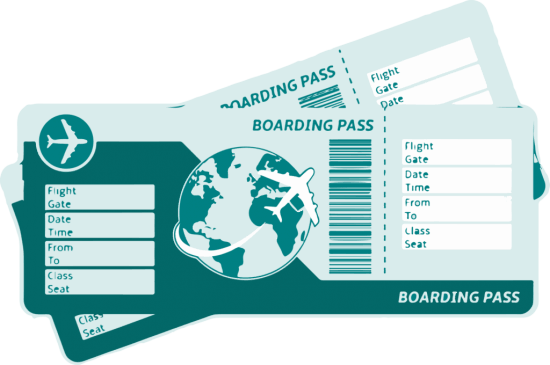 Today I'm excited to announce the first of a couple of new projects that I'm launching for 2018 – the travel reading list.
I've always been an avid reader, going back to childhood days where I'd read under the covers at night. My love for reading was fostered by my grandparents, who took me to our local public library when I was barely able to walk, and parents, who bought me books and encouraged my patronage of the library.
When I was older and started traveling, I used to pack around two or three books at a time. I'd never want to finish one and not have another one to start. You can imagine how it must have been traveling for three weeks in Europe – I lugged around way too many books, leaving them behind as I finished, and then found myself looking for an English bookstore to replenish my supply. And in many locations, that not easy to do.
When the [amazon_textlink asin='B00ZV9PXP2′ text='Kindle' template='ProductLink' store='travelingwithmj-20′ marketplace='US' link_id='6301ec81-eb2f-11e7-a26d-61542844fd2a'] came out in 2007, I was one of the first in line to make the purchase. While I love the feel of a book in my hand, the convenience of packing around hundreds of book in a device that fits into my purse won out. I've been a Kindle user ever since – upgrading to a [amazon_textlink asin='B00OQVZDJM' text='Kindle Paperwhite' template='ProductLink' store='travelingwithmj-20′ marketplace='US' link_id='7990c32b-eb2f-11e7-8487-bb60a367ee6d'] a few years ago. I love the feel of its plain paper screen. The ability to adjust the lighting makes it possible to read in a dark airplane cabin or on a sunny beach. And, the Kindle syncs with most library e-book lending programs.
In recent years I've seen a lot of reading challenges, even participated in a few. For 2018, I decided to create my own reading challenge, with a focus on travel (and books perfect to read when you're traveling) and enticed a couple of friends to join me as guides for the challenge – Betsy from Passing Thru and Brenda from Dish Our Town. Together, we've created a basic reading challenge that has a pace of two books per month, for a yearly total of 24 books. The advanced portion of the reading challenge adds on another six books, bringing the yearly total to 30 books. It's a number that challenges those who don't read a lot, while still leaving avid readers time to participate in other challenges or get to books that don't fit on this list.
The challenge is self-paced. Read what you want, when you want it, there's no order you must follow. Feel free to interpret the list in any way you wish, choosing the type of books that you enjoy. However, we also hope you'll be encouraged to try some new authors, genres, and add new voices to your reading list – that's part of the fun of the challenge.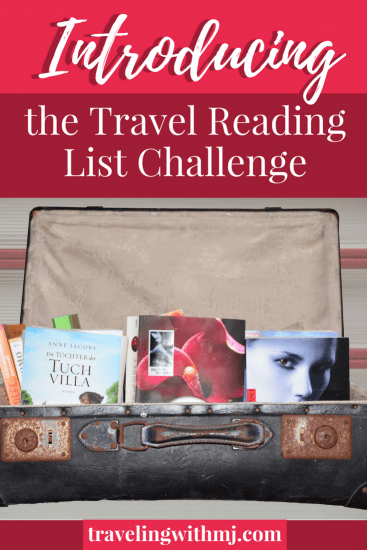 I've listed both the basic travel reading list and the advanced list below, along with a link for you to download a PDF copy and keep track on your own. To see what I've read, along with some comments about what I think about the book, you can check out the Travel Reading List website here. You can get suggestions from the other guides there as well. And, feel free to join our Goodreads challenge group here. Over on Goodreads we hope everyone will share what they're reading for each of the challenges, along with what books they recommend and why. Come join our book chat there!
I'll update this travel reading list right here on the blog throughout the year as I finish each of the challenges.
Happy New Year and Happy Reading!
The 2018 Basic Travel Reading List
A book that takes place in the country of your origin – [amazon_textlink asin='0316435457′ text='Winter Solstice' template='ProductLink' store='travelingwithmj-20′ marketplace='US' link_id='7cfbe1ef-257a-11e8-9b16-231b5ac1764a'] and [amazon_textlink asin='1617734497′ text='The Life She Was Given' template='ProductLink' store='travelingwithmj-20′ marketplace='US' link_id='1fc04c0f-2fcc-11e8-bef5-9b679f7f0c82′]; [amazon_textlink asin='1250069807′ text='Truly Madly Guilty' template='ProductLink' store='travelingwithmj-20′ marketplace='US' link_id='c9d8fc6d-931f-11e8-b640-e70698681a66′]; [amazon_textlink asin='1501144030′ text='Mrs. Fletcher' template='ProductLink' store='travelingwithmj-20′ marketplace='US' link_id='04a240cd-9327-11e8-96b0-77ae25da0a63′]; [amazon_textlink asin='0735213186′ text='The Immortalists' template='ProductLink' store='travelingwithmj-20′ marketplace='US' link_id='87c6322c-932b-11e8-b838-d11c532c6f3c']; [amazon_textlink asin='1250099641′ text='Damaged' template='ProductLink' store='travelingwithmj-20′ marketplace='US' link_id='7a62214e-932e-11e8-a547-8b0485185b48′]
A book that takes place in a destination you'd like to visit – [amazon_textlink asin='1501121235′ text='The German Girl' template='ProductLink' store='travelingwithmj-20′ marketplace='US' link_id='1d301662-2fca-11e8-9df6-439b0066da4d'] (Cuba); [amazon_textlink asin='0312429258′ text='Among the Mad' template='ProductLink' store='travelingwithmj-20′ marketplace='US' link_id='8d01bbe1-9314-11e8-856c-fdfa6e4c6201′] (England); [amazon_textlink asin='0385542410′ text='The Flight Attendant' template='ProductLink' store='travelingwithmj-20′ marketplace='US' link_id='42b2aa2f-931d-11e8-8d86-e15a22fa1bc6′] (Dubai); [amazon_textlink asin='B0047Y17D4′ text='Now You See Her' template='ProductLink' store='travelingwithmj-20′ marketplace='US' link_id='7268f24d-932a-11e8-a547-8b0485185b48′] (Key West)
A book with a type of food in the title – [amazon_textlink asin='1250145686′ text='Super Sushi Ramen Express' template='ProductLink' store='travelingwithmj-20′ marketplace='US' link_id='ce678011-0c5a-11e9-a472-7355f7b6bfbe']
A book that takes place somewhere you've always dreamed of living – [amazon_textlink asin='0735217203′ text='Shoot First' template='ProductLink' store='travelingwithmj-20′ marketplace='US' link_id='bd4c09b4-9325-11e8-8b0e-d73499038920′] (Key West, Manhattan, England)
A book that takes place in your hometown (or one like it) – [amazon_textlink asin='0425257274′ text='Out of Circulation' template='ProductLink' store='travelingwithmj-20′ marketplace='US' link_id='c9052601-f7d2-11e7-80c5-754e7e89867a']
A book that is set in a period of history in which you are interested – [amazon_textlink asin='1455563927′ text='Pachinko' template='ProductLink' store='travelingwithmj-20′ marketplace='US' link_id='6727769d-0e97-11e8-ac3e-6f4c40395834′] and [amazon_textlink asin='1101883081′ text='Lilac Girls' template='ProductLink' store='travelingwithmj-20′ marketplace='US' link_id='79b667d5-931a-11e8-8c8c-fd2f2286b14a']; [amazon_textlink asin='0062666711′ text='Atomic City Girls' template='ProductLink' store='travelingwithmj-20′ marketplace='US' link_id='03d1bfd4-9329-11e8-8bb5-63206707b6e8′]
A book recommended by a friend – [amazon_textlink asin='0385514239′ text='Origin' template='ProductLink' store='travelingwithmj-20′ marketplace='US' link_id='a36c5bca-257c-11e8-9c13-89d8557f0aad']
A book that you read years ago and want to re-read – [amazon_textlink asin='0060935464′ text='To Kill a Mockingbird' template='ProductLink' store='travelingwithmj-20′ marketplace='US' link_id='e78984ca-0c5a-11e9-919b-fb002ea03afc']
A book with an animal in the title – [amazon_textlink asin='1455585297′ text='Bullseye' template='ProductLink' store='travelingwithmj-20′ marketplace='US' link_id='b5801491-931b-11e8-bb15-1dea2a04dc4a']
A book with a type of plant in the title – [amazon_textlink asin='0316435317′ text='Heather the Totality' template='ProductLink' store='travelingwithmj-20′ marketplace='US' link_id='f54aa243-933c-11e8-ab31-07585efcd613′]
A book set in the future – [amazon_textlink asin='0316261254′ text='Underground Airlines' template='ProductLink' store='travelingwithmj-20′ marketplace='US' link_id='75495151-9317-11e8-9da9-e7d0c1e5a847′]
A book set in your favorite country or region – [amazon_textlink asin='0385541171′ text='Rooster Bar' template='ProductLink' store='travelingwithmj-20′ marketplace='US' link_id='cf49c672-f5af-11e7-80cc-b9f846d8d5b6′] and [amazon_textlink asin='0316273902′ text='The People vs. Alex Cross' template='ProductLink' store='travelingwithmj-20′ marketplace='US' link_id='0bd73b57-257b-11e8-98e2-c3720bc822ad'] (Washington D.C. area)
A book that is an adventure story – [amazon_textlink asin='0062375210′ text='Eve of a Hundred Midnights' template='ProductLink' store='travelingwithmj-20′ marketplace='US' link_id='2947eff1-6541-11e8-8171-276ecde8d22e']
A book by an author whose last name starts with the same letter as your last name – [amazon_textlink asin='1616957786′ text='The Widows of Malabar Hill' template='ProductLink' store='travelingwithmj-20′ marketplace='US' link_id='de10945a-464b-11e8-9980-811936b31ab2′]
A book by an author who is not of the same gender as you – [amazon_textlink asin='1455524174′ text='Two Kinds of Truth' template='ProductLink' store='travelingwithmj-20′ marketplace='US' link_id='eab51e93-464b-11e8-9960-ddbbde67c129′]; [amazon_textlink asin='0735217173′ text='Unbound' template='ProductLink' store='travelingwithmj-20′ marketplace='US' link_id='4a3014a5-9328-11e8-ab22-93e0c8358f27′]
A book with a silly title – [amazon_textlink asin='0979019710′ text='The Miracle Morning' template='ProductLink' store='travelingwithmj-20′ marketplace='US' link_id='15f890e0-f0ce-11e7-a32b-af39c21e9336′]; [amazon_textlink asin='B00OZ0TOW6′ text='The Woman Who Stole My Life' template='ProductLink' store='travelingwithmj-20′ marketplace='US' link_id='acb0ebb9-932c-11e8-8f92-c9ea8c055667′]
A book that's perfect for reading over lunch – [amazon_textlink asin='0312428189′ text='An Incomplete Revenge' template='ProductLink' store='travelingwithmj-20′ marketplace='US' link_id='3934c7b4-6541-11e8-be66-1bbe82059c21′]
A book from a genre you don't typically read – [amazon_textlink asin='0062498533′ text='The Hate You Give' template='ProductLink' store='travelingwithmj-20′ marketplace='US' link_id='b0b7cd04-257f-11e8-a88a-5f7b8922ccf6′] (young adult)
A book with a purple cover – [amazon_textlink asin='0312426216′ text='Pardonable Lies' template='ProductLink' store='travelingwithmj-20′ marketplace='US' link_id='8953250c-257c-11e8-985b-ddc462e29212′]; [amazon_textlink asin='0735217157′ text='Quick and Dirty' template='ProductLink' store='travelingwithmj-20′ marketplace='US' link_id='f4e996db-9317-11e8-abe1-e990680cf9eb']; [amazon_textlink asin='0061727687′ text='The Mapping of Love and Death' template='ProductLink' store='travelingwithmj-20′ marketplace='US' link_id='4e47f259-931e-11e8-a9e7-3d35a9b0b0d1′]
A book published in 2018 – [amazon_textlink asin='1250130921′ text='The Wife Between Us' template='ProductLink' store='travelingwithmj-20′ marketplace='US' link_id='f8aeb297-464b-11e8-a829-85da79f17fcb']; [amazon_textlink asin='1250056276′ text='The English Wife' template='ProductLink' store='travelingwithmj-20′ marketplace='US' link_id='688e35e8-6541-11e8-8b83-89833db52bbd']
A book that is also a movie – [amazon_textlink asin='1101886803′ text='The Girls in the Picture' template='ProductLink' store='travelingwithmj-20′ marketplace='US' link_id='05db31d2-464c-11e8-902f-f7922710caee']
A guidebook – [amazon_textlink asin='193580670X' text='100 Things to Do in Nashville Before You Die' template='ProductLink' store='travelingwithmj-20′ marketplace='US' link_id='1648f9cb-464c-11e8-8784-7378965f44f4′]
A book that is written by or is about a famous person – [amazon_textlink asin='1501175564′ text='What Happened' template='ProductLink' store='travelingwithmj-20′ marketplace='US' link_id='f3823c63-f5af-11e7-84cf-d1c3e8d3eaf5′]
A book that inspires you to make a change – [amazon_textlink asin='0061735361′ text='The Big Leap' template='ProductLink' store='travelingwithmj-20′ marketplace='US' link_id='aebeaf4f-257a-11e8-bfb1-9ff768e7fdc3′]
The 2018 Advanced Travel Reading List
A book that was originally written in a different language – [amazon_textlink asin='0451491335′ text='The Traveling Cat Chronicles' template='ProductLink' store='travelingwithmj-20′ marketplace='US' link_id='0af77f6d-0c5b-11e9-9851-ef69665c8f68′] (originally written in Japanese)
A book that will help you become better at what you do – [amazon_textlink asin='1439156816′ text='On Writing' template='ProductLink' store='travelingwithmj-20′ marketplace='US' link_id='8a2927d5-257e-11e8-942a-bb17865d298b']; [amazon_textlink asin='1885167776′ text='The One Thing' template='ProductLink' store='travelingwithmj-20′ marketplace='US' link_id='4d57a85d-6541-11e8-b9b6-d536ff594782′]; [amazon_textlink asin='0062407805′ text='Never Split the Difference' template='ProductLink' store='travelingwithmj-20′ marketplace='US' link_id='56fcae94-6541-11e8-82d9-e30be1fa00ea']; [amazon_textlink asin='0062457713′ text='The Subtle Art of Not Giving a F*ck' template='ProductLink' store='travelingwithmj-20′ marketplace='US' link_id='f21bb405-9318-11e8-ba58-dff994d34605′];
A book that is a classic – [amazon_textlink asin='0142003077′ text='The True Story of Hansel and Gretel' template='ProductLink' store='travelingwithmj-20′ marketplace='US' link_id='e9865a05-9321-11e8-8c51-d3165b6b0f5d']
A book that tells an alternative story of a historical event – [amazon_textlink asin='1101873922′ text='Flight of Dreams' template='ProductLink' store='travelingwithmj-20′ marketplace='US' link_id='3f00014f-257b-11e8-ae86-7b8dda147f76′] (about the Hindenburg crash) and [amazon_textlink asin='0425284689′ text='Before We Were Yours' template='ProductLink' store='travelingwithmj-20′ marketplace='US' link_id='47fbf680-257b-11e8-a67e-bbba879c99e5′] (about the adoptions scandals)
A book about a road trip – [amazon_textlink asin='1426218397′ text='Ultimate Journeys for Two' template='ProductLink' store='travelingwithmj-20′ marketplace='US' link_id='37549d62-0c5b-11e9-b3f1-056c09fedc27′]
A book that you would like to see made into a movie – [amazon_textlink asin='1455586625′ text='End Game' template='ProductLink' store='travelingwithmj-20′ marketplace='US' link_id='e092ced2-257c-11e8-b65d-99ae67a86622′]