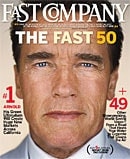 In the March 2007 edition of Fast Company magazine, blogging pal Mark Ashley of Upgrade Travel Better wrote a great article about the changing rental car industry.
Mark observes:
Online check-in and on-site kiosks have quickly revolutionized the way we get through airports and hotels.  Renting a car, however, has remained a stubbornly retro experience.
What can be done to make renting a car more user-friendly?
How about check in kiosks, just like you'd check in for your flight? 
I figure if the airlines can make sure you don't present a risk to fly, that there's a way to check to make sure you have a driver's license and insurance and entrust a vehicle to your care.  Alamo and National apparently agree, and expect to have kiosks in 80 and 70 cities, respectively, by summertime.
What about a return policy that's as easy as checking out of your hotel room via a television screen, and then leaving the keys in the room?
This is a little more problematic.  You've got a credit card on file, so if you forgot to fill the tank, they can send you the charge later.  Of course, there is the risk of a later claim of damage to the vehicle, but I've also gotten a hotel room damage charge and have had to dispute it much later down the road.  Dollar and Thrifty are trying out some tech gadgets that will quickly measure mileage and fuel, so you don't have to wait for a lot attendant.  Avis will email you a receipt so you don't have to stand around and wait for an attendant to print it out for you.  All these things can help shave minutes off the time involved for a return, but there is still a lot of room for improvement here.
You can read the whole article, along with Mark's analysis, in the March Fast Company.
What ideas can you suggest that will get you in and out of the car rental lot just as quickly as possible?
____________________________________________________________