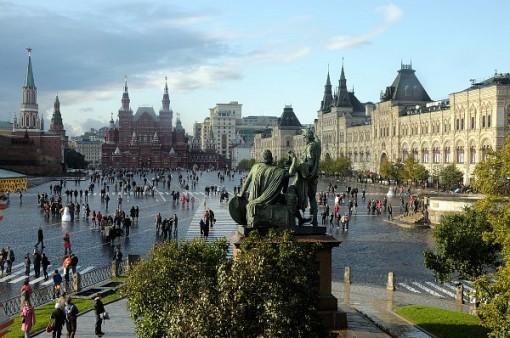 The world she is a changing, and I'm not talking about politics and culture and current events.  I'm talking about the countries themselves –  and there are a whole lot of countries around today that weren't around some years back.  I was a Soviet Studies major in college, a seemingly worthless major today, and it's been work breaking the habit of saying Soviet Union for the now correct Russia or Ukraine.  Thank goodness it's easy to remember that Moscow is still the capital city, formerly of the Soviet Union and now of Russia.
I had at one time hoped to travel to Russia, and even had a visa, but it just didn't work out.  I still have it tucked away somewhere as a keepsake.  Today, with so many things to experience, far beyond the leak and dreary cold war era, perhaps it's time to think again about a visit.
Moscow is full of attractions and things to see, so here are a few that would be high on my to-do list:
Red Square – There's a reason that this is the most popular attraction in Russia, and with the Kremlin and Lenin's tomb on one side, and GUM (a high end department store dating back to pre-Revolutionary times) on the other, you jut know that this is a great spot to be.  Historic architecture, people watching, and soaking up the atmosphere sounds just about right to me.
Kremlin – It's historical and political significance cannot be understated, and I still remember the look of the towers and golden domed cathedrals from my studies.  A scary impressive bulding.
Gorky Park – In the movie of the same name it was covered in snow and ice, and during the winter the park is a popular spot for families to skate on the flooded pathways that have frozen over.  But it's most popular in the summer when families spend time in the play areas, at the fairs, and on the amusement rides.
State Historical Museum of Russia – A museum dedicated to preserving Russian history, it contains artifacts, icons, and art representing the history of the country.  I'm especially interested in the Romanov period, and the museum has several priceless items from this period on display.
Bolshoi – If you think Russia is lacking in culture or the arts, then you haven't seen the Bolshoi Ballet or Opera.  World renowned, there are various touring groups of both the ballet and opera.  Treat yourself to a performance when they come to a location near you.
Tverskaya Street – Travel is not just architecture and history (although I do love those aspects of it), and since a girl's gotta eat, I'd here for Moscow restaurants, bars and nightlife.  I'm not exactly sure what to expect in the way of cuisine, and don't know if borscht (which I love) is still popular, but I'm darned sure I would want to find out.
How about you?  Do you have any desire to visit Russia?
Photo credit: Christophe Menebouef via wikimedia
NOTE:  This post is sponsored by My Destination Info; the opinions expressed herein are those of the author.