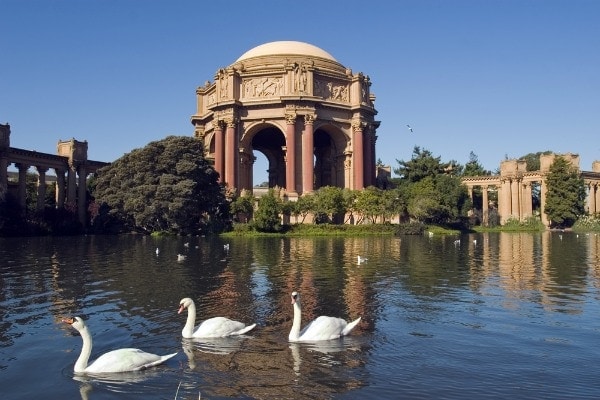 In the middle of San Francisco's Walter S. Johnson Park, sits the Palace of Fine Arts, an easily recognizable piece of San Francisco architecture.  You've likely seen it in many photographs, with attractive shots both by day and by night.
The Palace was designed as part of the 1915, Panama Pacific Exposition, an event hosted by San Francisco to celebrate the completion of the Panama Canal.  It was also seen as an opportunity for San Francisco to rise from the ashes of the devastating 1906 earthquake and fire.
A site was chosen in what is now known as the Marina District, and architect Bernard Maybeck designed the Roman-themed/Greek-styled Palace of Fine Arts.  Exposition exhibits are temporary, and therefore made with collapsible materials, so the Palace was never built to last.  However the popularity of the Palace resulted in fund raising efforts to duplicate and preserve it with lasting permanent materials.  The fund raising was successful, and the Palace eventually became part of the San Francisco City Park system.
During WWII, the Palace was used as an Army motor pool.  Looking at its stately bearings today, it is hard to imagine vehicles running roughshod over the grounds.
After the war it was returned the city, and began a slow deterioration from misuse and disuse.  It was eventually declared a public hazard, again a hard thing to imagine looking at it today.
Fund raising rescued the Palace once again, with a reconstruction completed in 1967, and some additional columns added in 1975.
The Palace of Fine Arts today features a performing theater, and has been the site of many televised events, including the 1976 Presidential Debate, as well as a variety of concerts, lectures, and corporate events.  The Rotunda, shown in the pictures here, is available for wedding and special events.
This is also home to the Exploratorium, a museum founded by Dr. Frank Oppenheimer of the Manhattan Project.  This museum of science, art, and human perceptions hosts an array of hands-on exhibits focusing on science, nature, art, and technology.  It's a great stop for kids of all ages, engaging them in some amazing ways, and draw lots of visitors to the city as well as local kids on field trips.
Although the Palace of Fine Arts and its grounds are still in need of a little tender loving care, it is a popular with both visitors and locals.  It's a favorite spot for wedding and engagement photos, popular with photographers of all skill levels, and it's wonderful place to wander on a sunny afternoon.  Families should keep the Exploratorium in mind if the weather turns bad.  It's a great option for some indoor time without having to stay in their hotel rooms (speaking of, consider staying in one of San Francisco's best kid-friendly hotels.
Put it on your San Francisco to-visit list!
Location:  3301 Lyon Street, Walter S. Johnson Park, in the Marina District of San Francisco.
Hours:  The Exploratorium is open Tuesday – Sunday, 10 am-5 pm.
Admission:  FREE to the park, $10-15 for the Exploratorium.
Getting there:  If you have a car, I'd recommend driving.  The park covers some substantial area, and although parking can be difficult to find (the parking area is often full), it gives you more flexibility and freedom.  If you're using public transportation, the easiest way is on the #30 Stockton bus from Fisherman's Wharf.  A bus may not be directly available from your San Francisco hotel, although a number of Muni Buses and Golden Gate Transit buses stop nearby the park.
Photo credit:  Courtesy of Shutterstock.

Note:  This post is part of the Oyster blogger program.