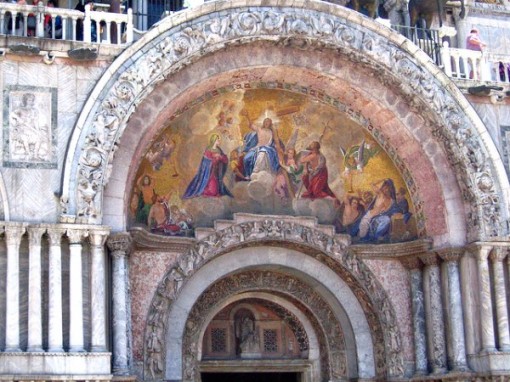 No matter where you are in Venice, it seems like there's an arrow pointing you to San Marco Piazza.  And why not?  Along with the gondolas on the Grand Canal, the piazza is one of the most popular spots in a city that's full of popular spots.  The Piazza fronts Saint Mark's Basilica, a Catholic Cathedral and the most famous church in the city.  It's Byzantine architecture and grand design has been a symbol of the power and wealth of Venice for over 10 centuries.
This photo is of the lower lower level of the Basilica, and is one of the arched portals that is surrounded by columns.  The arch is above a set of bronze doors than open into the interior of the cathedral, where even more awe inducing art and architecture is found.  The interior is probably best known for its mosaic art.
Not all parts of the Basilica are open to the public, but daily tours (except Sunday) will take you through most of it, as well as give you an explanation of the art you'll see.  You can also choose to pop in for a quick visit on your own.  There is a small entrance fee, and you'll queue up and the walk through a proscribed a path.  It will take about 10 minutes once inside, depending on how quickly the crowd moves.  This is a sacred place, and visitors are cautioned to wear clothing appropriate for a place of worship.
Since photography is not permitted in the interior of the Basilica, we'll have to just enjoy its exterior art.
Check out the Twitter hashtag #FriFotos for more photos on this week's theme:  Holy Places.