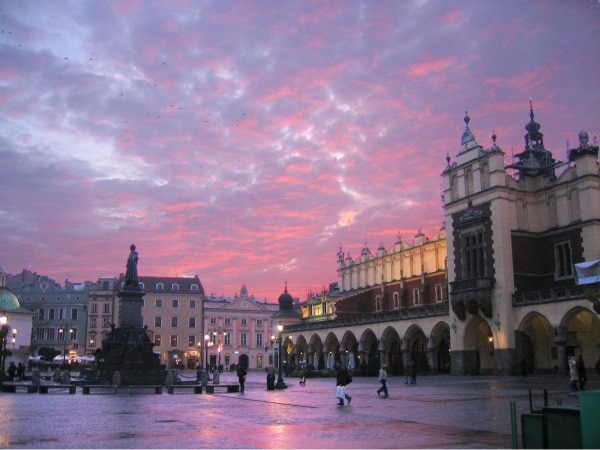 Adventurous travelers are continually seeking out different and unusual destinations, but for many people who feel that they still haven't seen some of the major sights of the world, there's a sense that those destinations need to wait.  In fact, you can easily add on a stop in central or eastern Europe while en route to that traditional stop in western Europe.  Not sure how to make it work?  Look for airlines and itineraries that allow you a stop over – that is, instead of making a close connection to your final destination, allow you to spend a few days seeing someplace that wasn't exactly in your plans.
For example, one of the connections for my trip to Europe this summer routed me through Krakow, Poland.  After noting the reasonable price, my next focus was checking the map to make sure I understood the geography, and then to research what there was to see and do in Krakow, followed by a quick look at the cuisine of the area.
Krakow is the second largest city in Poland and one of the oldest ones, dating back to the 7th century.  It's located in the Matopolska Region (Lesser Poland), and has been known as the historical capital of the country along with its cultural and economic importance.  During World War II, Krakow figured prominently in Hitler's plans, and the Krakow Ghetto was created during a very bleak time in history.  With the election of Karol Wojtyla, then archbishop of Krakow, as Pope John Paul II, the city carved out some happier history.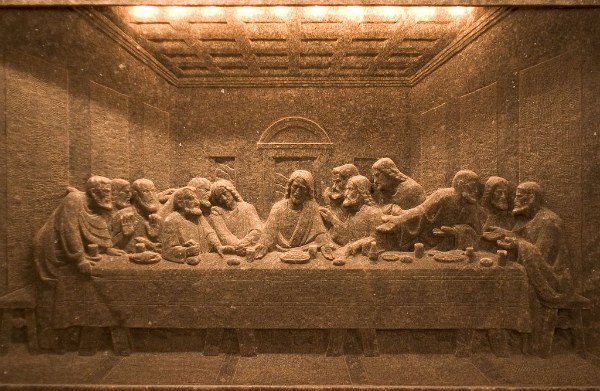 Depending on how long your stopover is (ranging from several hours to a few days), here are some of the sights you may want to enjoy:
Historic Center – The UNESCO World Heritage site is a must-see on most visitor lists.  Here you'll find Europe's largest medieval square (top photo), Cloth Hall, the gothic Church of the Holy Mary, the royal palace and cathedral at Wawel Hill, the Jewish quarter, and more.
Wieliczka salt mine– Also on the UNESCO World Heritage list, the mine is still in operation.  Tours take you through an underground maze of galleries and caverns, and along the way you'll see salt art – beautiful sculptures carved from rock salt.  St. Kinga's Chapel, a highlight of the tour, is a chamber decorated with salt chandeliers and bas-relief sculptures (see photo above).
Bochnia salt mine – This is one of the oldest salt mines in the world, with a touring route that is a little over a mile and a half long.  The largest cavern, the Wazyn chamber, has recreation and health facilities.
Kalwaria Zerzydowska – This Baroque church and monastery complex is on the UNESCO World Heritage list, and is architecturally and religiously significant.  It is famous for its Passion plays, so you may want to time your visit for one of them.
Auschwitz-Birkenau – The concentration camp is on the UNESCO World Heritage list, and despite its representation of an ugly time in world history, it's often a must-see and sobering stop for visitors.
Timber architectural trail – Six timber churches make up this trail that takes you through the Matopolska region and into the Carpathian foothills.  Another UNESCO site.
Nowy Wisnicz – With a combination of gothic, renaissance and baroque styles, this castle complex was part residence and part fortress.
Tarnow – The medieval Old Town has a market square centered around the town hall.  Around the square are old houses, the remnant of an 18th century synagogue, tombs, a cemetery, and along with small museums.
Wadowice – The birthplace of Pope John Paul II, this town is a very popular spot with both locals and visitors.  The former family home has been turned into a museum, and the cathedral is impressive.  With the beatification of John Paul II coming up in a couple of weeks, this town will likely experience even greater numbers of visitors.
Since all that sightseeing is sure to leave you wanting some down time, make sure to schedule in some time to experience dining out in Krakow, giving you a taste of Polish cuisine, along with an opportunity to take in some music or one of the local festivals.
Whether your trip to Poland is destination specific, or tagged onto another one, there's plenty to get excited about.
Photo credit:  Diether via wikimedia commons (town square); Adam Kumiszcza via wikimedia commons (salt art).
NOTE:  This post was sponsored by My Destination Info; the opinions expressed are those of the author.