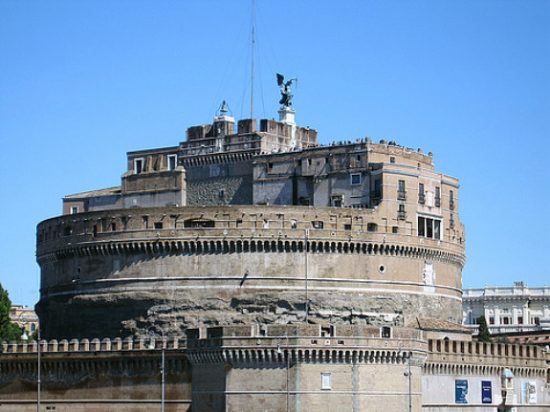 The imposing cylindrical Castel Sant'Angelo, situated along the Tiber River in Rome, was built between 123 and 129 AD. It was first known as the Mausoleum of Hadrian, serving as the resting grounds for the ashes of the Roman emperor. Ashes of Hadrian's family, as well as subsequent emperors, joined him there.
The tomb was ransacked during one of Rome's less civilized periods, and the Castel Sant'Angelo was later used as a fortress (Popes hid out here), castle (connected to St. Peter's Basilica by a covered corridor), and prison (executions were held in the interior square).
Today it is the location of the National Museum's collections of weapons, ceramics, furnishings, and Renaissance paintings, and is still a formidable presence on the Rome's skyline.
It's worth stopping by to look at the architecture and history of the building, and the great views, as much as it is to view the collections. There's a beautiful papal apartment inside, built to accommodate a Pope in the event of a siege upon the Vatican, and an interior spiral ramp that dates back to the original mausoleum days. Rumor has it that there's also a special art room, but since I didn't personally see it, it must remain a rumor for me.
The Castel Sant'Angelo is an easy stop off after seeing the Vatican. Walk back toward the city, and you can't miss it. The crowds are substantially less than many sights in Rome, and you can take a far more leisurely approach to what you are seeing. I'd recommend allowing 60-90 minutes, depending on what piques your curiosity. And keep your camera handy — there are lots of photo ops!
You'll find the Castel Sant'Angelo at Lungotevere del Castello 50. This is near the Ponte Sant'angelo ( St. Angelo Bridge). Seriously, just head toward the bridge and you can't miss it.
Open hours are Tuesday – Sunday, 9 am – 6:30 pm. Closed on Mondays, Christmas Day, and New Years Day.
Photo credit: personal collection