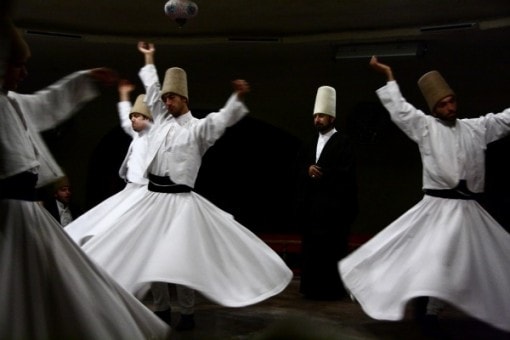 For many travelers to Turkey, sampling the Turkish cuisine rates at the top of the to-experience list.  After all the basic sightseeing is finished, and visitors move to some of the cultural experiences that the country has to offer, watching the whirling dervishes usually ranks high on the list.
Often erroneously considered a folk dance troupe or some sort of trance inducing dance, the dervishes are more aligned with religion and philosophy than with entertainment.  The ritual dancing is based on the teaching of the Persian philosopher and poet Jalal ad-Din Muhammad Rumi who, along with his son, founded the Sufi Order.  Sufis are part of the Sunni sect of Islam, and Mevlana Rumi's teachings emphasized tolerance and patience, not revolutionaries, and their belief is that unification with God will occur through the constant movement of the universe.
Okay, we all know that religion and faith is far more complicated than I've outline it, but keeping in mind these basics will provide a good overview for understanding the nature of a performance and the reason for the constant movement.
Followers of Rumi are called Whirling Dervishes because of their ritual Sema, a whirling dance that is performed to ancient Islamic hymns.  The ritual dance is at the heart of Sufi spirituality, and is both an act of faith and of love. Dancers are attired in long, white dresses and must go through rigorous training and religious preparation before they are ever able to perform the dance.
The whirling starts with gentle turns and gradually increases in intensity as the accompanying music moves from somber to rhapsodical.  It is accompanied by chanting of poetry, and the constant sound and movement are, as they are intended to be, mesmerizing.
While the Dervishes are generally based in Konya, a town in the central part of Turkey, visitors to Istanbul can likely catch a performance in a community room at the Sirkeci Gare, one of the city's main railway stations.  Visitors are given a flyer that provides an overview of the Sufi philosophy, so don't worry if you haven't studied up on it.  Although this public performance is not quite as intense or lengthy as a full ritual, it will give visitors a taste of it.  Tickets are around $15, and can be purchased from a tourist information or other spots around town.
The history of the Sufi has been a difficult one, and at one point their monasteries were seized and the religion and practice banished.  The order survived, however, and was later granted governmental permission to perform to "entertain the tourists."  Although discounted by Orthodox Islamic theologians, the Sufi belief and practice continues, and they are a popular cultural experience for visitors to Turkey.
Photo credit: Schorle via wikimedia
NOTE:  This post was sponsored by My Destination Info; the opinions expressed are those of the author.