The largest land-locked country in the world, Kazakhstan is located in Central Asia, although a small part of it extends into Eastern Europe. It covers a whopping 1.05 million square miles and is not only the largest country in Central Asia, it's the ninth largest country in the world.
Although it's a huge country, Kazakhstan isn't necessarily on the radar for many people when it comes to top travel destinations. Why? I think it's a lack of information about the country, Soviet stereotypes, and that it is a difficult country to get to from the United States.
Kazakhstan's location, however, is one of many things that makes it a fascinating and unusual place to visit. It's bordered by China to the east; Kyrgyzstan, Uzbekistan, and Turkmenistan to the south; the Caspian Sea to the west; and Russia to the north. That makes for a political, social, and cultural history that is compelling. And complicated. As a Soviet Studies major in college (yes, it was that long ago when it was still the USSR), I was excited to visit Kazakhstan and spend time in its largest city, Almaty.
The country boasts an ancient history, having been part of the Central Asian steppe and the Silk Road. It went through periods of Mongol rule and Turkic occupation between the 13th and 18th century, and was then incorporated into the Russian Empire in the 19th century. Kazakhstan became a Soviet Socialist Republic after the 1917 Russian Revolution, and it was during the Soviet times that it experienced rapid industrialization and agricultural collectivization.
After more than half a century of repression during the Stalinist era, Kazakhstan gained independence from the Soviet Union in 1991 when the USSR dissolved. Kazakhstan still maintains close ties to Russia, China, and other regional powers, not surprisingly given its history and proximity. But today, Kazakhstan's long, complicated history has created a multifaceted cultural experience, making it an incredible place to explore. There's no shortage of places to see and things to do, and you're bound to be awestruck by the beauty of the landscapes terrain.
Best Things to Do in Kazakhstan
Now that you know more about the country, here are the best things to do in Almaty, Kazakhstan. I've included sites from around the city of Almaty, and slightly outside the city core, including some of the best places in the city center as well as the natural wonders of the countryside. We've got cathedrals, museums, a popular recreation area, and plenty of places to learn more about the country.
1. Panfilov Park
Named in honor of the Panfilov Division, a group of Kazakh soldiers who fought and died during World War II, Panfilov Park is a large park that functions as a recreational space for locals as well as a war memorial.
The Memorial of Glory represents the 28 Panfilov Guardsmen who defended Moscow against German forces in 1941, and serves as a symbol of patriotism and courage of Kazakh people. Today, tourists can visit the memorial and learn about the history of Kazakhstan's involvement in the Second World War – entrance is free.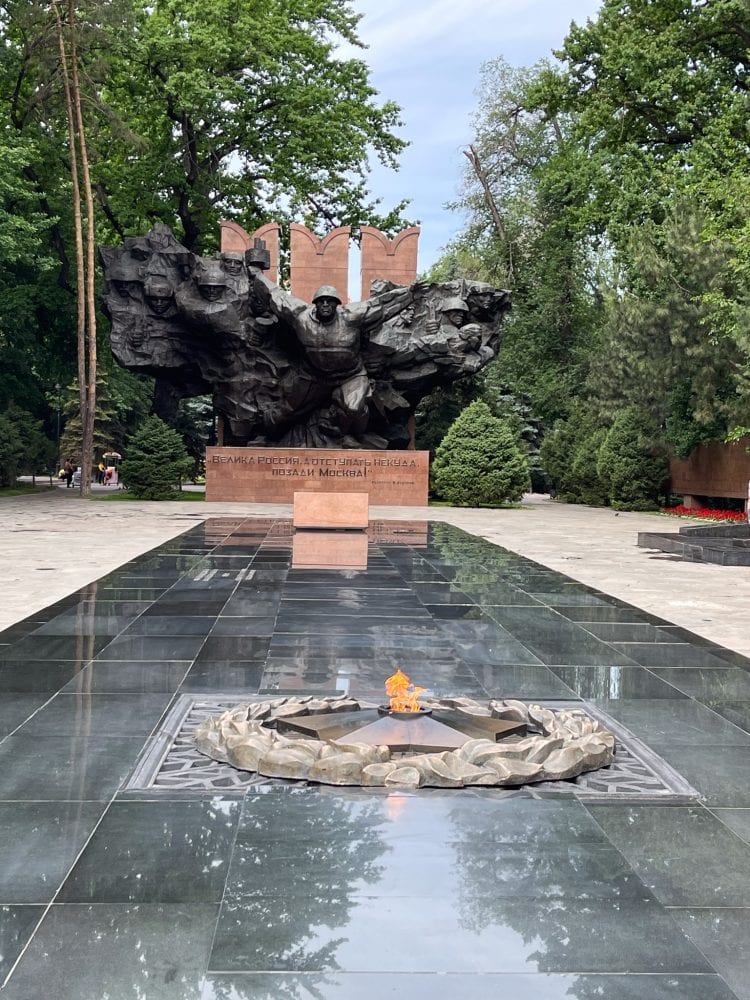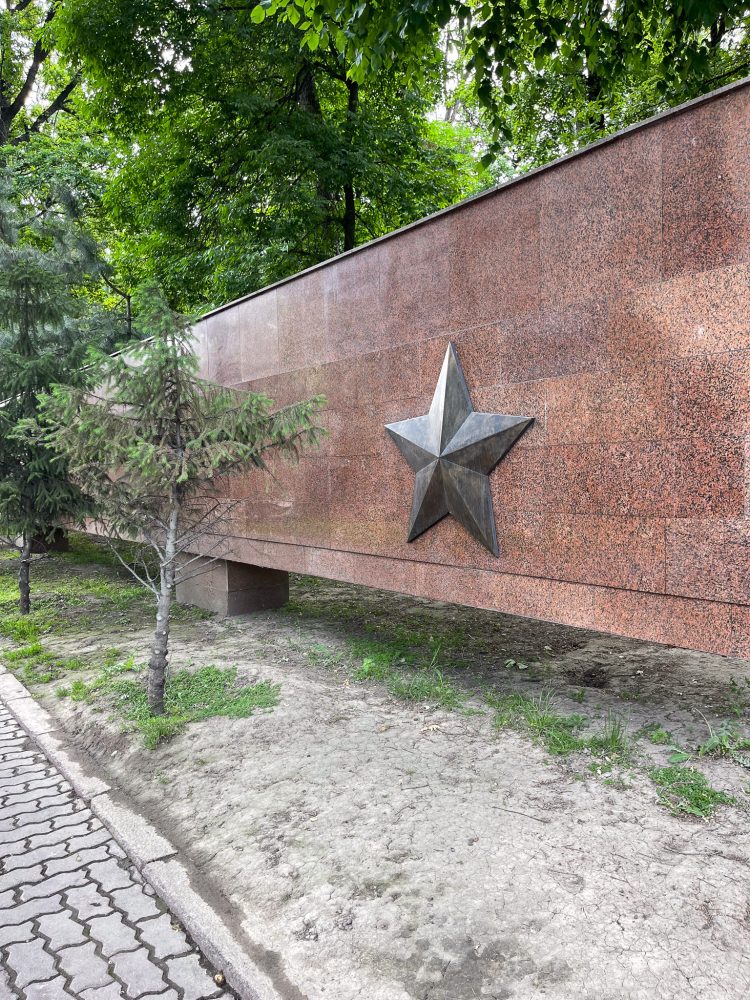 The rest of the park features beautiful, wide, open spaces with walking and running paths – ideal for enjoying some greenery in the center of Almaty. You'll see family and friends having a picnic, kicking a ball, or just hanging out.
2. Zenkov Cathedral
Built between 1904 and 1907, Zenkov Cathedral has become a fairly recognizable symbol of Almaty. The architectural style, along with the eye-catching interior and exterior décor, make it popular with visitors, not just with worshippers. The cathedral's exterior boasts bright colors and, most famously, five onion-shaped domes, while the interior is decorated with beautiful paintings and religious icons.
The cathedral was built entirely out of wood without the use of nails. That's right NO nails! In 1911, it survived a major earthquake, proving that the cathedral's architect, Andrei Pavlovich Zenkov, was both creative and a remarkable engineer.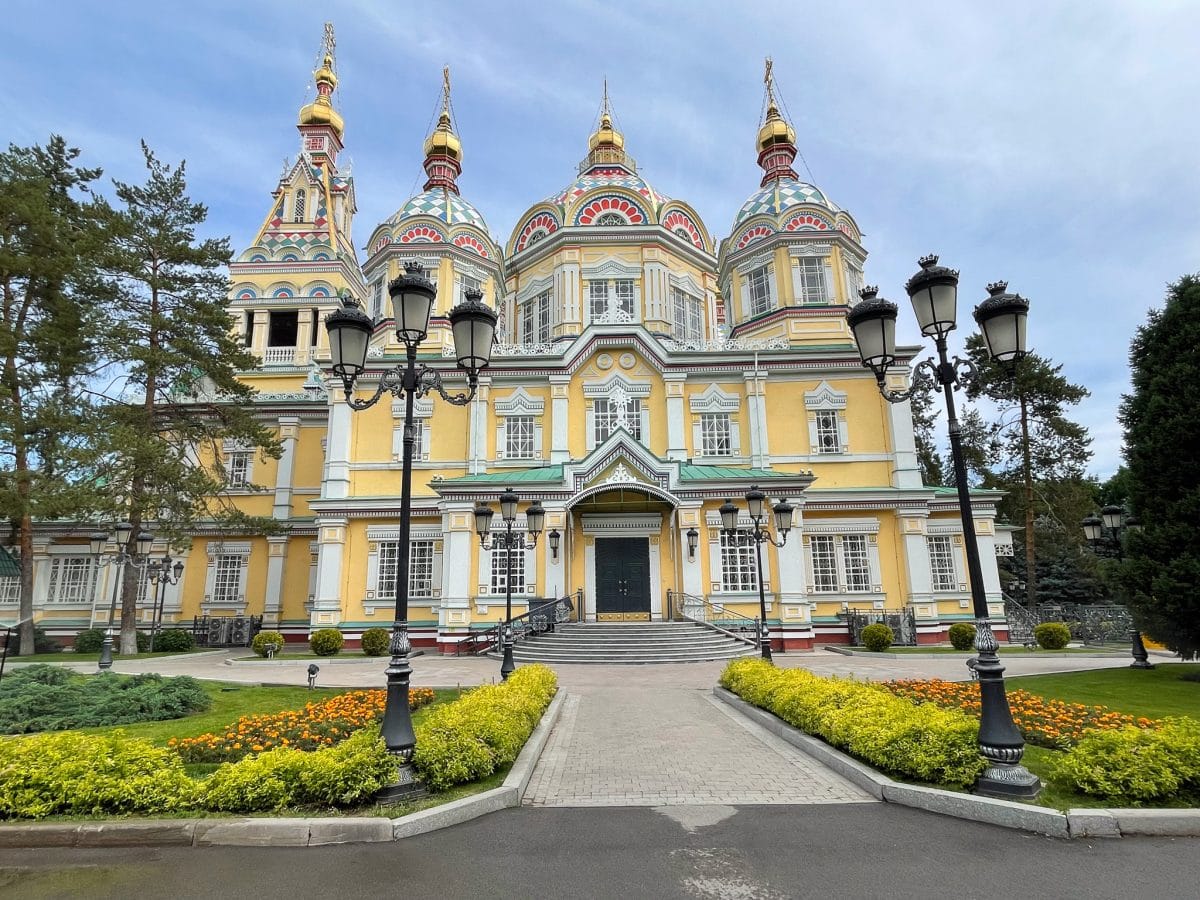 Today, Zenkov Cathedral is still an active place of worship for the Russian Orthodox Community in Almaty. Tourists and locals alike are permitted to visit the cathedral, also known as Ascension Cathedral, free of charge. As someone who enjoys seeing places of worship in different parts of the world, I rate this high on the list of things to do in Almaty.
NOTE: Women need to wear a cover on their head. If you have a scarf or shawl, this will be fine. If not, there is a rack of options that you can place on your head, returning it to the rack when you leave the cathedral. You can learn more about the worship schedule here (I visited during a worship service, and made every effort to appropriately respectful).
3. Medeu Skating Rink
Kazakhstan can get pretty hot during the summertime, but you may be surprised to hear that the temperatures tend to plummet during the winter months. The country tends to experience about 100 days of snowfall throughout the year (although only 60 in the most central regions). So, if you're visiting in the wintertime, you should check out ice skating at one of the highest outdoor skating rinks in the world. Rental equipment is available.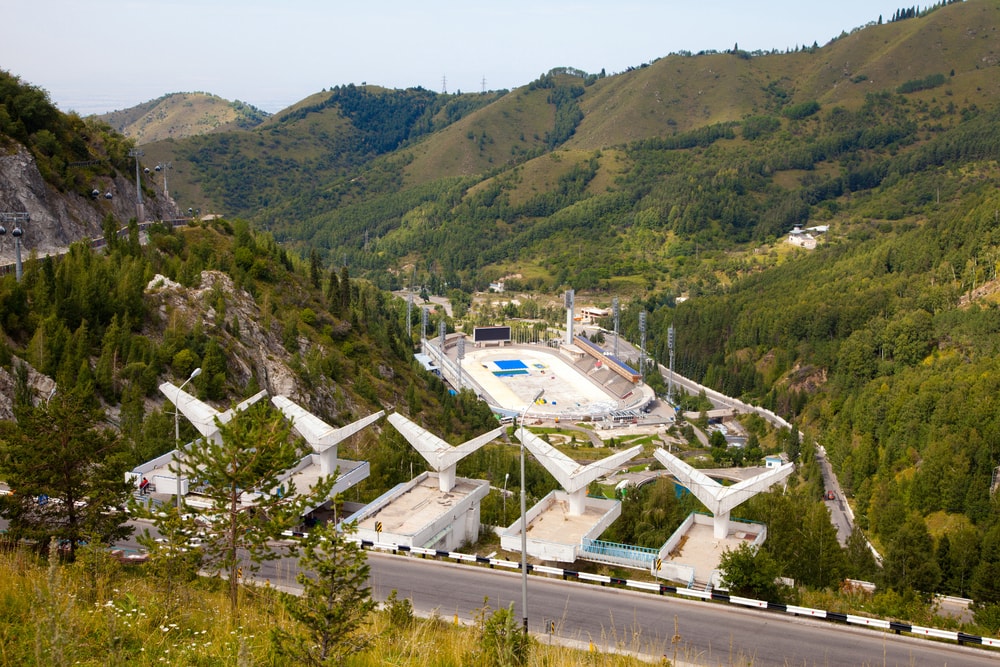 Medeu Skating Rink is at an altitude of 5,548 feet above sea level and is located in the Medeu Valley, just outside of Almaty. It is a large complex (I got a look at it as I rode up a chairlift), and is used as a training center for Olympic athletes. It is also a frequent site for various ice competitions.
Official website here.
4. Shymbulak Ski Resort
Hit the slopes at one of the most popular ski resorts in all of central Asia, Shymbulak Ski Resort. It's located in the Zailiyskiy Alatau Mountain Range which is in the upper part of the Medeu Valley. I was heading up the chairlift at this resort when I saw the ice center.
Obviously, if you're planning on skiing, you're going to need to visit during winter. There are slopes with the usual range of difficulty levels, along with high-quality, modern facilities. Ski lifts include gondolas and chairlifts. Equipment rentals available. Cafes, restaurants, and boutiques are available for your off-slope time.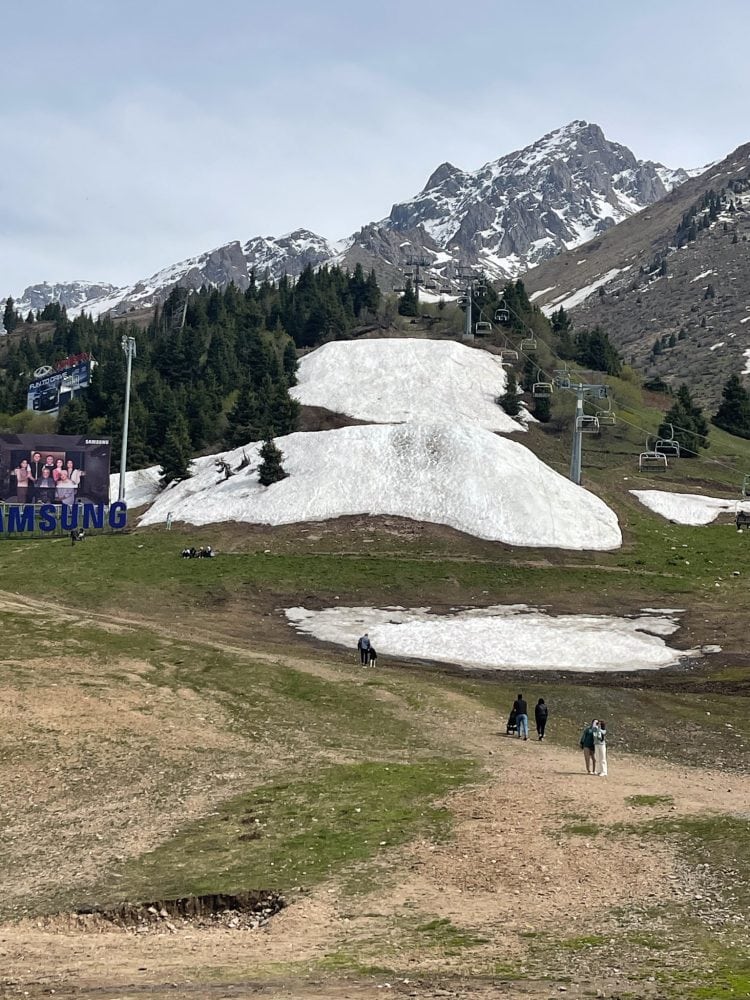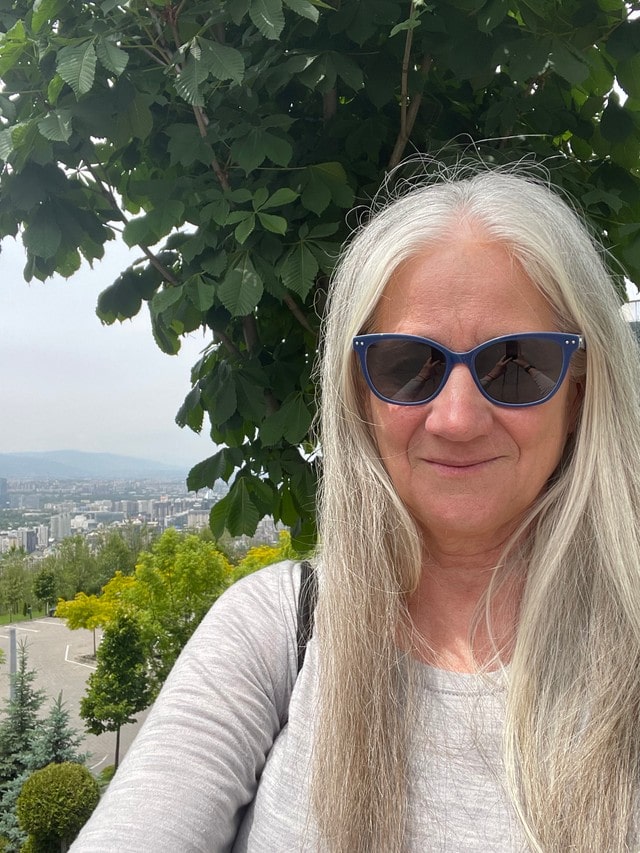 Like most ski resorts, economic necessity has meant they've become year round destinations, Shymbulak included. I visited in late spring, and while there were traces of snow on the ground, the temperatures were in the high 70s-low 80s. There are hiking and biking trails, horseback riding, and camping (you can rent all of the necessary camping gear on site). I enjoyed sitting an at outdoor cafe with a glass of wine. It was a great way to catch up with friends telling stories and laughing.
5. Kok-Tobe Hill
Kok-Tobe Hill is the highest point of the city of Almaty, and it offers exquisite views of the cityscape and surrounding Tian Shan mountains. This is Kazakhstan natural beauty at its finest. A popular destination for both tourists and locals alike, you can get to the top of Kok-Tobe Hill by driving or enjoying the Almaty Cable Car. To me, the cable car was part of the fun.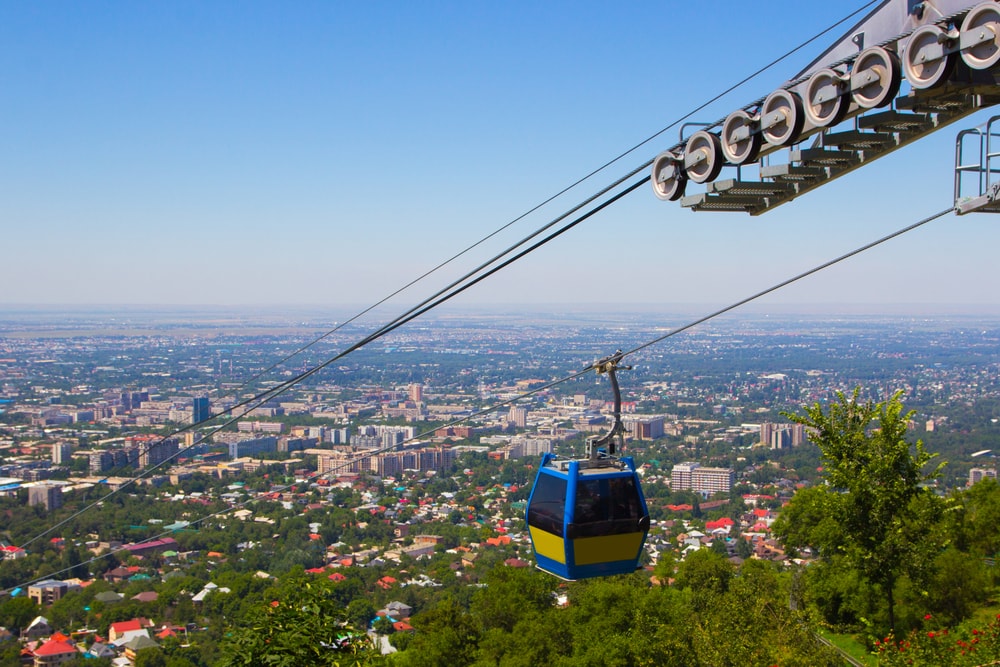 Once you reach the top and taken a moment to appreciate the view, you can start exploring. There's a Ferris Wheel, a mini amusement park (mostly with rides for young children), a small roller coaster, and a well-known "bench" honoring the Beatles. There are restaurants, cafes, and souvenirs shops as well. That's really not why you're here, though. I'd recommend wandering in Kok-Tobe Park, a recreational space full of walking paths, pretty gardens, and lawns.
6. Central State Museum of Kazakhstan
If you want to learn all about the history of Kazakhstan and the rich diversity of Kazakh people, visit the Central State Museum of Kazakhstan. This is the largest art museum in Kazakhstan with collections covering cultural and spiritual history from ancient times to present day.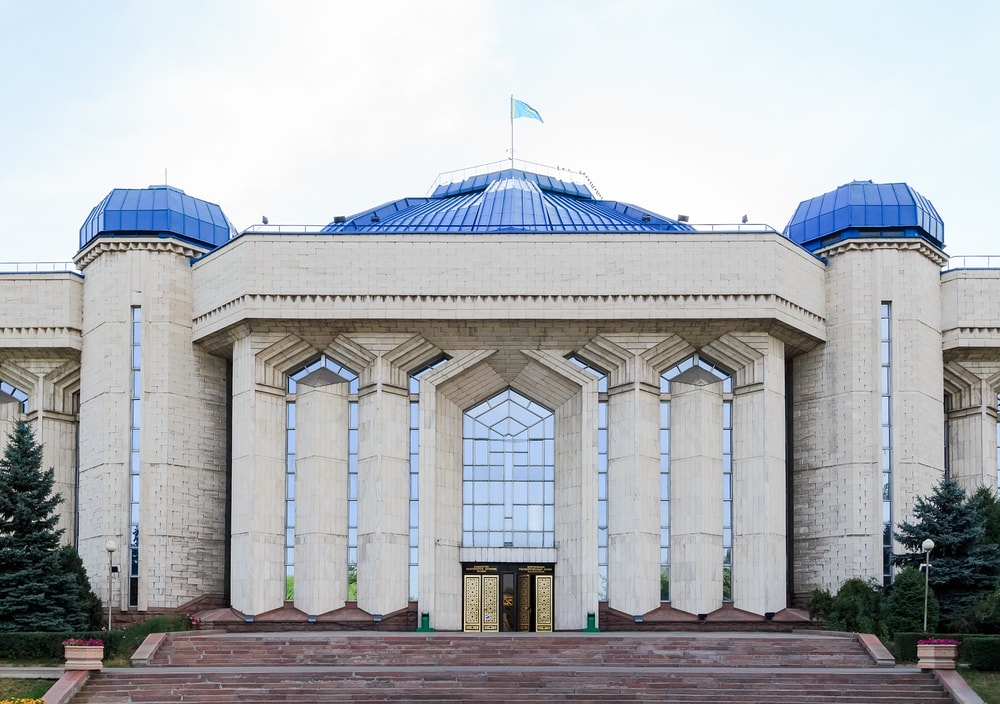 Exhibits include all of the country's most prominent periods, from prehistoric times to the modern era, through ancient artefacts, artwork, archeological findings, and more. There are elaborate displays of Kazak Ethnography, and an extensive fine arts collection. The museum is also home to the Presidential Hall, a section that pays homage to all of Kazakhstan's presidents, as well as telling the story of the nation's political history and the contributions of its leaders.
You will need to buy an admission ticket and double-check the opening times, but this is a stop that's certainly worth the effort when visiting Kazakhstan. Official website here.
7. Big Almaty Lake
Boasting incredible scenery and views, Big Almaty Lake is a popular attraction located in the Trans-Ili-Alatau Mountains. It's about nine miles from Almaty. Situated at 8.238 feet of elevation, the lake itself is full of water that comes from glacial runoff, creating a beautiful pool of picture-perfect, turquoise water that looks like it could be on a postcard.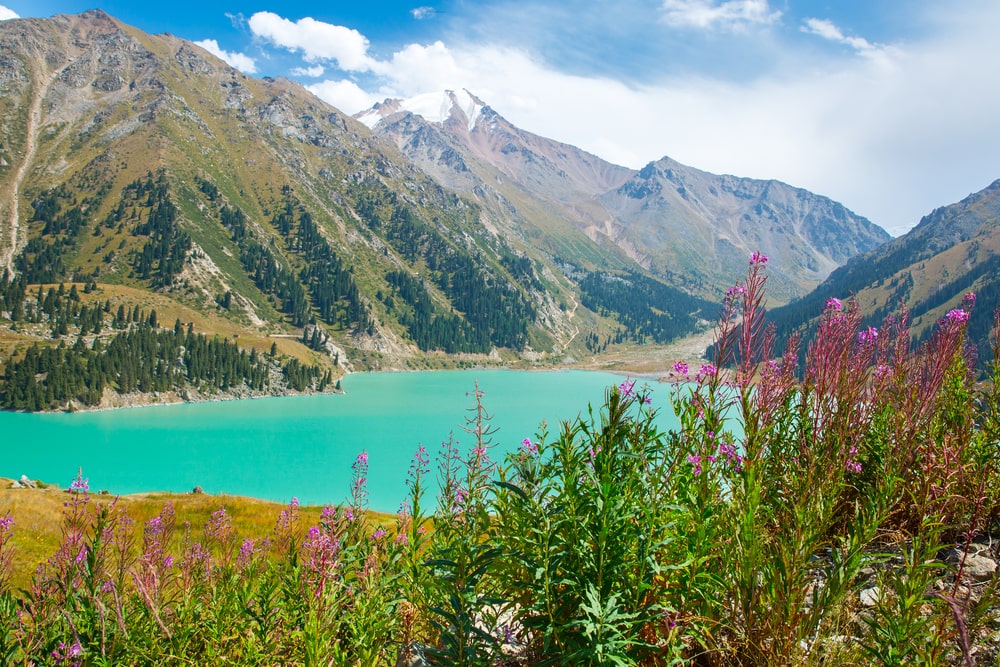 Big Almaty Lake is ideal for hiking, offering several different trails of varying difficulty levels. Conditions change depending on the weather and time of year, however, so make sure you check in with reliable sources before you head out. Note that you'll also need to pay an entrance fee as you drive into the park.
8. First President's Park
You may have already had a crash course into Kazakhstan's political and presidential history at the Central State Museum, but the First President's Park is still well worth visiting. It was initially established in memory of the nation's first president, Nursultan Nazarbayev, in 2001 (while he was still in power).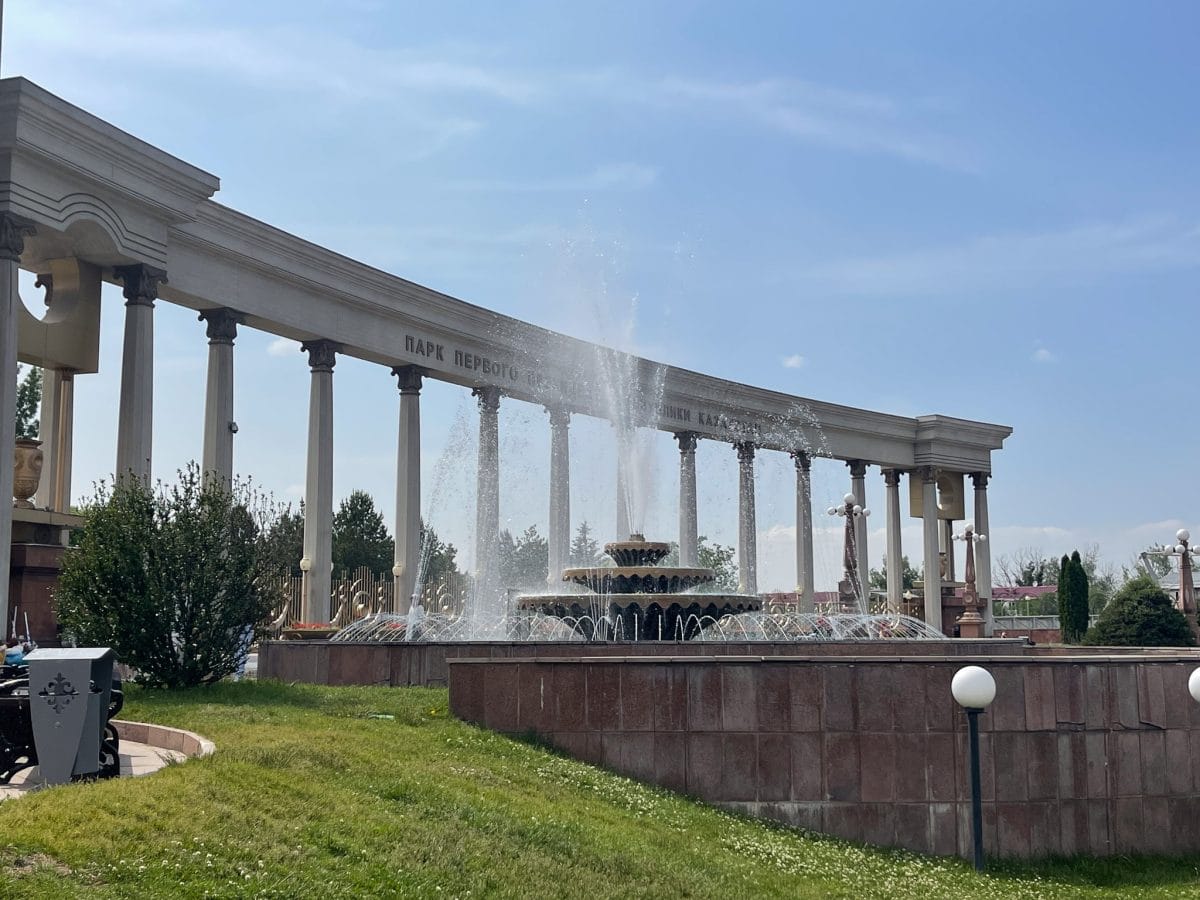 The park is in southeastern Almaty near the Kok-Tobe Mountains, and it includes pretty gardens, recreational areas, and fountains, as well as the Museum of the First President. It's yet another exhibition of Kazakh patriotism and reinforces the notion of Kazakhstan's "love for the fatherland" and acceptance in celebrating both its past and and present.
The gardens are green and open, with lots of visitors. Paved walkways wend through well-groomed grounds, and fountains tempt children to join in play. While signage makes clear that playing in fountains is not permitted, the universal truth is that kids are always going to be tempted and find a way to cool off in the water.
The park and grounds are free for visitors; there is an admission fee for the museum.
9. Green Bazaar
Explore the Kazakh local culinary scene at the bustling Green Bazaar (official name Zelyony Bazaar). Full of people, both locals and tourists alike, the Green Bazaar is a hub of activity in the center of Almaty on Zhibek Zholy Street. This is the largest market in Almaty, with vendors selling fresh produce, meat, dairy products, spices, and snack, along with locally-made crafts, souvenirs, textiles, and clothing.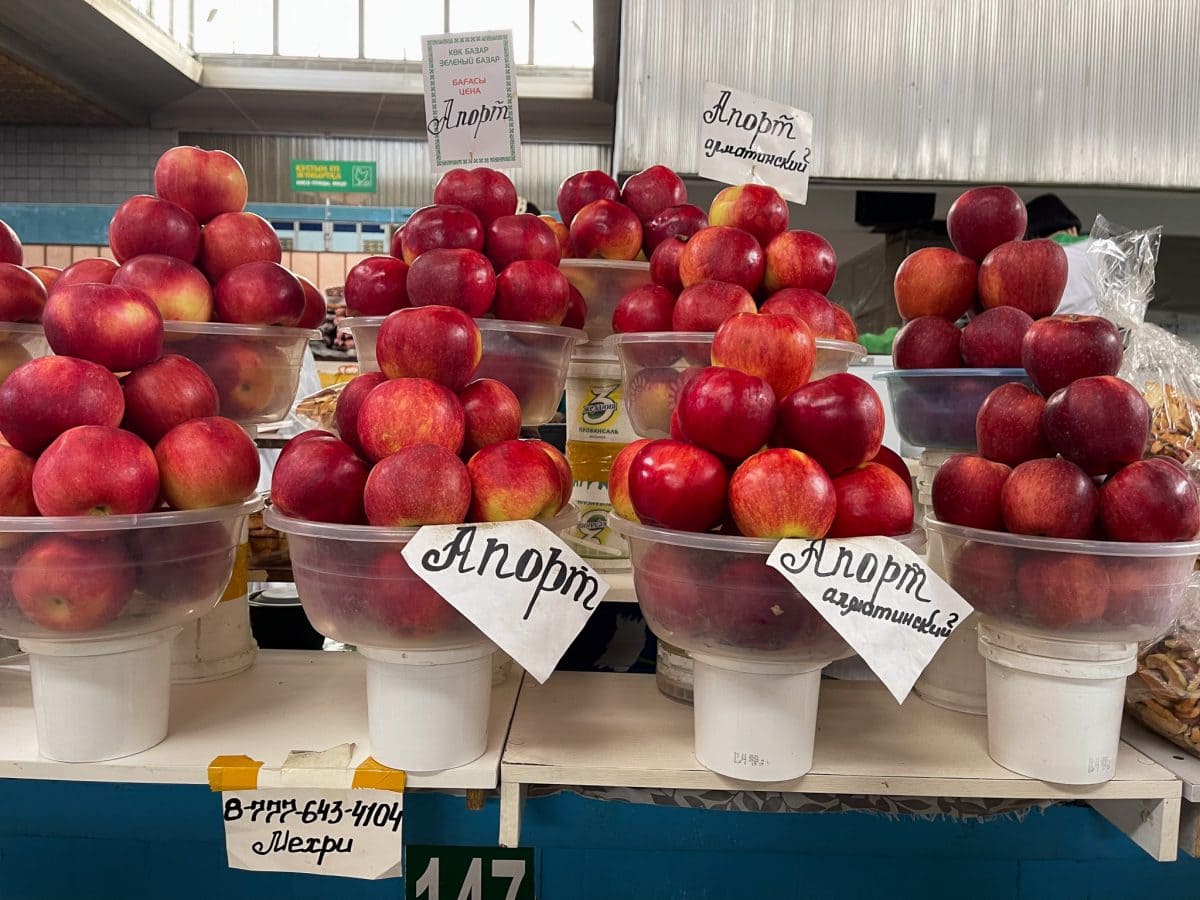 Whether you're looking to do some grocery shopping, find a traditional snack, buy some keepsakes, or simply look around, the Green Bazaar is an epic experience of Kazakh culture. You'll be immersed in the sights, sounds, and smells of Kazakhstan, but don't forget to haggle! Haggling is part of Central Asian culture, especially in bazaars – so don't be afraid to bargain down prices!
I didn't do any shopping at the bazaar, it was a little overwhelming and there was nothing that I could pack to bring home. It did pique my curiosity about lots of Kazak food (a subject of a future post).
10. Almaty Metro
A metro system in itself may not sound particularly exciting, but in the case of the Almaty Metro, that would be wrong.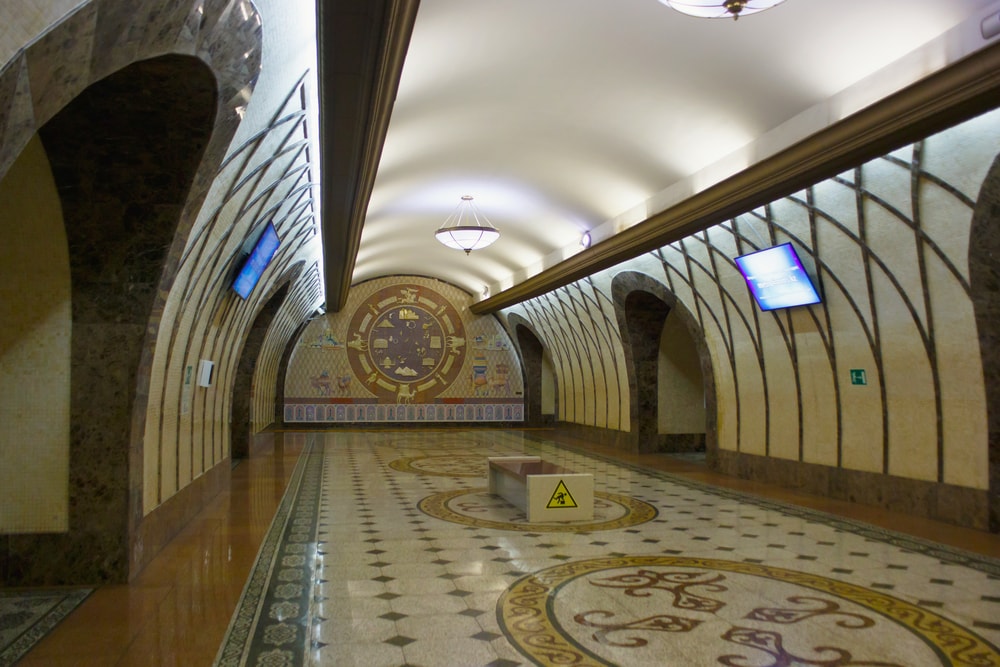 The metro opened in 2011 and was only the second-ever metro in Central Asia. It took 23 years of painstaking construction, started in 1988 during the Soviet Era, then ground to a halt when the USSR collapsed. It took another 15 years (2005) to get the project refunded and back on track. The Almaty Metro has a total of 11 metro stations on a single line, with plans for additional lines over the next few decades. It's known for its pristine and artsy interior, with a combination of a sleek, modern design as well as beautiful tiles, majestic archways, and traditional Kazakh artworks.
Using the Almaty Metro is inexpensive, a trip will run around 20-35 cents, and is a great alternative to using a cab!
You can find details about the stops, schedule, and fares at the official website here.
11. Almaty Central Mosque
With a capacity of 7,000 people, Almaty Central Mosque is one of the largest mosques in Kazakhstan. It blends traditional Islamic architecture – minarets and domes – with additional contemporary elements. Both Muslim and non-Muslim visitors are invited inside to experience its cultural and spiritual beauty. As a place of worship, the mosque is serene and calm, making it an ideal place for reflection and quiet contemplation.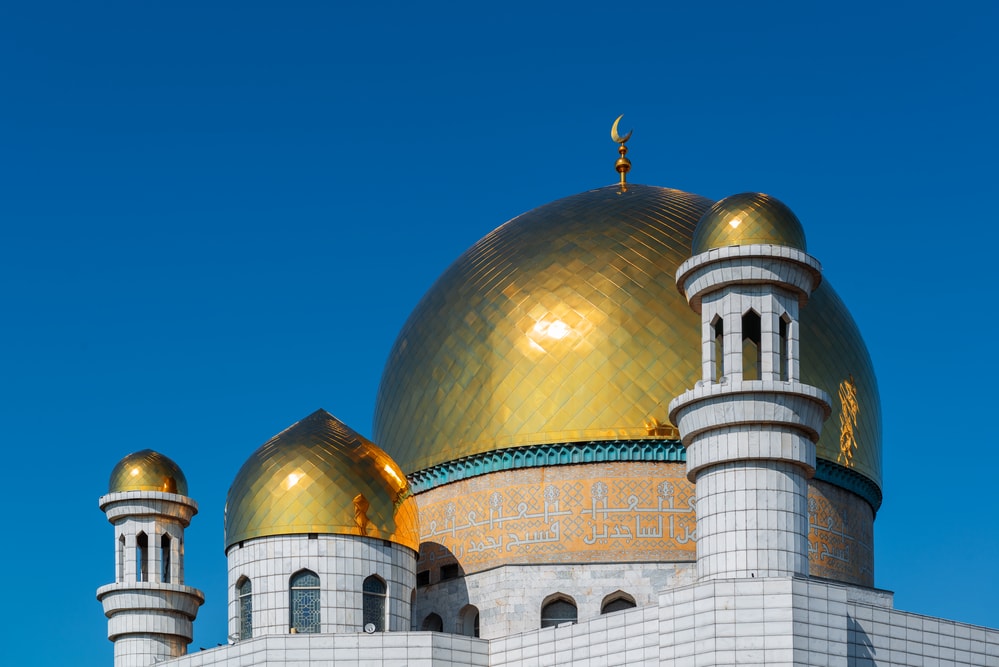 Note: This is a place of worship, and traditional customs require you to remove your shoes before entering the building and dressing appropriately. For women, this means a conservative dress code – do not expose your bare legs or shoulders and wear a headscarf while you're inside. Men should also cover arms and legs, if possible.
12. Almaty Botanical Garden
The Botanical Garden is a haven for nature lovers, with incredible biodiversity from all over Kazakhstan as well as other parts of the world. The Tien Shan Mountains are the garden's backdrop; the pathways are great for strolls and the green spaces are perfect for picnics.
The Almaty Botanical Garden is not only a great place to escape city life, but it's also a place of botanical research. Researchers aim to preserve endangered plant species and conduct experiments on a variety of plant-based topics.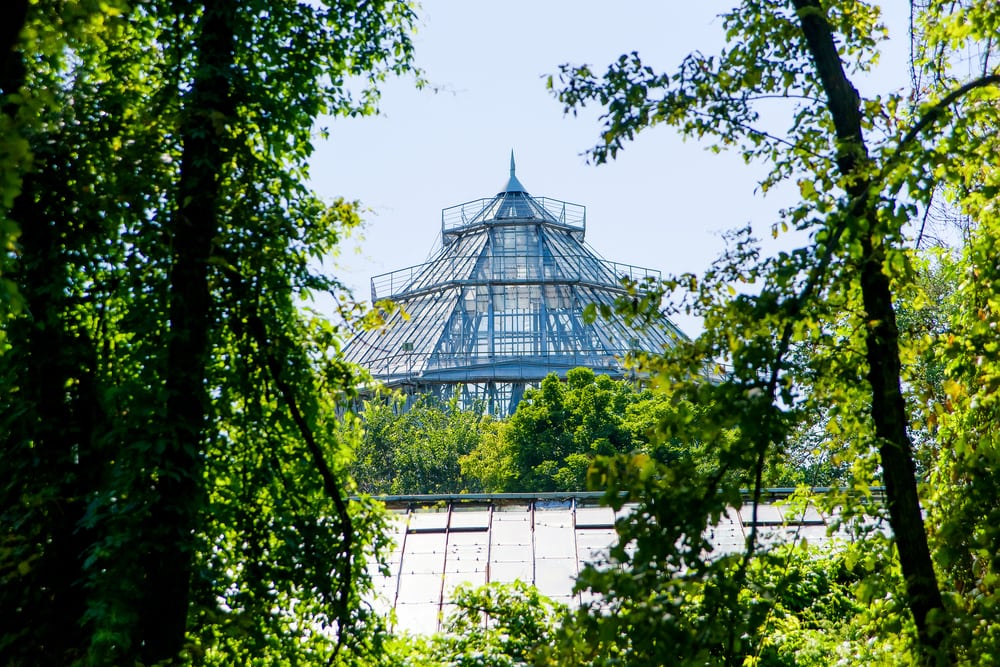 For a big, busy city, Almaty certainly has a lot of gardens and green spaces – and that's what makes it such a great city to visit. The botanical gardens hammers home the importance of that in the evolution of the city.
Visitor information can be found on the official website here.
13. Almaty Opera House
Founded in 1933 as a music studio and transformed into a theater in 1934, the Almaty Opera House is one of the most prestigious and popular opera houses in Central Asia. It was named after the famous and beloved Kazakh poet and composer, Abay Qunanbayuli, and is more formally known as the Abay Kazakh State Academic Opera and Ballet Theater. The building was designed in a neoclassical style, with majestic columns, and is a cultural hub in Almaty.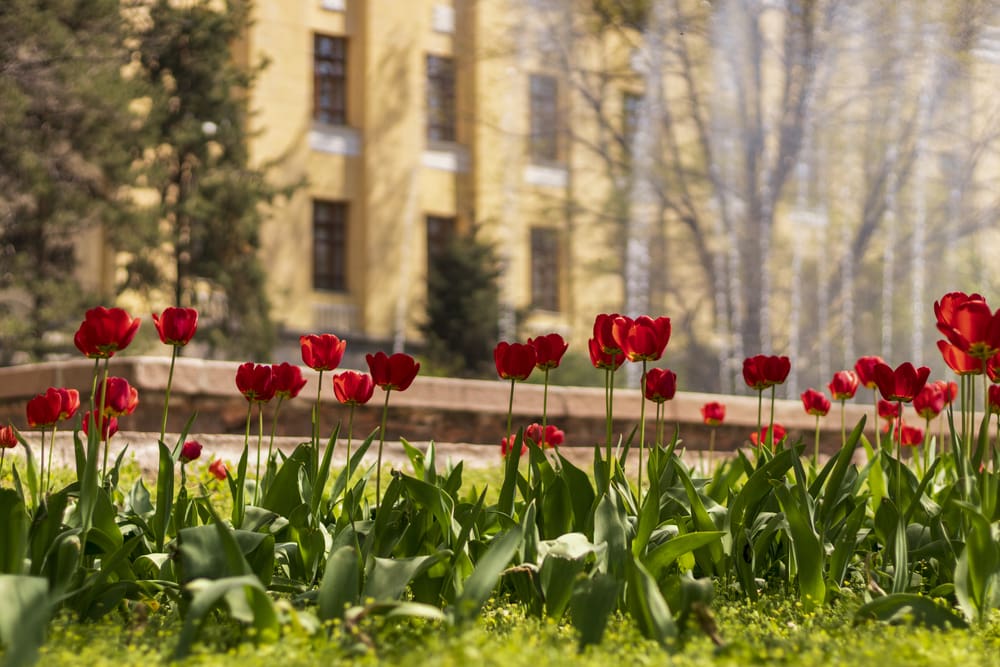 A diverse repertoire of performances, including opera and ballet. Check out the official website (here) for information about what's on the schedule and how to buy tickets.
14. Almaty Central Park
Located in the Medeu district of Almaty, the Almaty Central Park is also known as Gorky Park. It's yet another urban park in the city, and it's home to different types of trees, including elm, oak, maple, aspen, pine, birch, and spruce.
The park was originally established in the mid-19th century but has changed significantly over the years. Today, in addition to being full of beautiful trees, pretty gardens, and lush, open spaces, Almaty Central Park also has a sports complex, a movie theater, cultural venues, and restaurants and cafes. This is another excellent place to step away from the busy city streets and enjoying some down time.
15. Arasan Baths
Live the good life at the Arasan Baths – a luxury wellness complex that is not only a place to visit to be pampered and spoiled, but it's also a place of historical significance. It was built under the direct orders of Kunayev, Kazakhstan's first Secretary of the Communist Party, so it's cultural history is legit.
A visit to the Arasan Baths takes you through various stages of a ritual that include enjoying the various baths, the different steam rooms (a choice of Turkish, Finnish, or Russian), as well as the relaxation areas. There are separate facilities for men and women, If you like, you can also have a message or a scrub (additional fee).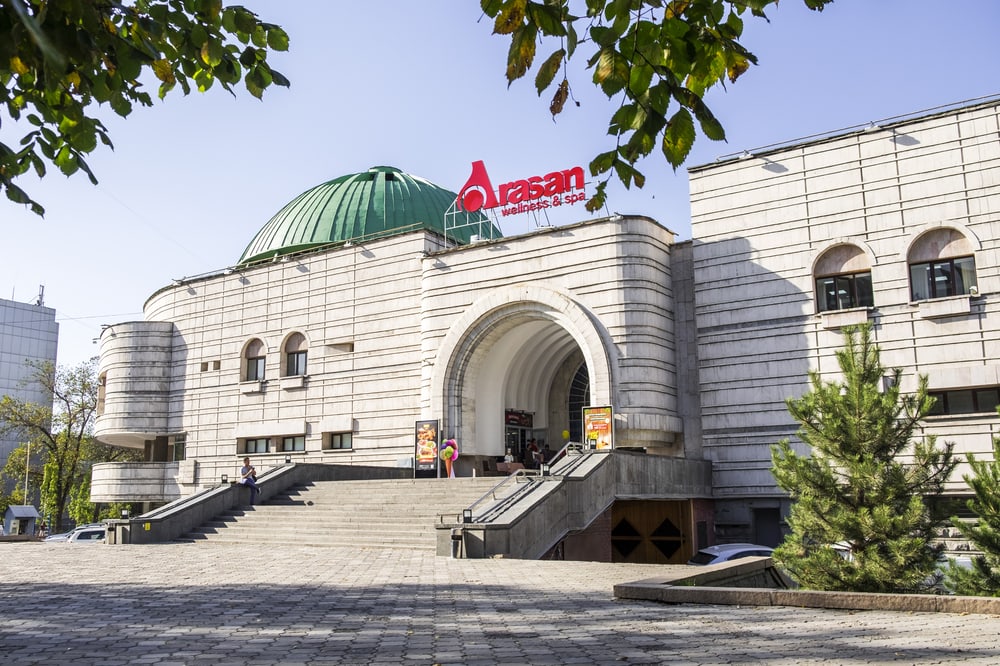 Typically, the spa hours are 8 am-midnight, Tuesday through Sunday. Check the official website (here) to confirm hours and pricing. Prices are significantly lower than spa prices in the U.S.
Recommendation: Depending where you are traveling from, travel to Almaty can take 24-48 hours. Book some time at the Arasan Baths for your first day after arrival. It's a great way to ease into life in Kazakhstan in a healthy way.
16. Almaty Museum of Folk Musical Instruments
If you're looking to do something a little different during your stay in Kazakhstan, consider checking out the Almaty Museum of Folk Musical Instruments. It's home to more than 1,000 instruments of varying types from different time periods. You'll see traditional and unusual instruments like the dombra, sybyzgy, and the kobyz, and you'll have the opportunity to learn about the country's musical heritage.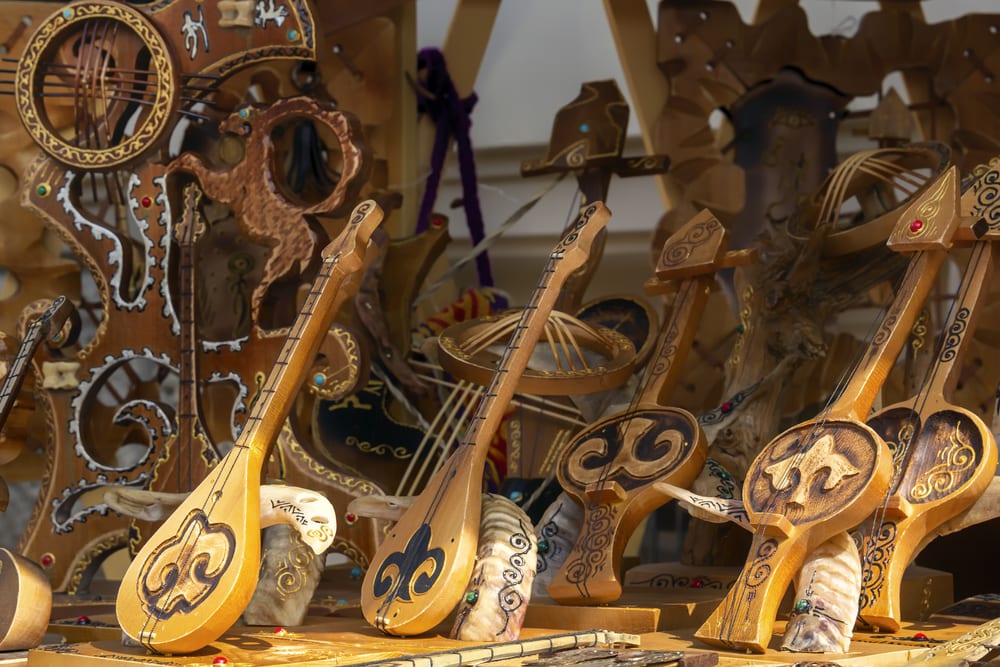 Music and instruments were of major significance in Kazakh life, especially in the context of folk music, rituals, special celebrations, as well as in everyday life. During our one-week stay in Almaty, we had several opportunity to see the various instruments and enjoy Kazakh music. If your inner musician is dying to break out, you can find instruments available to purchase at shops throughout the city. These range from inexpensive tourist souvenirs all the way up to fine musical instruments.
This museum is located in Panfilov Park (mentioned earlier), and like the Cathedral, is made entirely from wood.
17. Almaty Tower
Standing at 1,219 feet tall, the Almaty Tower is located on Kok-Tobe Hill (mentioned above). It's a telecommunications tower, and also has an observation deck, the main reason for travelers to visit. From the deck, you can enjoy 360-degree views of the city, as well as the Zailisky Alatau Mountains.
In addition to the fabulous views, the Almaty Tower has become an iconic symbol of Almaty and Kazakhstan more broadly, and serves as a symbol of the country's modernization and progress.
18. Museum of the Kazakh Academic Drama Theater
This popular place for lovers of literature and the arts is dedicated to the life, works, and legacy of legendary playwright and writer, Mukhtar Auezov, The museum paints a picture of both his life and achievements as well as the broader history of Kazakh theater, and includes a collection of artifacts that include his personal belongings, costumes, props, and more.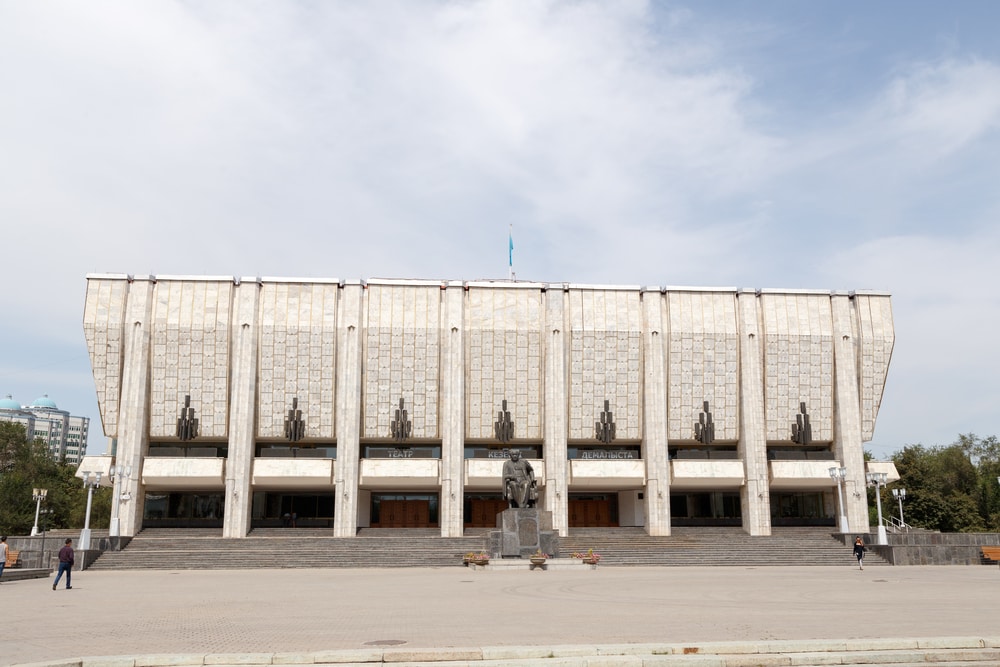 The venue is also home to the Kazakh National Theatre of Drama, with a schedule of performances and lectures dedicated to preserving the Auezov history and Kazakh theater. Check the official website (here) for the hours and the schedule of events.
19. Kok-Zhailau Plateau
Outdoor enthusiasts will want to consider exploring the Kok-Zhailau Plateau. Located about six miles outside of Almaty, between the Small and Big Almaty gorges, the plateau is at an altitude of 4,700-5,700 feet.
The terrain features rolling hills, gorgeous meadows, and beautiful mountains and landscapes, and is home to rich biodiversity. Located in the Ile-Alatau National Park, this is a great spot for hiking, and is an easy day trip or weekend nature getaway from Almaty. Dress for the seasons, and check the weather report, and their are wide temperature swings here.
20. Charyn Canyon
It's a 3-hour drive rom Almaty, but Charyn Canyon (often called the "Grand Canyon of Central Asia") and the surrounding Charyn National Park is one of Kazakhstan's notable attractions.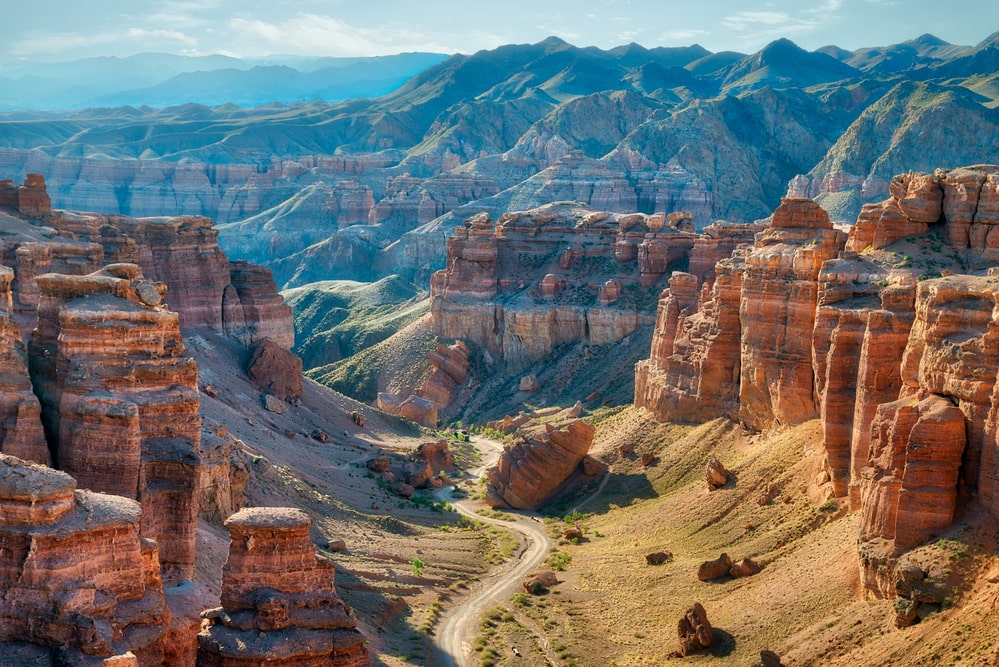 The Canyon dates back millions of years, and it stretches 25 miles along the Charyn River, its namesake. Over a few million years, the Charyn River gradually carved through the sedimentary rocks and red sandstone to create the incredible ravines and cliffs that you can see today. The subsequent erosion process has led to the natural creation of rock formations that take the shapes of familiar figures and structures .One of the most popular areas is the Valley of Castles with rock formations that look a lot like medieval fortifications. It's also a great spot to take photographs.
Only three hours from the city of Almaty, this is a must-see for many visitors to the area. The best way to experience the canyon is to explore it on foot – there are different hiking trails to choose from varying in difficulty and length. It can be done as a day trip from Almaty – a very long day trip – but for the full experience you'll want to plan on an overnight. There's camping, glamping, and even a hotel.
21: Sunkar Falcon Farm
Sunkar Falcon Farm is a raptor refuge center near big Almaty Gorge, about seven miles from Almaty. Sunkar is Russian for falcon. Other birds of prey on site include several species of owls, golden eagles, buzzards, vultures, and more. The center functions as a sanctuary and breeding center for red-listed (high risk of global extinction) birds. Over 850 falcons have been bred and released into the wild as a result of the efforts of Sunkar Falcon Farm, and by visiting, you are contributing to their conservation efforts.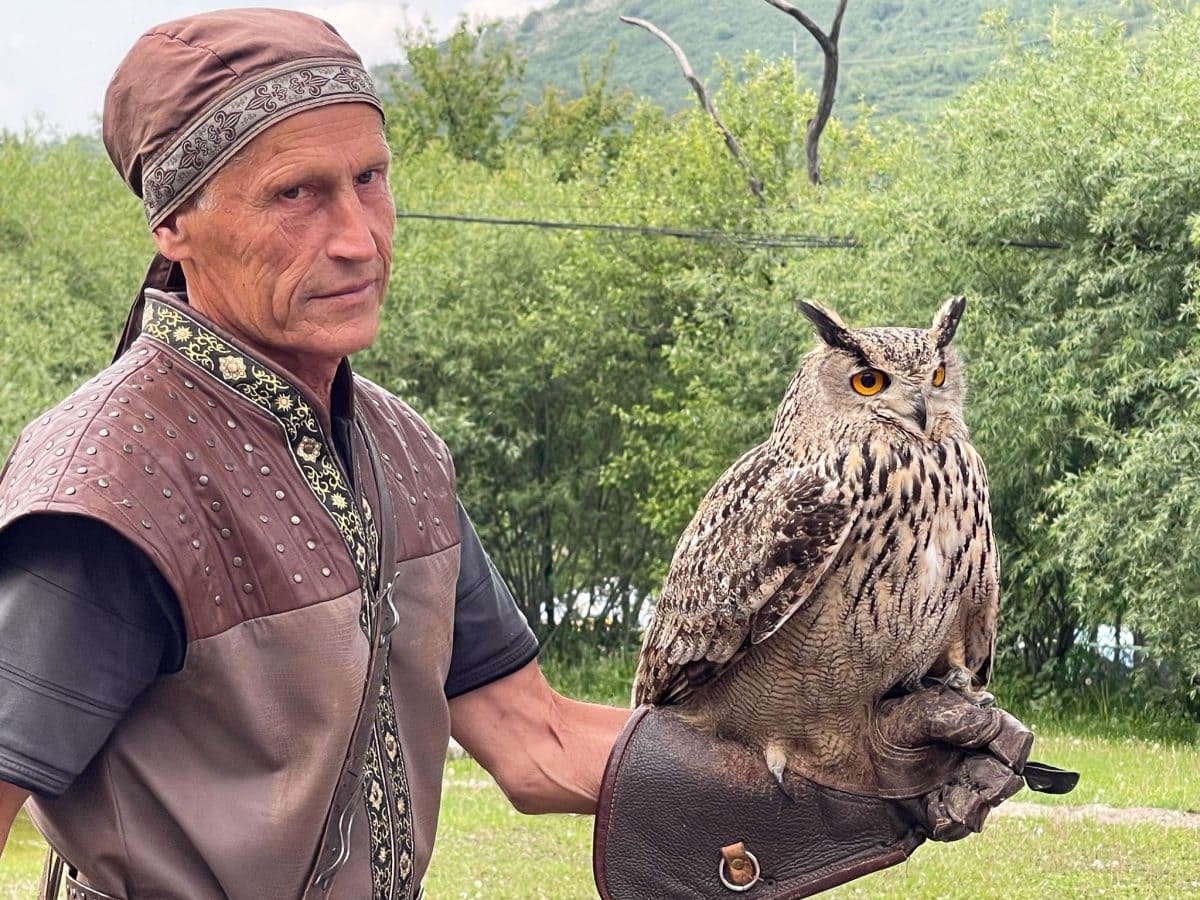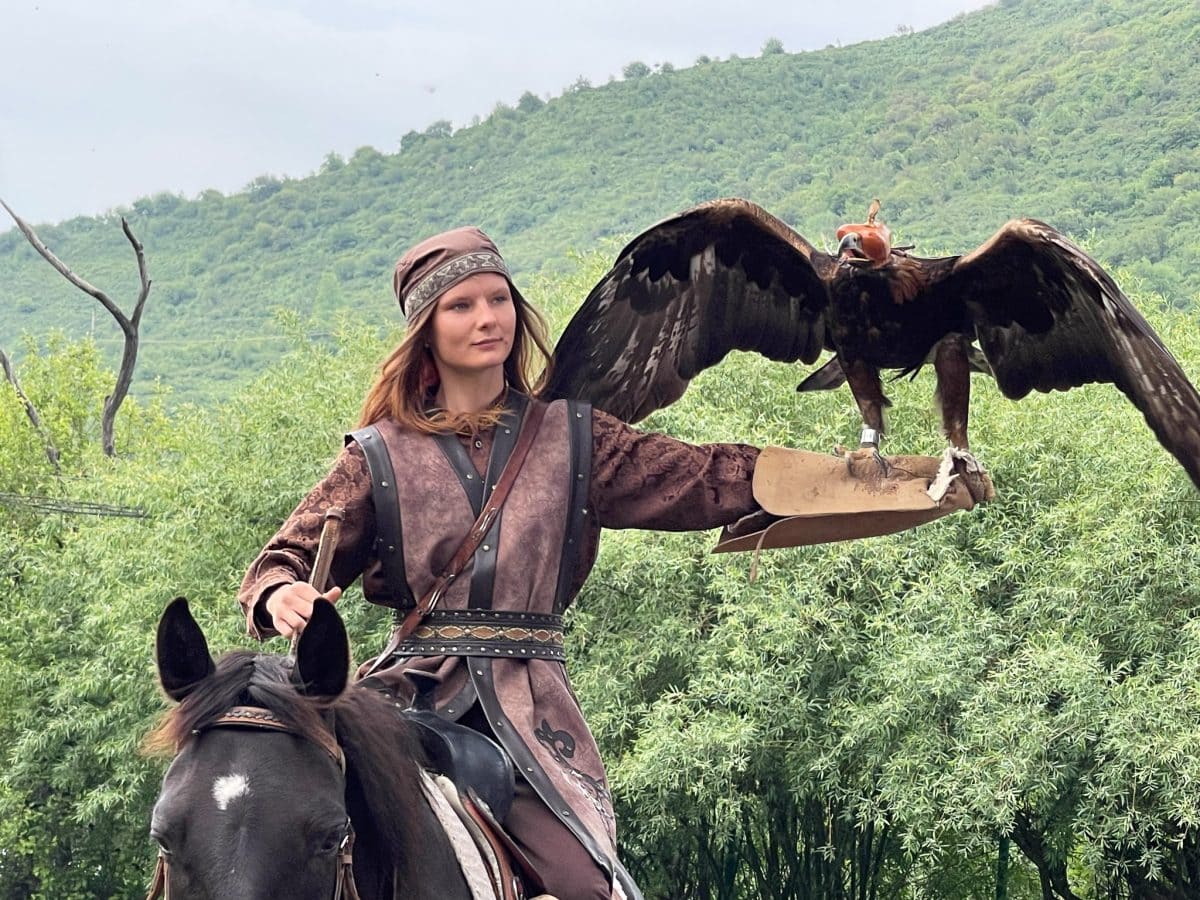 In addition to learning about these bird of prey, a short presentation lets you observe some of these birds as they interact with their expert handlers. We saw various forms of hunting techniques, and ornithologist and falconer Pavel Pfander made the demonstration both educational and entertaining. These birds are magnificent, and even if you've been to a raptor center previously, I'd recommend putting this on your to-do list.
22. Astana Square
The second largest square in all of Kazakhstan, only smaller than Republic Square, Astana Square is located in central Almaty. It has gone through several name changes, known as Red Square from the 1920s and becoming colloquially referred to as the "Old Square" after Brezhnev Square was built in 1980. Astana Square, now named after Kazakhstan's capital city, holds historical significance, especially from during the era of the USSR. Just in front of the Kazakh-British Technical University, Astana Square was recently redeveloped, with construction only being completed in 2017.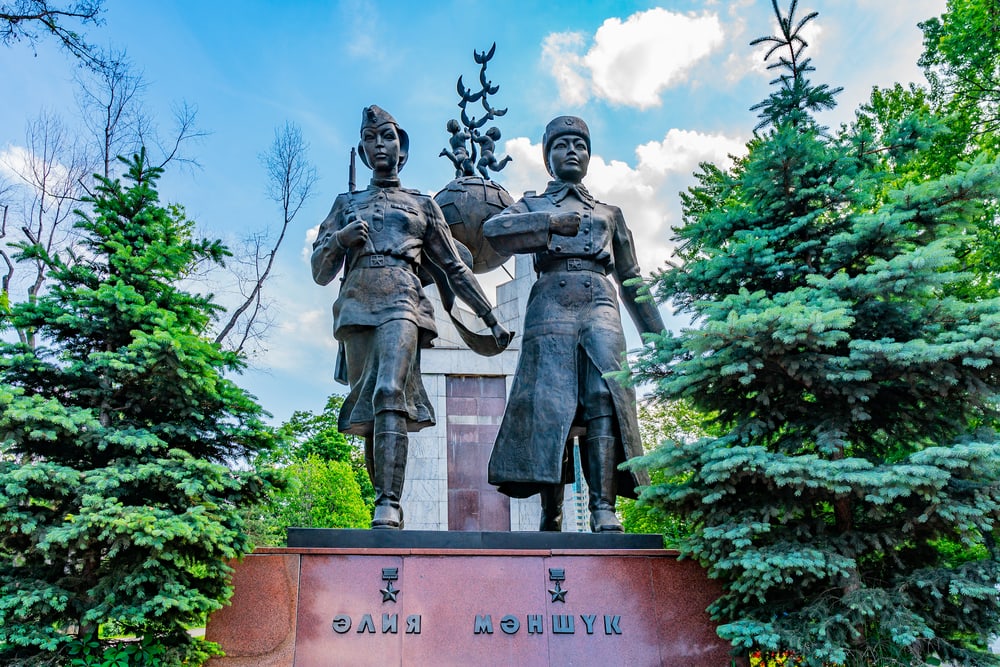 Today, the square is home to a few significant statues (that replaced the previous monument of Vladimir Lenin), and it's used to host ceremonies and concerts.
23. Al-Farabi Kazakh National University
Named for Islamic philosopher and scholar al-Farabi, the university is one of the country's largest. Colloquially called KazNU, the University has over 20,000 students at the undergraduate, post-graduate, and PhD level. It is well known for its History, Economics, Law, Philosophy, Physics, Chemistry, and Journalism departments.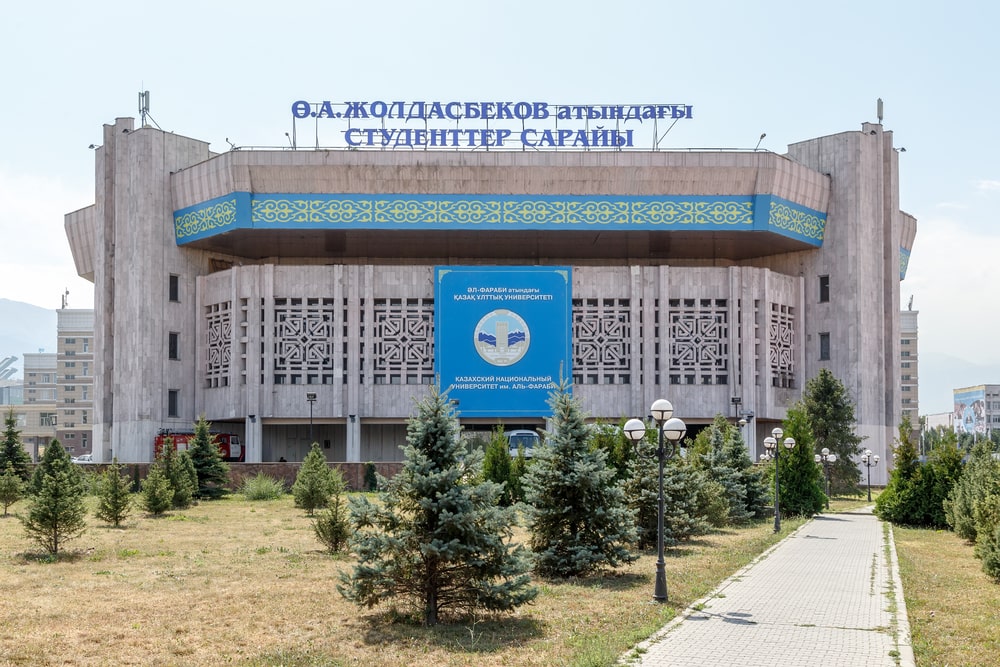 I think college and university students give a city a vibrancy, and I felt that while in Almaty. The campus is located on a prime piece of upscale real estate and is worth a stroll through. Bonus points if you can plan in advance for a tour or student exchange.
Official website here.
24. Arbat
Arbat is a pedestrian zone located on Zhybek Zholy (commonly called Jibek Joly) Street in central Almaty. It's full of shops and boutiques, from local bazaars to high end retirlers. If you're looking for a souvenir or gift that's more than the touristy tchotchkes, you'll likely be able to find something here.
The street promenade features fountains and sculpture, a charming backdrop for the artists, musicians, and street performers who ply their trade here.
25. Huns Ethno-Village
The Hun ethno-village is a look back at the nomadic days of the Kazakh people. It's about 40 miles outside of Almaty, so it makes a nice day trip. You'll likely spend a few hours at the village as a day trip, but for a deeper immersion, you can rent a yurt for an overnight stay. More glamping than camping, the yurts were upscale and had everything you'd need for an overnight stay.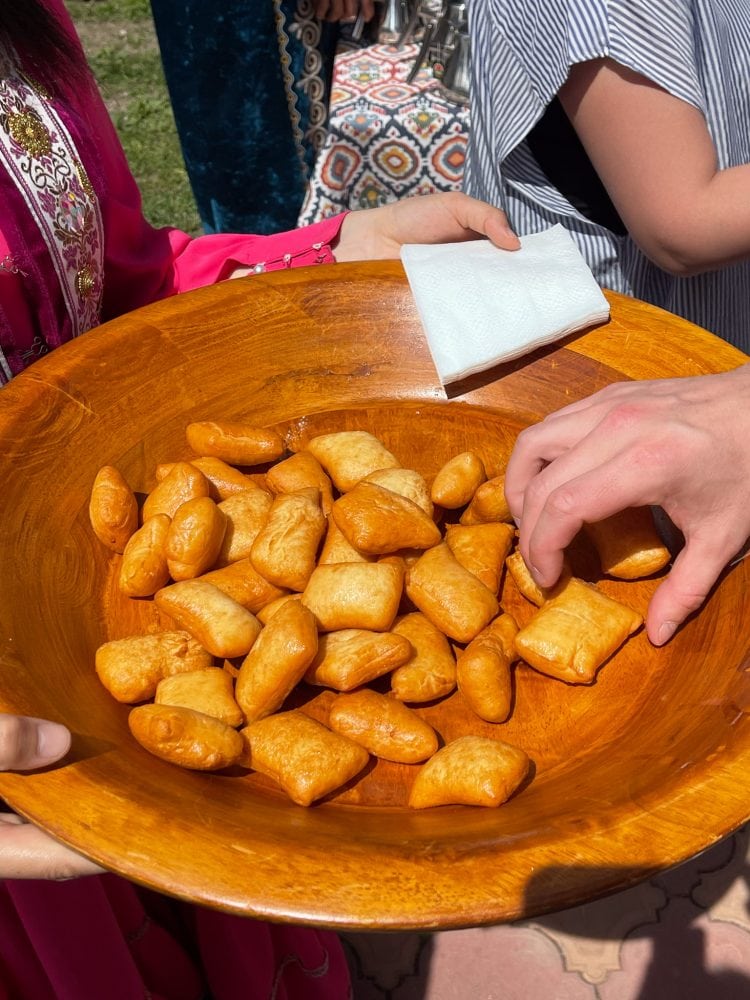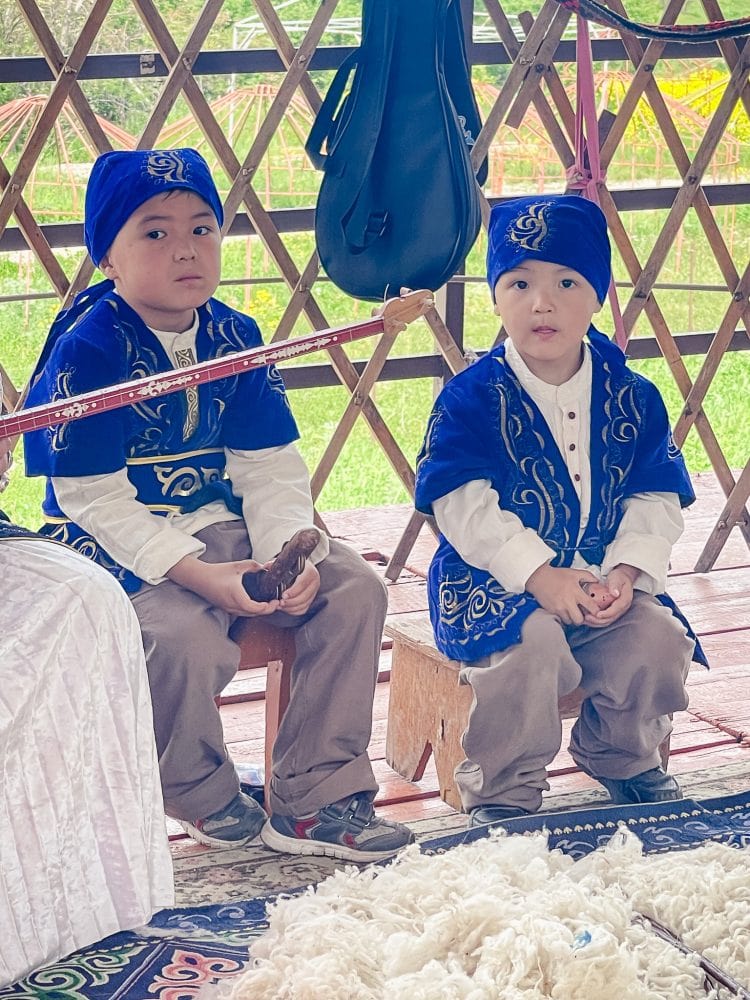 Our visit to the village started with a demonstration of making baursak, a traditional fried dough that we had most everywhere in Kazakhstan. Everyone is our group loved this bread, and at the village it looked so simple to make. I've got a recipe and will be giving it a try here at home.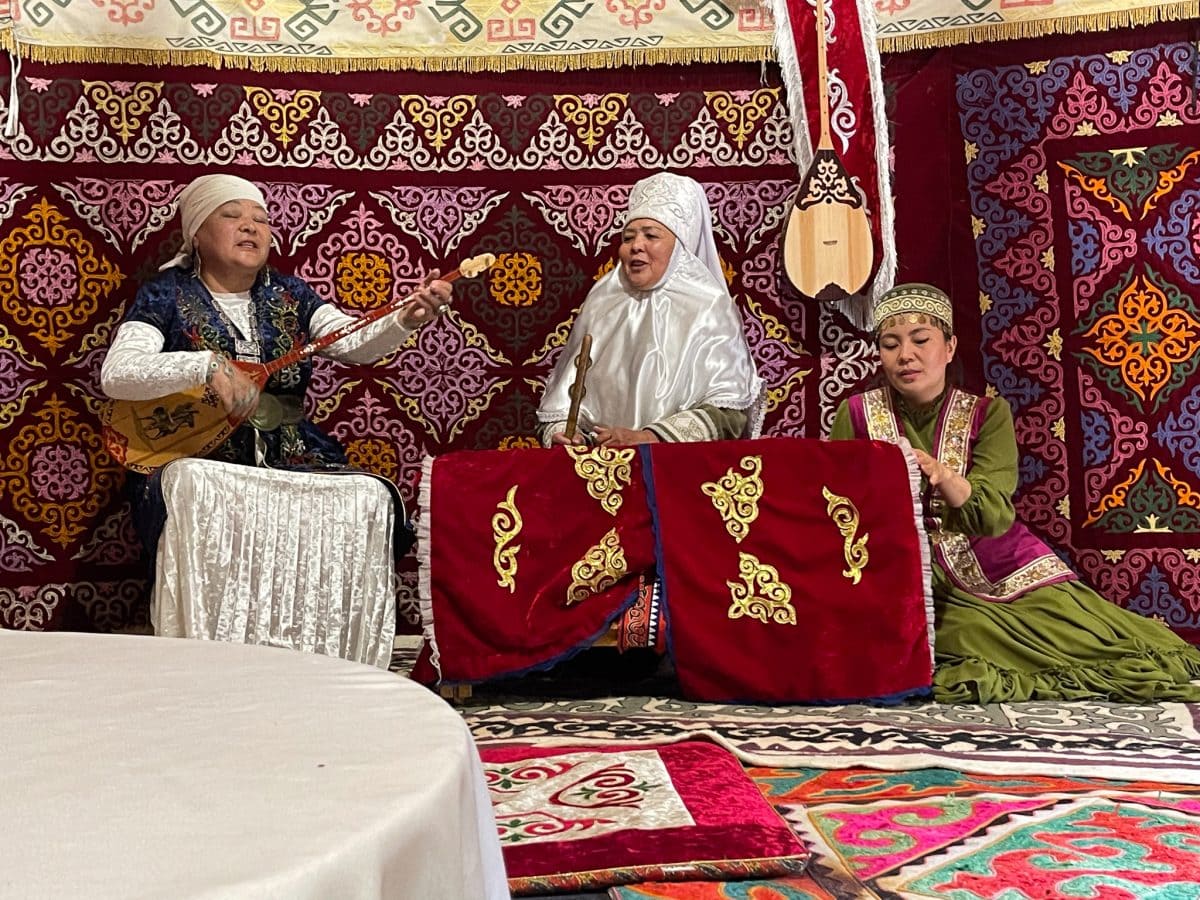 ​Other experiences at the village included a musical performance, traditional spinning and weaving, and other arts and crafts. I got a chance to try my hand at archery. It's a good thing I'm not a nomad that has to depend on bow hunting for survival. My efforts fell into the "I shot an arrow into the air, it fell to earth I know not where" category.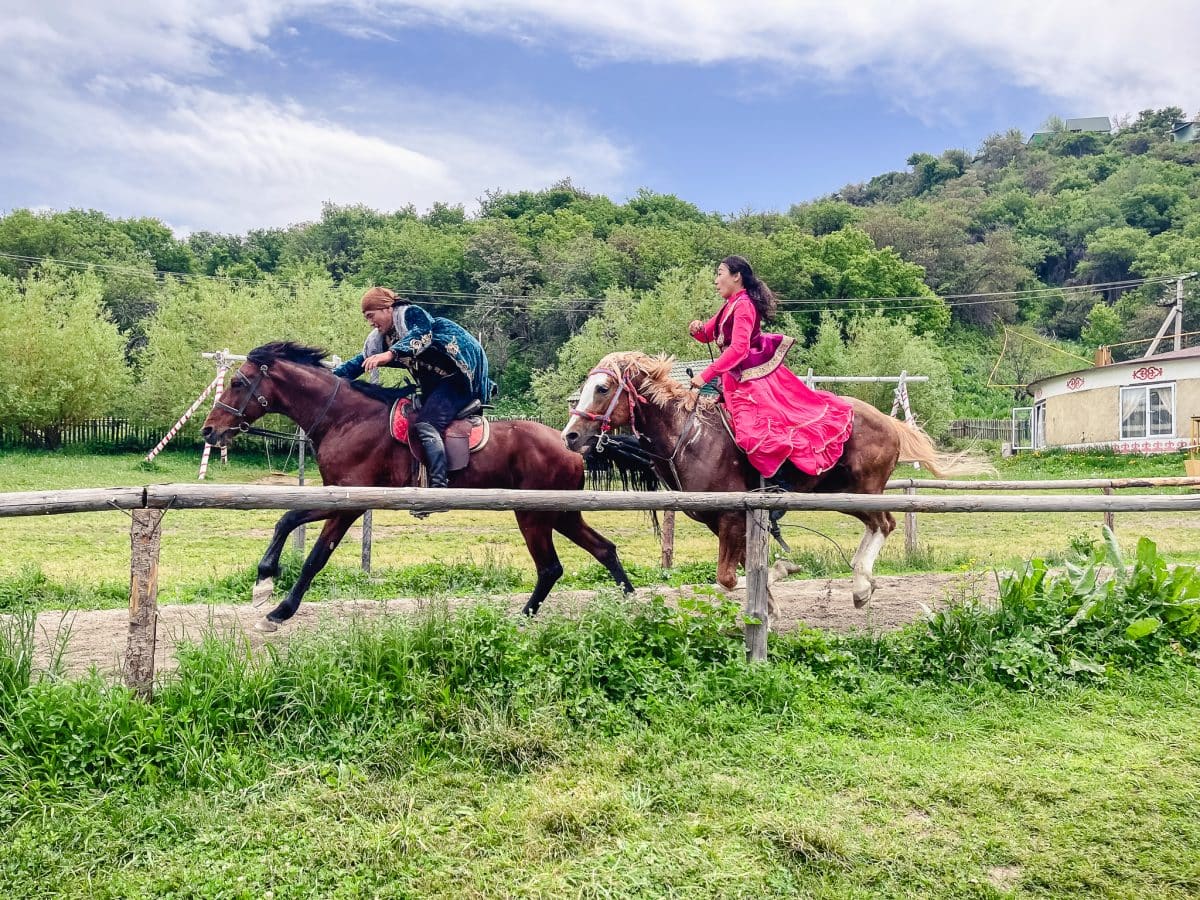 We ended our time at the village with a horseback riding demonstration that included a warrior battle, acrobatic tricks, and a centuries old courtship ritual.
26. Oi-Qaragai Mountain Resort
Although we primarily stayed in a hotel in the city center of Almaty, we did have an overnight at the Oi-Qaragai Mountain Resort. The resort is only about 25 miles from the city, so an easy daytrip. There so much to offer there, though, so I'm glad we had an overnight.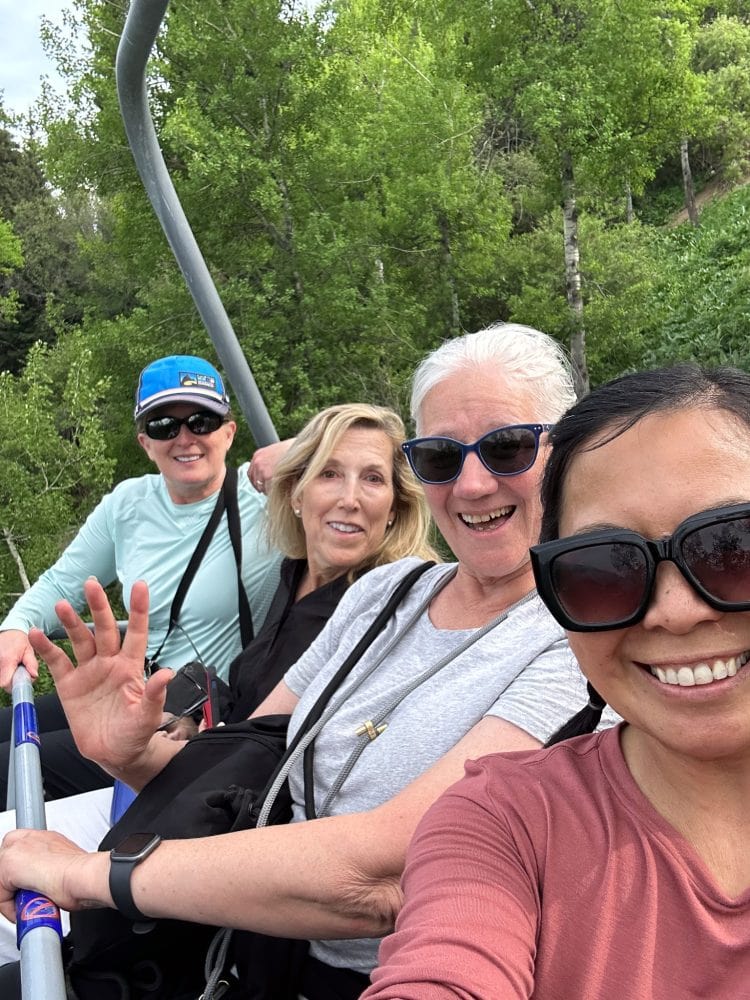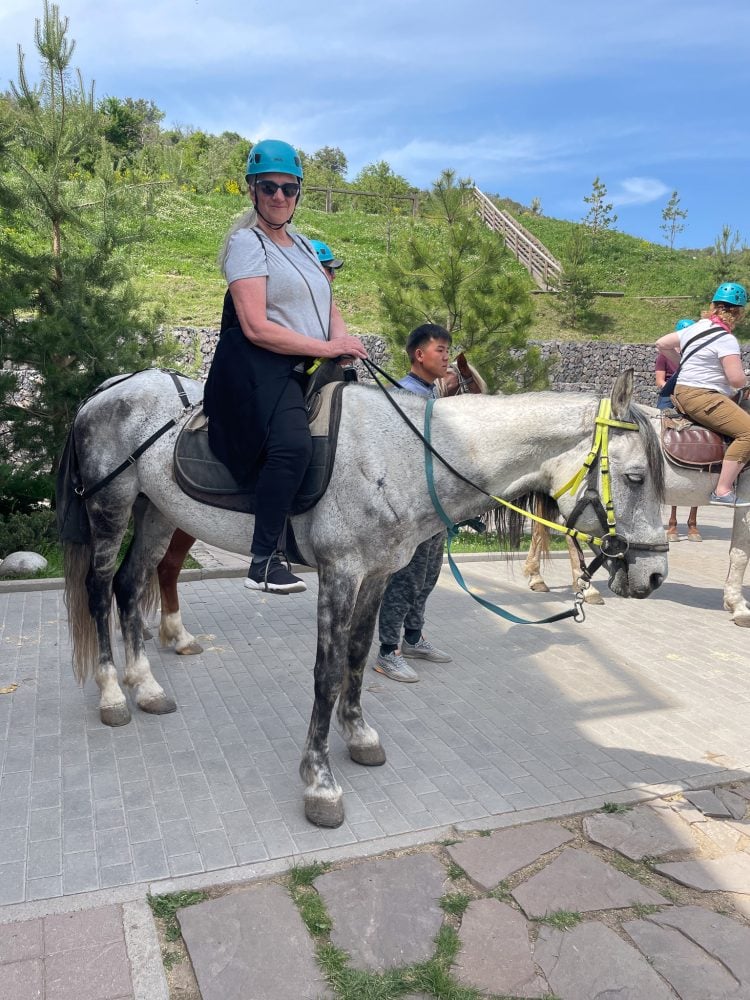 The resort offers adult and family friendly activities. We visiting in the late spring, so this meant hiking, mountain biking, horseback riding, climbing wall, ziplining, and picnics. There were kids rolled up in a rug, then tipped off down a small hill in a park. The laughter coming from several groups doing this were infectious enough to make me stop and watch. And there was a strange, somewhat dangerous looking, 2-wheeled cart that a few in our group daringly drove – or perhaps careened is more accurate – down the mountainside.
During the winter, snow sports dominate, including the expected skiing and sledding.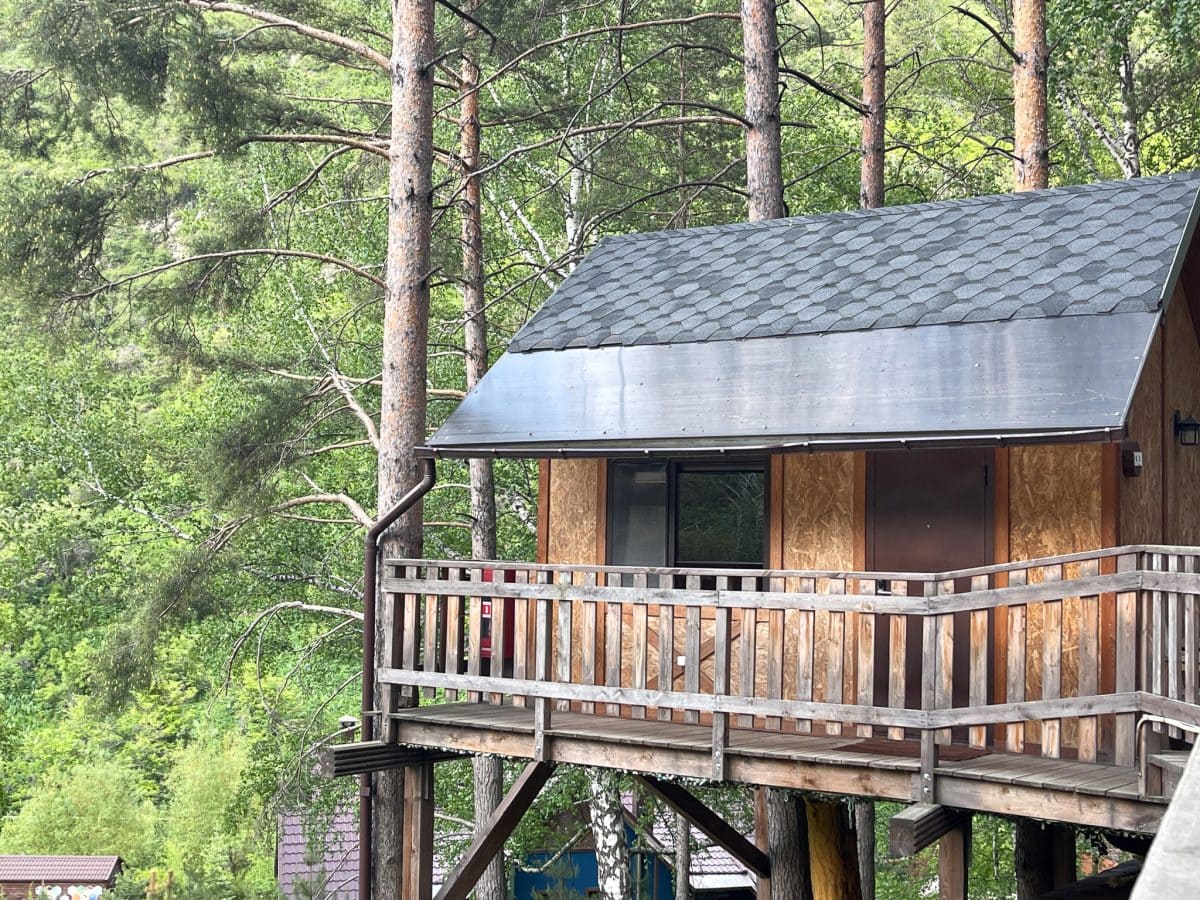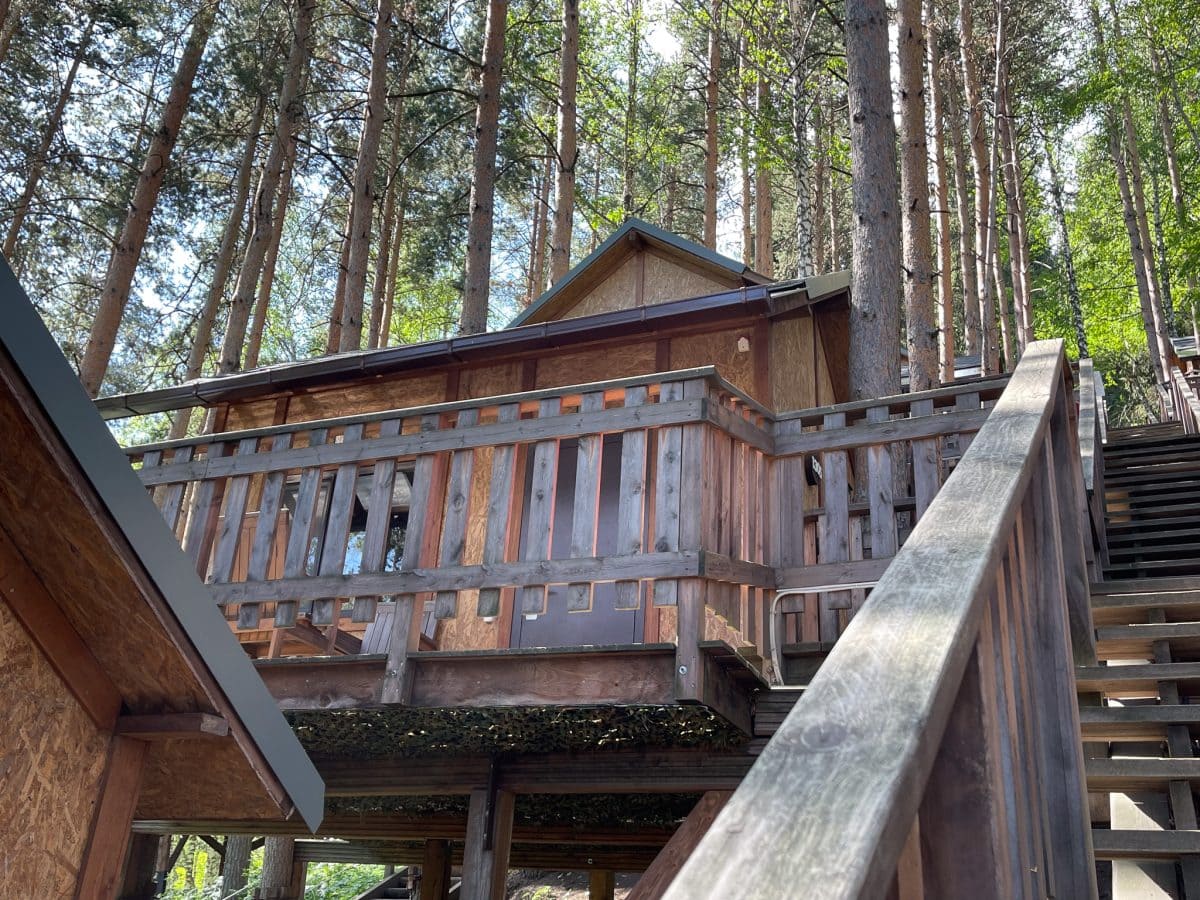 For me, the highlight of the resort was staying in the tree top village. These wooden cottages are made in an eco-friendly style to blend into the surrounding foliage. They are quiet and comfortable, with everything you need for your stay (including wifi). Varying configurations are available and can sleep up to four people.
I missed sunset because we were at dinner, but watching the sun come up over through the trees on a quiet morning was magical.
Take note: these cottages are set on the edge of hill well back among the trees. There are a lot of steps to get there. These are not accessible rooms, nor suited for anyone who cannot make the trek up the stairs.
Official website here.
27. Kaindy Lake
If you're willing to venture a little farther away from Almaty, a visit to one of the glacial lakes is a good overnight getaway. While it can be done as a day trip, at four hours from Almaty, it is a brutally long day trip that may erase the pleasure of your time at the lakes.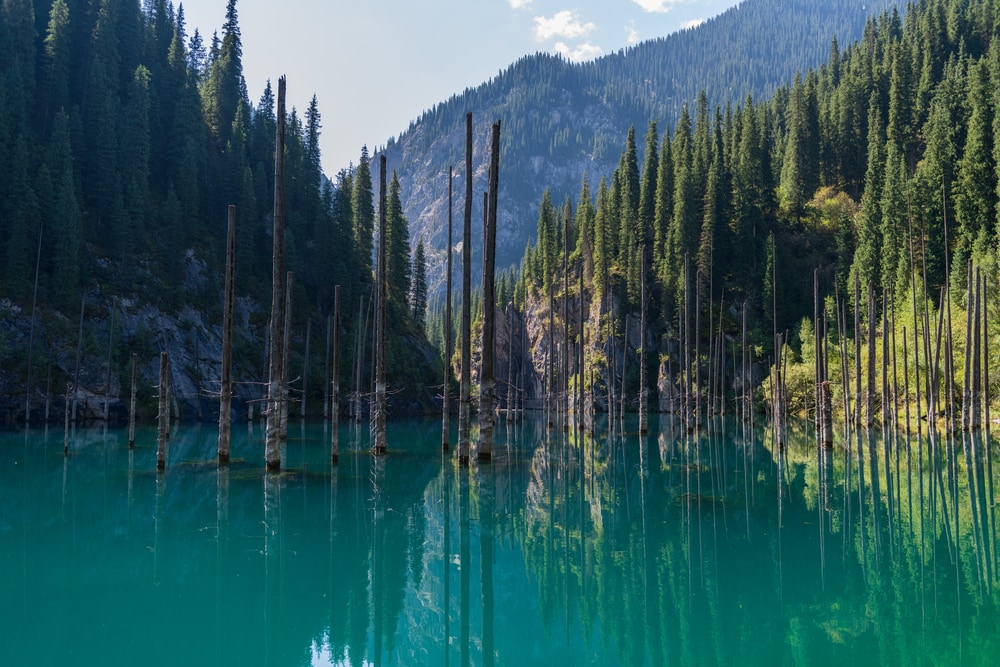 Kaindy Lake is 6,600 feet above sea level, and was formed as a result of earthquake. The resulting landslide created a natural dam that, in turn, created the lake. The frigidly cold waters contain a sunken forest, remnants of spruce trees that jut out of the forest.
Because of its altitude, Kaindy Lake freezes over during the winter, so plan to visit during the summer months.
This is a tough destination to get to. The roads are rough and pitted, and it's remote with little around it. While it's an interesting stop off, I consider this an overnight suited for the experienced outdoors person.
28. Kolsay Lakes
This system of three lakes is slightly closer to Almaty, but at three and a half hours is still better suited to an overnight stay.
These lakes were also formed as a result of an earthquake (a different one).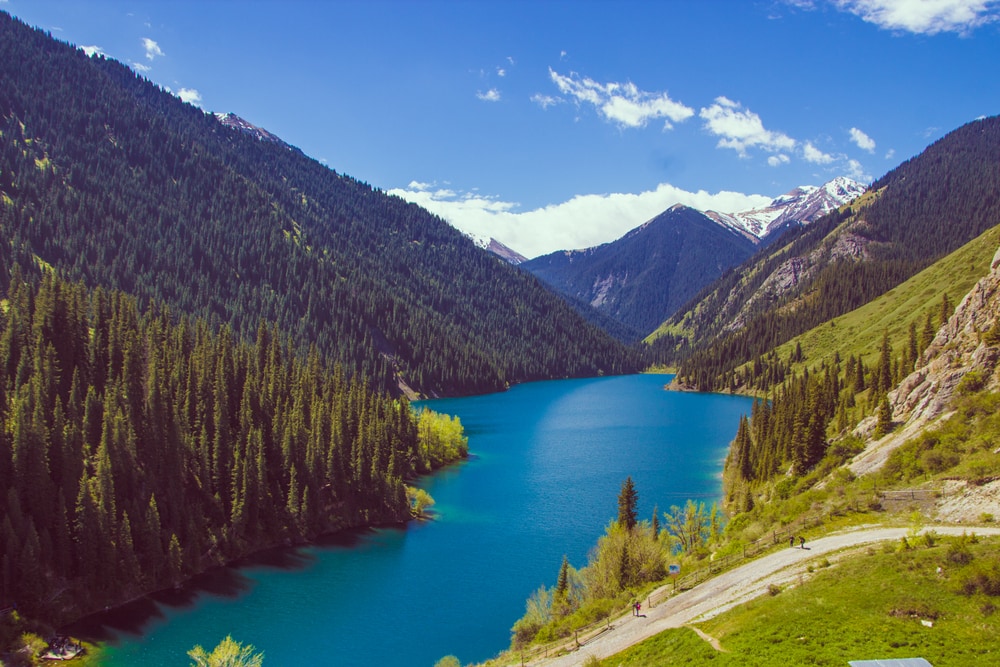 The three lakes – Upper, Middle, and Lower Kosay – have hiking trails between them. Between Lower and Middle Kolsay, the trail is fairly balanced with a gradual rise in altitude. The trail gets progressively more difficult and total hiking time should be around three hours for an experienced and active hiker.
The trail between the Middle and Upper Kolsay is the most difficult, with steep rises and switchbacks that continue the uphill climb, and is for experienced hikers only. If that's you, and you decided to hike to the Upper lake, you will need your passport and a border permit as you can cross into Kyrgyzstan.
Most visitors spend their time at Lower Kolsay. And Kolsay, unlike Kaindy, is set up for tourism with guest houses and campsites in the nearby village of Saty.
29. Arba Winery
Kazakh wine, although lesser-known on the international stage, boasts a rich history dating back thousands of years. The tradition of winemaking in Kazakhstan can be traced back to the ancient Silk Road era when grapes were cultivated along the trade routes.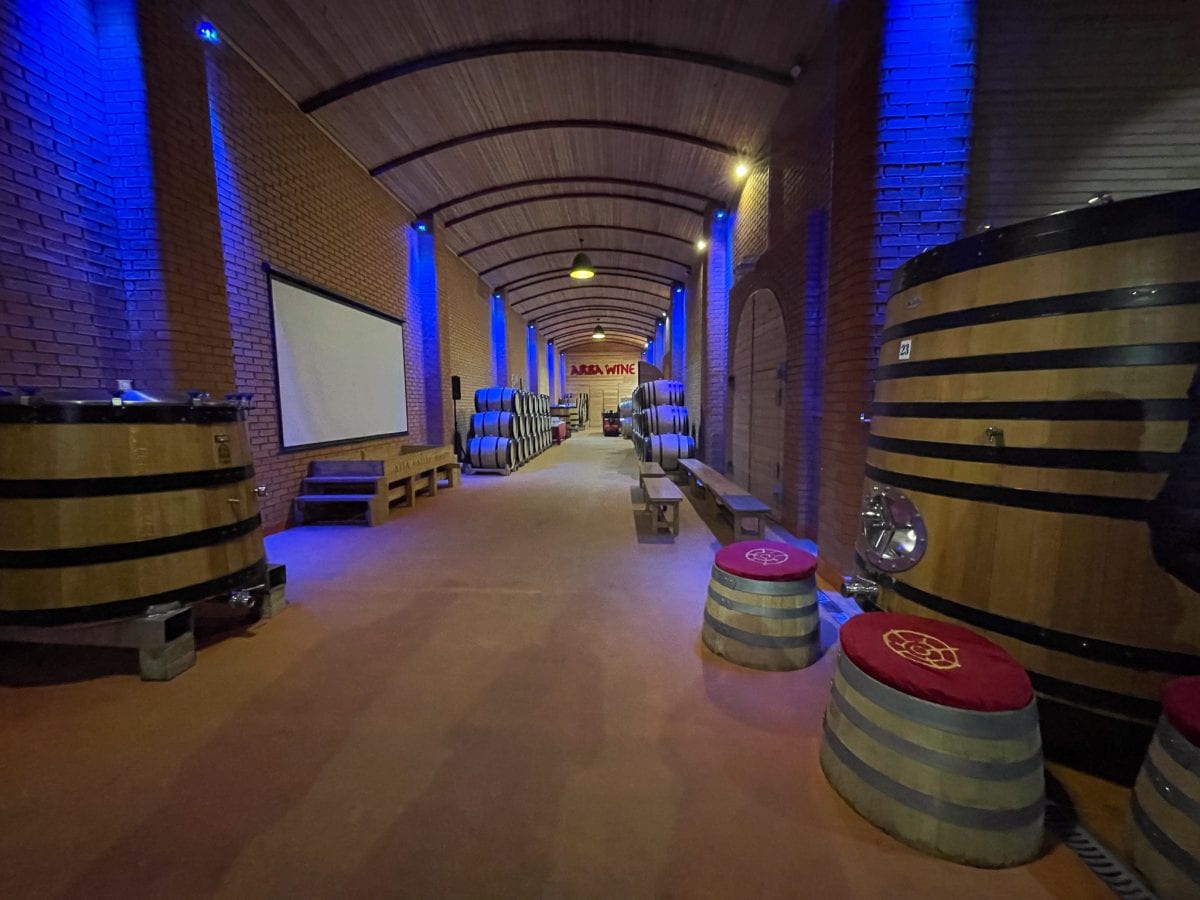 Local grape varieties like Rkatsiteli, Saperavi, and Bayan Shirey are highly regarded for their resilience and ability to thrive in the harsh continental climate.
We visited Arba Winery for a quick tour and wine tasting, followed by lunch in the vineyards. Arba has a beautiful setting, surrounded by the Zailiysky Alatau mountains.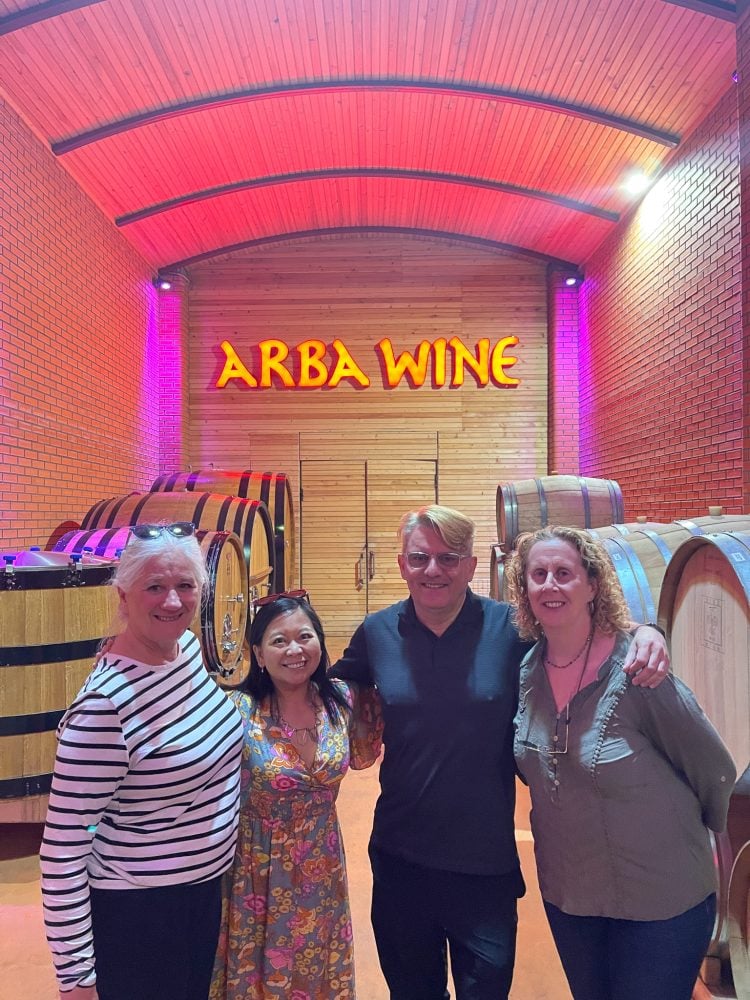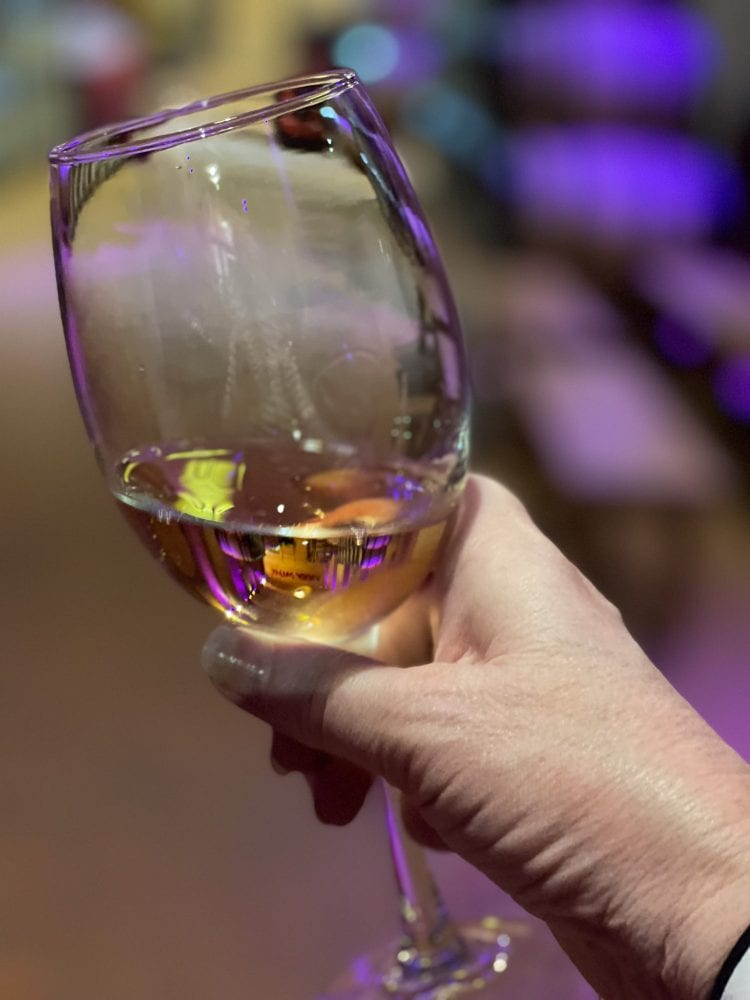 Like more wine tasting that I do, I like some of the bottles and didn't like others. Since I likely won't be able to find Kazakh wine here at home, I purchased two bottles to bring home with me – Lagyl Arba Saperavi Reserve 2013 and Kyzyl Bastau 2013. I'm looking forward to sharing with friends and getting their thoughts on it.
Official website here.
Books Set in Kazakhstan
I enjoy reading books about or set in destinations that I visit. I look for both fiction and non-fiction. Here are some reading choices if you're traveling to Kazakhstan.
Movies Set in Kazakhstan
If you're not ready to tackle reading about Kazakhstan, maybe one of these movies set in Kazakhstan will pique your interest. The country has not often been included in movies, but with increased interest in the country, and budget-friendly costs, we may see more in the future. Remember, though, what you see on the big screen is not always what you see in real life.
Where to Stay in Almaty
We stayed at the Hotel Grand Mildom which was close to downtown and walkable to many of thing things on this list. Rooms were large, wifi was strong (important since I had to work while on the road), and breakfast was included. Staff were helpful and accommodating.
Learn more about our hotel and pricing here.
Find a convenient hotel and check out the prices here.
Need to Know
Getting there: Airlines flying from the U.S. into Almaty International Airport (airport code ALA) Kazakhstan include Lufthansa, Asiana Airlines, and Turkish Airlines. I flew on Lufthansa rom Seattle to Frankfurt (SEA-FRA), had a few hours on the ground, then Frankfurt to Almaty (FRA-ALA), arriving into Kazakstan shortly after midnight. On the return, there was an additional stop in Nursultan Nazarbayev International Airport (NQZ) in Astana to take on passengers.
The airport is expanding, with construction presently going on, as the country prepares for an increase in tourism. Air Astana, the national carrier of Kazakhstan) hopes to launch direct service into New York (JFK) by 2025. That would make travel substantially easier.
Currency: The currency is Kazakhstan is the tenge and has been used since 1993 when it replaced the Russian ruble. Current exchange rate values 10 tenges at approximately two cents. This valuation means prices look very, very high, but they aren't. Kazakhstan is a very affordable country and that 10,000 price tag is only a little under $23. ATMs are abundant. I drew out local currency at an ATM at a shopping mall across the street from our hotel. The exchange rate was favorable, the transaction had an English translation, and their was no local fee. Although I didn't use one, credit cards seemed widely accepted at major shops and restaurants, less so at local stalls.
Electricity: Kazakhstan uses Type C and Type F plug-ins, so you'll need an adaptor. Type C has two round prongs, and is most likely the adaptor you've used when traveling in Europe. Type F has the same two round pins, but has earth clips on the side.
Time Zone: There are two time zones in Kazakhstan, UTC+5 and UTC+6. (UTC is universal time coordinated.). Almaty is in the UTC+6 zone. That means when it's 5 pm here in Seattle, it's 6 am in Almaty. Kazakhstan does not observe daylight savings time, so you will need to make allowances as the U.S. bounces back and forth.
​Safety: Let's address the elephant in the room – Russia and its invasion of Ukraine. It's easy to get wrapped up in panic and ignore facts. While Kazakhstan shares a border with Russia, there is no military activity going on in the country. In fact, the US State Department has listed Kazakhstan at Level 1: Exercise Normal Precautions. You can check here for information when you plan to travel. The US Embassy is located in Astana, the capital city.
Official website: Kazakhstan's official tourism website is here;
​Disclosure
I visited Kazakhstan as part of an organized group trip for the Digital Publishers Council of SATW (Society of American Travel Writers). Our group trip was sponsored by Kazakhstan Tourism, USAID, and their partners. All sponsors understand and respect the integrity of independent storytelling and reporting and have not exerted influence about coverage. The content of this post reflect my experiences and opinions, and are not necessarily the views of Kazakhstan Tourism, USAID, or the US Government.
For Pinterest
Pin to your favorite Pinterest travel boards